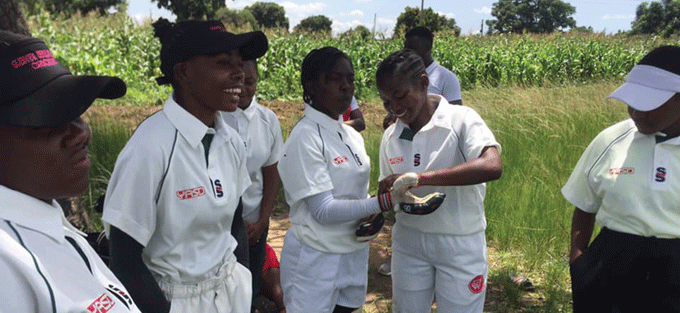 BY MUNYARADZI MADZOKERE
A LOCAL non-profit organisation Young Achievement for Sports Development (YASD) has set up an amateur women's developmental cricket league to reach out to young women and girls so that they actively participate in the sport.
YASD last year came up with the cricket initiative dubbed "Over The Boundary" to distribute cricket equipment for the benefit of young people from disadvantaged communities.
The developmental league for young women is an extension of the Over The Boundary project.
The programme was set in motion last week with four teams from communities where the organisation was supporting grassroots cricket initiatives playing the first round of matches in Glenview.
The league comprises a team made up of girls from the rural areas, Harmonics Cricket Academy from Domboshawa, Glenview's Rocview Cricket Academy, Don's Cricket Academy from Mufakose and Chitungwiza Cricket.
"The women's cricket developmental league is an initiative to reach out to young women and girls to actively participate in sport as well as to receive effective coaching and mentoring," YASD communications officer Joe Kuseka said.
"The league is an extension of the on-going Over the Boundary programme where the participants receive coaching and mentoring on personal development, basic hygiene and health, empowerment as well as financial literacy.
"The women's cricket developmental league is a safe space that encourages young women to confidently participate in sport as well as share experiences with other young women.
"The focus is on peer training and life skills development that will equip the young women in their efforts to reach their goals."
Harmonics Cricket Academy coach, Harmony Kurisa, was thrilled to have his side take part in the developmental league.
"We are very excited to be part of the league as a rural team from Domboshava communal lands. It means a lot to us as our girls are going to have a chance to compete with their counterparts in the urban areas. It's an opportunity that will expose them to the other side of the world," said Kurisa.
"We have previously been playing cricket with schools in Harare, but that was only including school girls at Munyawiri secondary school but right now we are covering the whole community of Domboshava and also including school leavers.
"This will at least minimise the rate at which these girls are getting into early marriages. Above all they can appreciate the game of cricket and sports at large and take it as an occupation to earn a living.
"Currently we have Mitchel Mavunga from our academy, who made it into the women's national team in 2021 and she also plays for Masheagles. We have also sent four girls for trials at Masheagles namely Mitchel Chivare, Shalom Nyakudya, Shantel Zindoga and Ruvarashe Jani.
"In 2019 Chivare was called into camp for the national team but was disturbed because she went into an early marriage. She is now trying to come back and we are giving her that chance."
YASD, a youth organisation, which uses sport to impact disadvantaged communities, is also the custodian of the Homeless World Cup initiative in Zimbabwe.
Related Topics