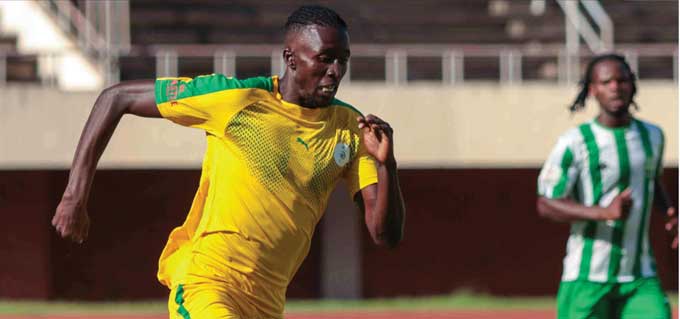 BY TERRY MADYAUTA
SINCE the start of the current Castle Lager Premier Soccer League season Gweru based prisons side, WhaWha has struggled.
But in the middle of the struggles, a teenage striker has constantly shone like a beacon and has managed six goals in the nine games he has played so far for the prison wardens.
While so much attention has been lavished on Dynamos' teenage sensation, Bill Antonio in the topflight league, in the Midlands the 19-year-old Jaden Barake is making waves.
Interestingly Barake has found a new lease of life after he was rejected by the Harare giants in 2019 when he had risen from the junior ranks. The snub has, however, not deterred him from proving his mettle in the centre-forward position where has been ushering sterling performance for WhaWha.
But Barake retains an attachment to the Glamour Boys as he idolises former club legend Murape Murape.
"Murape Murape is my idol, he is one player who did everything for the team. He was all over during his time and as a result, he is a legend," Barake told The Sports Hub.
"Although I did not make it to the team (Dynamos) like what had been planned for me, I feel attached to Murape Murape's dedication and I am going to follow his illustrious footsteps.
"I think I have more to offer given the platform like what I have been given here at WhaWha. It's still early to see but I am raring to go and I believe my hope will transform into something big. Like every player, I would want to represent my country at some point."
Barake admits he could not impress at Dynamos following the departure of Lloyd Chigowe in 2019 when he was coming from the juniors and the Harare giants were not keen to offer him an opportunity to continue his development.
Earlier that time the Harare born striker had captured the attention of Chigowe, but the coach's dismissal from the club plundered the dream of playing for the country's most successful club.
Barake reveals that Ndiraya once expressed interest in his services, but all efforts suffered a stillbirth.
"Coach Ndiraya wanted to have me join the team but it all flopped and I found myself club hunting again. I had hope of joining the team because Chigowe had promised to bring me in because he appreciated my play, "he said.
That same year, Barake found himself in the ranks of Tigers FC under the tutelage of Chigowe, a project that would disband when the Covid-19 pandemic struck.
"Fast forward to late 2019, I joined Tigers, a team that was to be coached by Chigowe but the team didn't last because of Covid-19. The sponsors withdrew due to Covid.
"That meant, I was back at my starting point, but the only thing I could do was keep training and keep hoping, at the same time hoping luck comes on my side," said Barake.
As if he was following a biblical star, to a place he would be appreciated and given an opportunity to showcase his talent, Barake joined WhaWha.
Together with King Nasama they were expected to inspire the prison wardens to better results. Barake was left alone when Nasama decided against returning to the club after the Christmas break.
"It's everyone's wish to make an impact and help the team win even when it seems difficult. I am happy at the club and I am taking this opportunity which means I am not in a hurry to leave, if offers come, I will take my time because this is a place where I have been appreciated as a player," he said.
Ngezi Platinum is already believed to be angling for his services and is expected to be the first to present an offer to the striker.
If he maintains the good vein of form, Barake is without a doubt a top contender for the rookie of the year award.
Related Topics