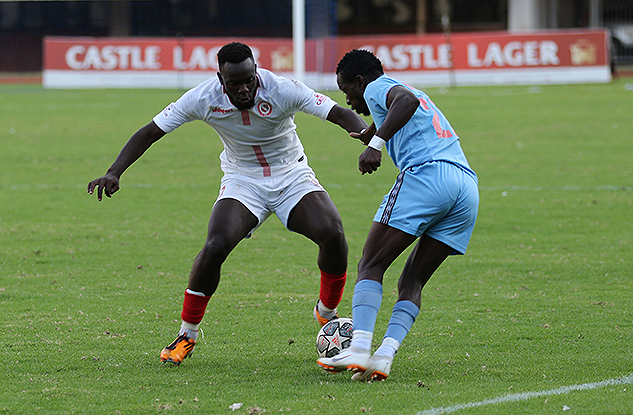 BY HENRY MHARA YADAH . . . . . . . . . . . . . . (0)1 TRIANGLE UNITED . . . . . (1)1
TRIANGLE United missed a chance to move second on the Premier Soccer League log standings after they were held by Yadah at the National Sports Stadium yesterday in an entertaining game.
Russel Madamombe thrust the away side in front on 11th minute, but a Kuda Mangami's penalty 10 minutes from time ensured a share of spoils.
Victory would have put Triangle at par on points with the leading teamsLennox Muchetu and Triangle, but they remain third on the standings with 24 points.
They trail the joint leaders by two points, who have a chance of extending the lead if they both win their matches this weekend.
For Yadah, the draw was their sixth of the season and they remain in the relegation zone after 13 rounds of matches.
There was controversy in the match after referee Patrick Kalota ignored three genuine penalty appeals. Yadah had two shouts in both halves, first when Tanaka Shandirwa was brought down inside the box, and then later in the second half when Lennox Muchetu was taken out by a flying tackle. The right-back was shown a yellow card for simulation, instead.
Already leading in the match, Triangle United had a good appeal of their own when Donald Ngoma was clattered from behind after he had been put through on goal.
Both coaches, Genesis Mangombe of Yadah and Triangle's Jairos Tapera, however, refused to mourn about the decisions that did not go their way.
"We have to accept the draw because we were playing a better side. It was well organised and had good tactical approach to the game," Mangombe said.
"We missed a lot of chances and had we converted, we could have won this match. I am happy that we responded well after the team talk at halftime."
Asked about the penalty decisions that did not go his team's way, Mangombe said: "The referee is also a human being and is bound to make those errors, although I felt he should have awarded us one, especially the one on Muchetu. He was closer to the situation so I think he had a better view and that is who he decided to give a yellow card."
Tapera was animated on the touchline throughout the match, and got himself a yellow card as he protested one of the referee's decisions.
"It was just emotions of the game, it happens sometimes when you feel that decisions are not going your way," he explained.
"I am happy, it is a point gained ,but looking at the game I thought we had some chances to win. Donald Ngoma had two chances and he should have scored at least one and had he scored (with the scores at one-nil), it was going to kill them."
It was his second goal in successive weeks after he converted a penalty at Gibbo last week in their 2-1 victory over the Green Machine.
Donald Ngoma then missed two clear-cut chances to kill off the match, including a one versus one with the Yadah goalkeeper Peter Nyabunga.
Yadah eventually grew into the match with Mangani rattling the woodwork twice while Albert Manenji also had good chances which he failed to put away.
The equaliser eventually came when substitute Joseph Mutembedza's rocket with his first touch of the ball appeared to hit the hand of defender Tawanda Chisi and the referee pointed straight to the spot.
Mangami took the penalty, but his initial shot was saved by the keeper, but the striker reacted quickly to squeeze in the rebound.
Follow us on Twitter@NewsDayZimbabwe
Related Topics