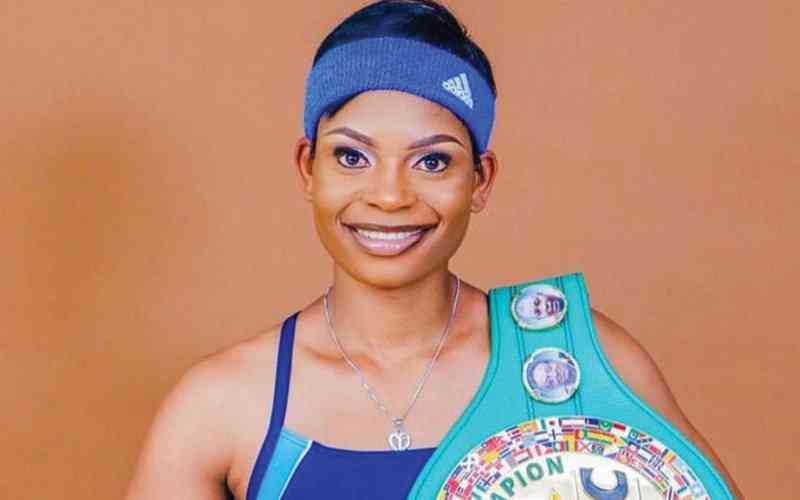 The World Boxing Council has scheduled Zimbabwe female boxer Kudakwashe Chiwandire's bout against Yemilethi Mercado for the prestigious WBC gold belt for March 18.
Mercado currently holds the title.
Chiwandire's coach and promoter Clyde Musonda said all the sticking points regarding the contractual agreement have been sorted out and the fight remains on course.
"We had a deadlock on some of the clauses on the contract, but we have finally come to an agreement and we have signed the contract," revealed Musonda.
Mercado defeated fellow Mexican Marian Juarez to retain her title while Chiwandire won a unanimous points decision over Zulina Munoz also of Mexico to set up a date with Mercado.
Chiwandire, popularly known as Takemoney says she is prepared and ready.
"We have prepared fully and will continue preparing for this fight. Everything is going on well and am ready even if the fight is tomorrow," said a confident Chiwandire.
This is probably Chiwandire's biggest fight since quitting hairdressing to take up boxing, a sport she says she loved since childhood.
Although she has beaten former title holder Catherine Phiri of Zambia and later on Munoz, Chiwandire faces a formidable foe in Mercado, who has an impressive record of 19 wins and three losses from 21 fights, five wins of which were by knockout.
That fight will be staged at Mercado's Studios of Aztec 7 in Mexico City where Mercado has a formidable record.
Chiwandire, on her part, has a record of eight fights with five wins, two losses and a draw but is improving by each fight.
She is bidding to become the first Zimbabwean in history and one of the few in Africa to hold the prestigious WBC gold belt.
In fact, Musonda is dreaming of a situation in which Chiwandire wins all the gold belts in the super bantamweight division including those of the International Boxing Federation, the World Boxing Association, and the World Boxing Federation.
At the moment, Chiwandire holds the WBC silver belt, the same title that male boxer Charles Manyuchi held before losing out to Quadratillo Abuduqoxorov of Uzbekistan.
Related Topics