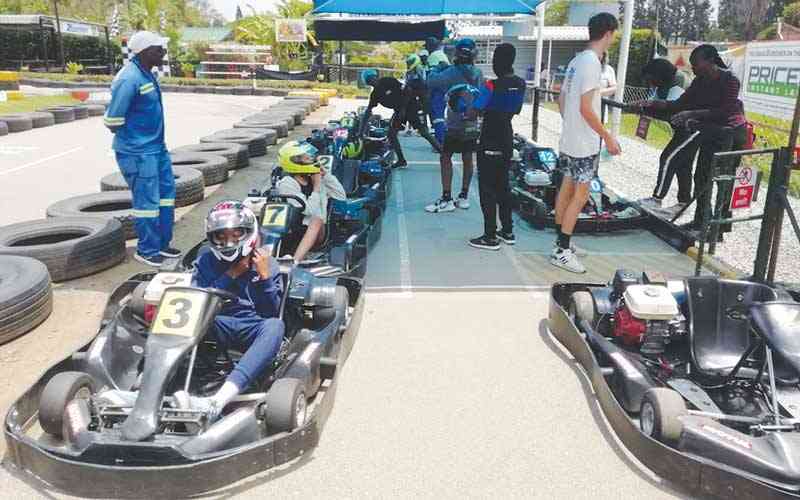 THE Sports and Recreation Commission (SRC), in partnership with a local company Ultimate Fun have embarked on a new initiative which is set to bring the sport of karting to a wider audience with the launch of a new rental go-kart track at the National Sports Stadium later this month.
The new venue will offer 10 different rental kart track layouts and includes an 800-metre kart racing track for both first-time-karters and seasoned pros.
Kevin Dufty, operator of the track said would play an important role in giving exposure to aspiring racing drivers.
"Karting plays a crucial role in grassroots motorsport and the rental kart route gives the largest number of people the opportunity to try the experience. With the new track located within the grounds of the National Sports Stadium it is geographically located to bring this exciting sport to a wider audience," said Dufty
"Rental karting has become popular in Zimbabwe, as we have proved over the last eight years with thousands of people driving karts at Pole Position Karts. Like the Eastlea venue, the new track will boast 200cc karts, safety barriers, as well as a state-of-the-art electronic timing system that allows drivers to check their lap times to a thousandth of a second."
SRC's acting director general Sebastain Garikai highlighted that the project was in line with the National Development Strategy 1's set sectorial outcomes of increased participation in sport and recreational activities in Zimbabwe.
"The Go-Kart project will make the recreational activity easily accessible to surrounding local communities in a bid not to leave anyone and any place behind. The project is one of the many new initiatives that the Sports and Recreation Commission is engaging through private public partnerships with the corporate sector in the promotion and development of sustainable sport and recreation in Zimbabwe," Garikai said.
Dufty, and his son Zac, have over 30 years of experience in karts, both locally and internationally.
Kevin competed in national karting events in the 1980s and Zac has raced for 10 years in Zimbabwe and in South Africa, in addition to competing at two ROK World Cup races in Italy and UK.
The two will oversee operations at both tracks with a fully trained team of mechanics and marshals to ensure that everyone has a safe and fun experience.
The new karting track has been designed to meet international International Automobile Federation and Motorsport Zimbabwe standards to allow the venue to host kart racing competitions.
Follow us on Twitter @NewsDayZimbabwe
Related Topics