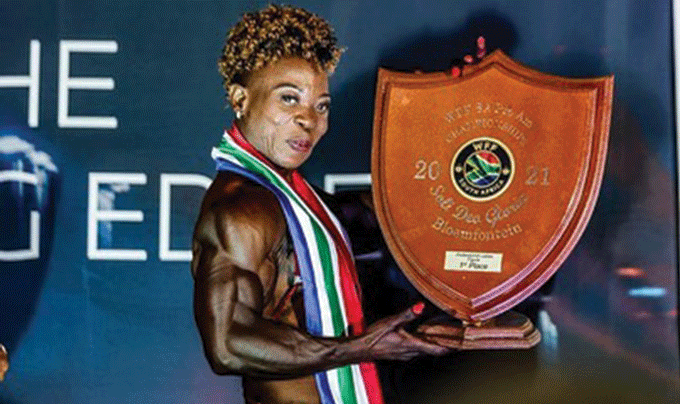 BY MUNYARADZI MADZOKERE
WHEN she earned her pro card in 2019 after emerging as the overall winner at the Tera Inter Continental 2019 WFF Pro Championship in Shanghai, China, top female bodybuilder Regina Jonga's dream was to compete in Olympia shows.
Olympia is the highest-ranking professional female bodybuilding competition in the world.
However, she has only competed in one event since she turned professional about three years ago largely due to the outbreak of the Covid-19 pandemic.
And at that one event, the World Fitness Federation (WFF) South Africa in November last year, she scooped the Ladies Figure title.
And now approaching the mid-40s, she is running out of time to achieve her dream.
"The Covid-19 pandemic outbreak affected me in a big way because a lot of competitions were postponed. In cases where the international shows were not postponed I could not participate because I wasn't training since the gyms were closed," the 44-year-old told The Sports Hub in an interview.
"As a result in 2020, I did not compete in any show because of the Covid-19 pandemic. I competed in one show last November. It was the only pro show, as you know that I am no longer competing in amateur shows. I am a professional so I am not allowed to do small shows.
"The show which I won last year was my best show because since I got my pro card that was my first pro show and winning it means a lot to me," Jonga added.
What made the victory in South Africa sweeter for Jonga is the fact that she fell victim to buglers, days before her trip and lost quite a lot thus throwing the trip into doubt.
"Four days before my trip to S.A for the competition, all the money I had was stolen. I was left with nothing and all my business stuff which I sell was also stolen.
"But there is God who is with us always. Imagine people, four days before your journey money for accommodation, registration, make-up, tanning and other things was stolen and you don't have another plan.
"And then after two days I received messages from different people whom I had not told my story to but they would just message me to say Regina don't worry about the accommodation, registration make-up I am going to sponsor you," the Curis Bible Church member testified on social media.
And with age not on her side Regina seeks to achieve her bodybuilding dream in the shortest possible time.
"I am over 40 now so I am thinking of giving myself another two or three years competing to achieve my goals by the grace of God because I am still feeling strong.
"My target is to compete in more international shows going forward and be the best African female bodybuilder. And my ultimate goal is to compete in Olympia shows," the 2020 Zimbabwe Sports Woman of The Year said.
Jonga's story is an inspiring one considering that she only started bodybuilding at the mature age of 35 about ten years ago and went on to scoop a lot of titles locally and in South Africa.
She also worked in South Africa as a housemaid to sustain herself in the sport and also looked after her two children Natasha and Nicole, before she turned professional.
Related Topics