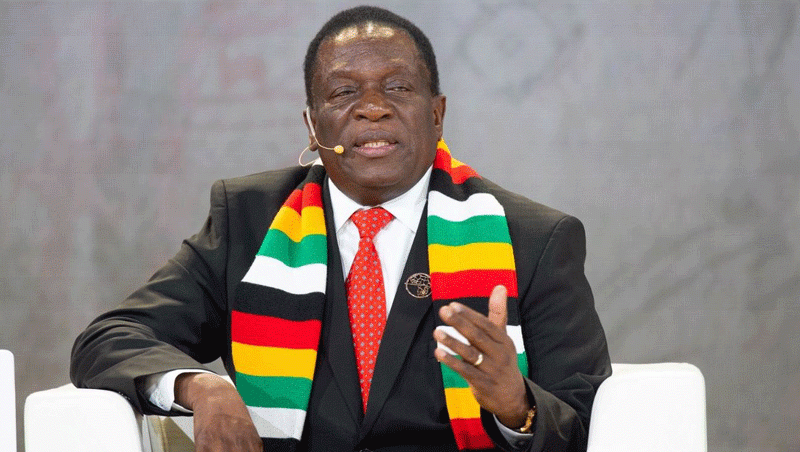 THE election season has officially begun. President Emmerson Mnangagwa has in the week deliberately given his party, Zanu PF, inside information on the August elections instead of gazetting such information as required by law.
He has unduly used his power of incumbency and association with Zanu PF to the disadvantage of all opposition parties.
In a series of public statements before his supporters and party members this week, Mnangagwa revealed the election date, that the elections will use the new, but controversial delimitation report that changed electoral boundaries and more importantly said his party will start the primary elections next weekend.
On Wednesday, while in Marange, Mnangagwa told the apostolic congregants that the 2023 polls will be held in August.
It was a deliberate slip of the tongue for he tried to retract and said he would gazette the exact dates.
This revelation can easily pin-point the date of elections to be between August 20 and August 26. That would be the election week considering that we now know he wants to use the delimitation report he controversially gazetted on February 20.
The Constitution is very clear that any new delimitation report to be used has to be gazetted at least six months before the poll date.
We are also aware that election dates are now dictated by the Constitution. The counting of the five-year tenure begins on the day the president is inaugurated.
In this regard, we know Mnangagwa was inaugurated on August 26, 2018 after the Constitutional Court had dismissed the opposition petition on the presidential election.
It is, therefore, clear that any constitutional election should be held on or before August 26 2023.
Mnangagwa, at a Zanu PF politburo, made another announcement. He told his party organ that the election will be held in terms of the new electoral boundaries contained in the Zimbabwe Electoral Commission (Zec) delimitation report.
The report merged some constituencies and, in some respects, new constituencies were created altogether while some provinces lost constituencies based on the number of registered voters within the province.
The announcement was made concurrently with the decision that Zanu PF will conduct its primary election using the new boundaries. The primary election will be held starting next weekend.
This has given Zanu PF a good five months or so to heal after divisive internal elections.
It has also given the party time to negotiate who gets out of whose way and who is promised what in the aftermath of the polls.
There are a good 12 honchos in the party whose constituencies were either collapsed or merged and they have to find a new home.
This will give them ample time to talk some of the ambitious young turks out of the race or engineer a plan to get on the proportional representation senate list.
The new boundaries will remain controversial after they create a disparity that is unconstitutional. There are constituencies which are 40% bigger than others in terms of voters, yet the Constitution is clear that no ward or constituency should be more that 20% bigger than another.
Secondly, Mnangagwa had initially shown some resistance to the draft preliminary report and consequently made his own recommendations separate from Parliament. However, the sticking point is Mnangagwa's recommendations were never made public.
In the same vein, it should be mentioned that on February 3, 2023, Zec chairperson Justice Priscilla Chigumba handed over the final report, but the presidency said it was a final draft report — a term that is found nowhere in our Constitution.
Mnangagwa only gazetted the delimitation report on February 20, 2023 purporting that the report had been handed to him on February 17.
It, however, remains on public record that this event was never made public. The reason behind remains a mystery only to add to political conspiracy theories.
The 2023 elections have other blots. These include the deliberate ploy not to hand over the electronic voters roll to stakeholders by Zec.
We are aware from the 2018 general elections that Zanu PF had a database of voters' information.
Most people received unsolicited text messages canvassing for votes from Zanu PF on their mobile phones. The mystery has not been solved, but it is very clear that the source is the voters roll.
Be that as it may, the opposition has largely remained lethargic in its operations. It has not been on the ground sufficiently to signal that this is an election season. Yes, police have banned their meetings in an arbitrary manner.
However, there has been little activity on social media, newspaper opinions and any discernible form and structure of the parties in constituencies.
It is a fact that there will be aggrieved members after they fail to make it to the final party list of candidates for 2023 elections since there is no indication if ever primaries will be held.
There is no clarity on what will happen to sitting MPs whose constituency boundaries have been altered or completely collapsed.
Could this be the opportune time to revisit Zimbabwe's electoral system? Can we change it from the Westminster style of winner take all to the more representative proportional representation?
In proportional representation, there are less chances of violence as voters vote for a party — a party which decides its own party list.
Intimidation will be minimised and democracy flourish as from recent data, no party will gain a two-thirds majority, thus creating a platform for bi-partisan national politics.
As the country grapples with the aforementioned electoral reforms, it is clear that Mnangagwa is not leaving anything to chance and will use every legal hook and crook approach to sway the election in his and Zanu PF's favour.
The opposition should remain wary and be proactive in order to save itself and have another chance to fight in 2028.
Related Topics