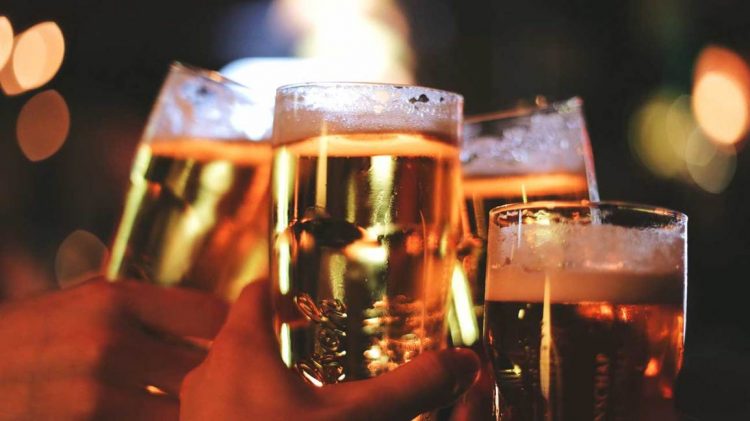 BY BHEKILIZWE BERNARD NDLOVU
In the workplace, and when being interviewed for these jobs most of us are desperately in need of, we are all "social drinkers". Google defines a social drinker as a person who drinks alcohol chiefly on social occasions and only in moderate quantities. We are aware of the judgements we are likely to meet if we decide to talk honestly about the relationship we have with alcohol. People would rather be safe by sounding learned and organised when it comes to this liquid that carries a lot of stigma in the workplace. So, the 'I am a social drinker' answer is safe for anyone. Most employers are now careful around the subject because of the many stories of abuse. It is not surprising that the way someone looks can be used as an excuse for not employing them if, for example, they, according to the interviewer, look like a drunkard. You get such concerns immediately after leaving the interview room as, "he looks like someone who abuses alcohol…" or even more bluntly some will label someone a "phuza face" someone who whose face betrays their love for alcohol. Once that is said about an interview candidate their chances of getting the job are slim. We are not talking about their right to get the job here but their reality. No one will tell them that they didn't get the job because of their face but they will get that generic letter of "thank you for showing interest to join our organization but we regret to inform you that you were not successful…"
I recall several years ago when I worked for this big manufacturing company as a human resources officer and recruitment fell under my portfolio. We got this man who came to be interviewed for the technical position of electrical controller. He spoke well and was very funny, impressing all of us in the process and joined us but barely a fortnight down the line he came to work drunk. Now this is what happens when you are in human resources; when employees perform well, they belong to their supervisors and the supervisor gets all the praise and accolades for being a great leader, but when things go wrong, especially immediately after entry, that person is called "your person". So, I got the line manager of that employee coming to me to say, "Your person is here today and drunk…" I was quite fresh in the workplace and green regarding alcohol and the problems it can create. I was naïve to be frank and so didn't understand why someone who just got a job and a good job for that matter could be that careless and risk losing it. I was to later learn that alcoholism can do that. That an alcoholic can be at the messy of alcohol and risk losing important things in life, jobs being one of them. One gets to a point where alcohol or whatever substance is being used, takes over and drives the individual. At that point, no wishful thinking or pleading will help, and the individual will need a rehab process. Some do well and become recovering alcoholics for the rest of their lives while others lose it forever, rising and falling, picking up and relapsing without ending. This is where something that looks good to some becomes poisonous to many.
There are all sorts of schools of thoughts regarding how some people will drink as often as they want and stop without any problems if they decide to, while others get hooked and cannot stop until something like a rehab intervention happens. I have found the theory that all alcoholics are allergic to alcohol very interesting (Nowinski & Doyle, 2012). It is argued that someone who is allergic to alcohol will trigger alcoholism if they drink. This means that stopping once the cravings seem persistent is the way out for many or the risks are huge. Just like a positive HIV status, alcoholism once dictated becomes a permanent status and one is labelled a 'recovering alcoholic' for the rest of their lives and even if they have not been using for years. Based on such facts, the workplace does need to talk about alcohol and alcoholism to take care of the stigma associated with it and have people become free to bring themselves forward and seek assistance should they feel that they have become hooked and are finding it difficult to break free.
The workplace needs to talk freely about this important subject because this is how stigma is dissolved. There are many lessons to be learnt from the HIV(Aids) journey where even talk about the subject came difficult at first and brave counsellors had to hit the stigma hard by making the subject of sex topical, going to the extent of teaching men how to put condoms on. Such breakthroughs do not come on a silver platter but with focus and attention, a company can help people loosen up and talk about stigmatized matters.
Why is it important to talk about alcohol and alcoholism in the workplace? After all we are all social drinkers. It is important to understand that difficult social conditions make human beings susceptible to over drinking and exposing themselves to alcoholism. Zimbabwe is going through difficult times as a country right now and the worker is bearing the brunt of a failing economy. Under such circumstances people may indulge in alcohol and other circumstances as coping mechanisms (Shaw, 2002). This is bound to affect productivity in the workplace with employees coming to work intoxicated and with their sense of judgement affected. It is not being judged by others that makes the need for our alcohol intake to be checked important, but what alcohol can do to our sense of judgement. "When you are tired, you may become more 'peaceful' more relaxed, than in your usual state. This is because thinking is subsiding, and so you can't remember your mind-made problematic self anymore. You are moving toward sleep. When you drink alcohol or take certain drugs… you may also feel more relaxed, more carefree, and perhaps more alive for a while. You may start singing and dancing, which since ancient times are expressions of the joy of life. Because you are less burdened by your mind, you can glimpse the joy of Being. Perhaps this is the reason alcohol is also called "spirit." But there is a price to pay: unconsciousness. Instead of rising above thought, you have fallen below it. A few more drinks, and you may have regressed to the vegetable realm." (Tolle 2009) Thought is an important thing, but we do need to rise above it and rest from its burdens.
While for some, alcohol is a source of joy and carousing, for many it has become a problem, literally ravaging homes, the workplace and many other important institutions. It is an important subject to talk about and have as a topical social training issue by any organization that wants to build a working and functional workforce. If any organization thinks educating its employees about the good and the bad regarding alcohol is expensive, let them try not doing it.
Bhekilizwe Bernard Ndlovu's training is in human resources training, development and transformation, behavioural change, applied drama, personal mastery and mental fitness. He works for a South African organization as a Learning & Development Specialist, while also doing a PhD with Wits University where he looks at violent strikes in the South African workplace as a researcher. Ndlovu worked as a human resources manager for a number of blue-chip companies in Zimbabwe and still takes keen interest in the affairs of people and performance management in Zimbabwe. He can be contacted on bhekilizweb.bn@gmail.com
Related Topics