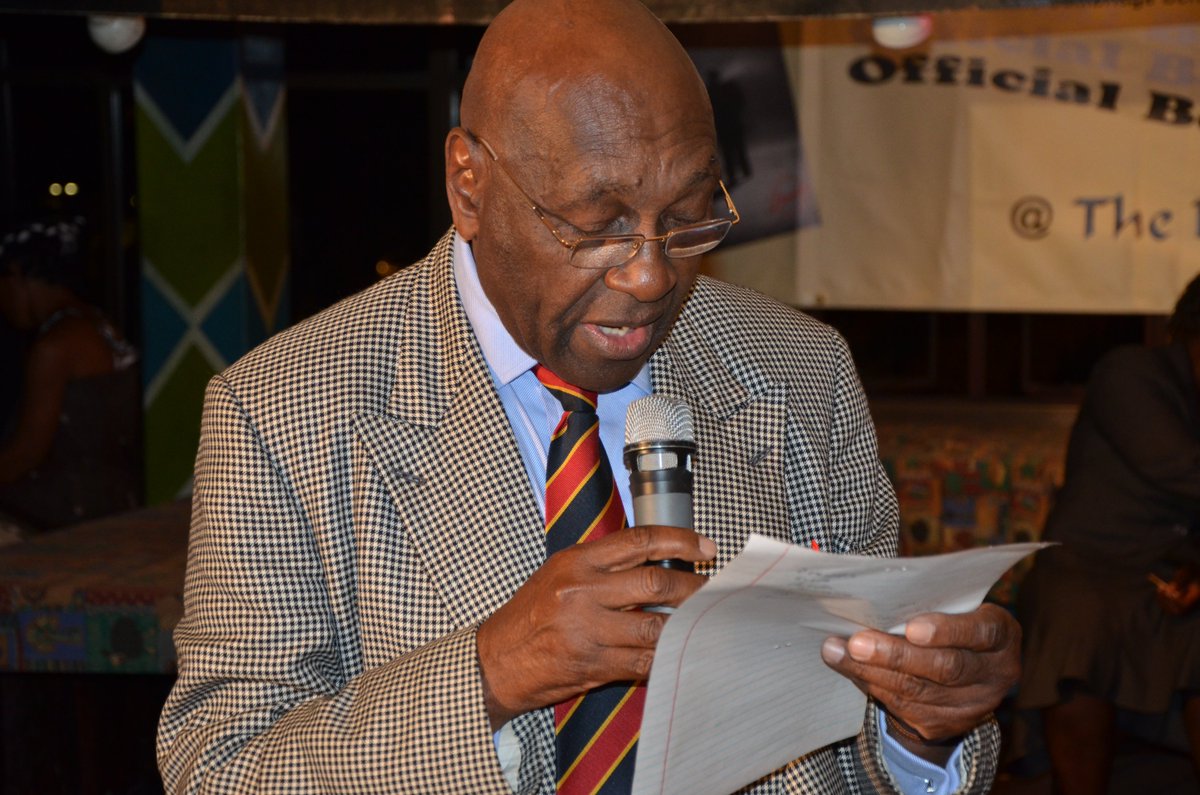 By Pius Wakatama
After the death of Professor George Kahari, one of his close friends, Ken Mufuka, who is himself a writer, author and professor, wrote, "An elephant has fallen!"
Indeed, Kahari was an elephant whose hoof prints will not and cannot be erased from the history of Zimbabwe.
As a budding writer, I first knew about Professor George Kahari as a leading professor, writer, author, literary analyst and critic of Shona and African literature.
I am, myself, a devotee of Shona and African literature. In 1967, my book, Dandadzo reNgano won second prize in a competition sponsored by the Rhodesia Literature Bureau.
I was so enamoured with Kahari's writings that I read all of his writing that I could lay my hands on.
I never, in my life, ever imagined that this celebrated intellectual icon, who I admired, could ever be my personal friend and confidante.
I first met Kahari when I was visiting my cousin, Matthew Wakatama who was his fellow lecturer at the University of Zimbabwe.
In 1975, I came back with my family from America, where I was studying, and found a home at Marimba Park, in Harare, where Kahari was also living.
We were so excited when, one day, without invitation, he and his wife, Betty, came to our home to welcome us.
They made us feel at home and introduced us to other residents of Marimba Park, including such business tycoons as Hans Samuriwo, Enock Mwayera, Aiden Mwamuka, Dennis Makomva and others including the Mushores who turned out to be my relatives — vazukuru.
From there we and the Kaharis became personal friends and their friends became our friends.
Our friendship continued to grow until the day he died.
I will not bother to list Kahari's literary, political, diplomatic achievements and his awards and accolades because these have been chronicled in much detail by many renowned writers and journalists.
In fact, I would need to write a whole book in order to do justice to the man's life.
What I will attempt to do is not to dwell on his professional work, but to write about the man's character from the perspective of a close personal friend.
Kahari was born in a grass-thatched hut in a small village in Chiriseri Tribal Trust Land in 1930.
At an early age, he herded cattle and goats, barefoot, with other boys of his age. While the cattle were grazing the boys played various sports and games in which Kahari excelled.
He was so much interested in life and things around him that he knew the names of the wild fruits they ate from the bush, the names of wild animals and how to snare small game, from mice to rabbits, for food.
At home Kahari learnt the history of his ancestors as well as traditional songs and poems from his parents and aged grandparents.
From his community he imbibed traditional Shona values, customs and social mores.
Kahari attended Chiriseri Primary School and passed with flying colours.
He then trained as a teacher at Kutama Mission where he met James Chikerema who was to become the political rabble rousing nationalist and political activist that many people in Zimbabwe know about and Robert Mugabe, who later became president of Zimbabwe.
After teaching at Kutama, Kadoma and Harare, Kahari went to Dadaya Mission to complete his secondary school education.
While there he came under the influence of the missionary, Garfield Todd and his wife who were strict disciplinarians.
From there he went to England where he excelled and acquired a doctorate in linguistics.
He lectured at many English and American universities before coming back home to lecture, as a professor, at the University of Zimbabwe.
In his life Kahari wrote over 20 books mostly on Shona culture, language and literature.
His writing was summed up by Bernard Chidzero, himself a writer and the second minister of finance in Zimbabwe.
He described Kahari's writing as "a work of art in its own right in the sense that the author is creatively perceptive, handling the twin instruments of word and idea in a neat and mutually integrative fashion so that the whole informs and delights the reader".
Having undergone a thorough western university education and having lived among Europeans and Americans, Kahari learnt much about western culture, especially English culture.
From his speech, dress, demeanor and deportment he was, apart from his colour, a true reflection of a typical English gentleman.
When speaking in English, Kahri expressed himself with real English intonation. When the situation and audience warranted it, he quoted and recited classical English poets like few English scholars could.
He was a natty dresser in the English fashion.
His hallmark was crossbelts — makusurubhande worn above his waist belt. To me, his only competition in dress was the late Mugabe.
Even though Kahari was well versed and immersed in western culture he never became a caricature of that culture as so many educated Africans became. He remained a Shona traditionalist in his world view and values as explicitly expressed in his writings, presentations and discussions. He understood and spoke the Shona language without mixing it with English words as many Africans do today. He was also pleased when addressed by his totem, Mbizi Mudzingidze."
Kahari was a practicing Catholic. However, as an African Christian he was able to integrate his faith and Shona traditions without being theologically syncretistic.
He was a man of integrity with high ethical and moral standards. He shunned the companionship of the corrupt and regenerate who tried, in vain, to gain his friendship in order to enhance their own besmirched reputations. Although he was well-connected and regarded Mugabe as a friend, he never sought favours from anybody.
"Go well Mbizi Mudzingidze. We will miss your loud infectious laugh and that mischievous glint in your eyes. Rest in peace."
However, unlike Mugabe, Kahari was vehemently against any form of racism, ethnicism, tribalism or any other discriminatory "ism".
He was very much a man of the people who enjoyed talking about individuals, their characters, idiosyncrasies and deeds — whether good or bad.
He was full of jokes and would always find something to joke about, no matter how serious the subject under discussion was.
He would often say to me: "Huya timboreva vanhu — come and let us gossip about some people."
Kahari took friendship and Shona extended family relationships seriously.
One day, he said to me, "You know what! Robert Mugabe is not a good person.
Whenever a relative of his died, I went to him to pay my condolences and to symphathise with him.
But, when my parents died, he never came or even called to say, sorry."
Since his mother was of the Eland totem, as I am, he always addressed me, according to African custom, as sekuru — uncle and my daughters, Ellah and Mavhu, as his mothers — anamainini.
He never went to England or America without visiting them.
One day, after Ellah was awarded the OBE by Queen Elizabeth for her contribution to publishing, he came home, with a pretended smirk on his face and jokingly taunted my wife saying, "Have you ever had a mother, like mine, who was honoured by the Queen of Great Britain?"
In 1958, Kahari entered politics by joining the African National Congress led by Joshua Nkomo.
Politically, he was a moderate who believed in a multi-racial and multi-ethnic Zimbabwe and was loyal both to his friends and to his ideals. When the Zimbabwe African People's Union (Zapu), also led by Nkomo, who was also a moderate, was formed, Kahari was a founder member.
When Ndabaningi Sithole, Mugabe and others split from Zapu to form the Zimbabwe National Union (Zanu), Kahari remained with Nkomo and Zapu.
After Zanu and Zapu formed the Patriotic Front, Kahari, at heart, remained Zapu.
He would often proudly say, "I never joined those corrupt uneducated crooks. Look at how cruelly they treated Joshua and the Ndebele tribe. It was genocide!"
Kahari loved the outdoors and wild Zimbabwe. During summers, he organised his friends, for trips to Mana Pools Game Reserve on the banks of the Zambezi river.
Mostly, these were myself, Gibson Muzadzi, Cornelius Sanyanga, Sylverster Saburi, W  Mhishi and Phillip Chipudhla, proprietor of Kambuzuma Hotel.
Even though we were in the bush, Kahari was always smartly dressed. To our derision, early in the morning, he would be wearing a clean white shirt, jacket and dress shoes.
One day, I had to remonstrate with him when he was about to polish his shoes.
I pointed out to him that we were in the bush where he didn't have to dress up. He smiled sheepishly, but went on to polish his dusty shoes anyway.
One day, he got too close to a hippo to take a picture. We were so frightened as we watched him run for dear life when it bellowed and charged at him.
Fortunately, it felt sorry for him and turned back into the water. He was breathless and it took some time for him to regain his  professorial composure.
He was not amused whenever we laughed as we told people at home about this mishap. To him, it was nothing to joke about.
Kahari seemed to have a premonition of his death.
The last time he visited us he was in a sombre mood and talked about how lonely we were since most of our friends had died.
He then started  to sing the Shona dirge, "Ririri-riri-riri. Hama dzangu dzapera kufa. Zvino ndichavigwa nani?"
I joined in with the refrain, "Jamuningwa!"
"Go well Mbizi Mudzingidze. We will miss your loud infectious laugh and that mischievous glint in your eyes. Rest in peace."
Related Topics