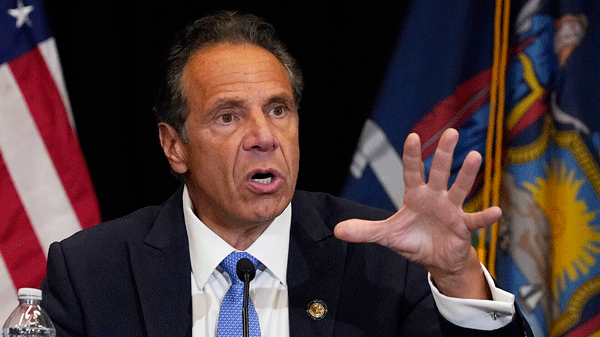 BY KENNETH MUFUKA
I started my journalistic career under the wise and brotherly guidance of Sunday Mail's Willie Musarurwa. He always reminded us about balance not only in one's affairs, but in public discourse as well. "Beware what you wish for others," was his constant reminder.
New York governor Andrew Cuomo is the quintessential demagogue and as such earned the title of newsmaker. True to character, he adopted whatever cause was in vogue and championed it. The Donald Trump election and presidency brought into focus patriarchal attitudes and treatment of women.
Yesterday he was the leading prince among Democrats. Today his career lies in ruins on a platform he himself (a trap) had set for Trump.
The fact is that men of power usually assume that sexual advantage over women is theirs for the take and that it comes with the territory. Only two presidents in US history were free from owning and supporting paramours. The great president FD Roosevelt died in the arms of his paramour in Florida and JF Kennedy used to smuggle women into the White House through the janitor's back door.
The great female stars of Hollywood were sponsored by "big men" and this included Marylyn Monroe.
Cuomo and Democrats, having failed to win the election against Trump, manufactured a new weapon, male attention towards women, whether at the time consensual, because of the power relationship, was cause for dismissal. Many women, led down the garden path on promises by powerful men, often found themselves in limbo, 20 years later.
The promises were never written down, they were sealed by winks and smiles; interviews were held in the middle of the night, at select hotels. No witnesses certified secret romps between powerful men and young beautiful apprentices.
Trump, who owned Miss America Pageant was their whipping boy. One of Trump's accusers said that Trump had visited her dressing room. Though she was dressed in a robe, she felt his eyes penetrate through the robe. "He must resign as president." She insisted.
Cuomo was the leading voice.
The statute of limitations was thrown overboard. The need for witnesses was put aside. The accuser was the prosecutor, the jury and the judge. No evidence, apart from the word of the accuser was needed. Further, federal laws were muscled to include criminality and jailhouse tenancy for very long periods. Such was Bill Cosby's case.
Here was Cuomo's position on this issue. "Any politician, in this state who continues to stand with Trump is going to be unseated. Silence is acceptance. This is intolerable, inexcusable…this is disgusting." Well said governor, shouted the feminist fighters.
The point, dear reader, is that the accusation itself is a death sentence. "The woman must be believed," the demagogue went on. (October 08, 2016)
Trump was declared a persona non grata in the state in which he was born, and his Trump Towers Hotel boycotted by government contractors.
What goes around comes around
Female staffer Lindsey Boylan occupied the position of chief of staff at Cuomo's office, 2015 to 2018 and then served as deputy secretary for economic development till she decided to run for the legislature in 2020.
Until then, apparently she enjoyed Cuomo's support. Many apparatchiks go on to become politicians themselves.
But somewhere, somehow, things went wrong. Boylan wrote a long list of complaints when her political campaign was losing support. She suddenly remembered that Cuomo was a "harasser" and that he had once shown her a cigarette box gifted to him by then president Bill Clinton.
"So where is Cuomo's offence there?" she is asked. That cigarette box reminded Boylan of Monica Lewinsky. Cuomo must be guilty.
Cuomo sent his staffers flowers on Valentine days. So where is the complaint?
Boylan says that was a sexual gesture and an "exploitation of power relationships with women around him." So if Cuomo sent all the women in his office flowers on Valentine Day, he was making some sexual suggestions to all of them.
I have before me an 18-page defence written by Cuomo in his own defense. "The governor also flatly denies Ms Boylan's unfortunate claims that he once suggested that he wanted to "mount" her like a dog… and that he kissed her on the lips in a manner that was in a way Platonic."
On August 14, 2020 while campaigning, and hoping for Cuomo's support, she had tweeted; "Proud to work for a governor who takes women seriously." On March 20, in the same year, she had written; "this is what we need in leadership. Thankfully we have it. It takes responsibility and accountability. All of the above are in short supply in our federal leadership (reference to Trump). I am seeing it in our governor."
In his memo, Cuomo makes the following points.
First, please do not politicise such a serious issue as sexual harassment. It can ruin many lives needlessly. When he was preparing a trap (riva) for Trump, it was alright for him to politicise the issue of sexual harassment as a Republican issue.
Cuomo makes a bitter complaint about the failure of attorney general Letitia James to conduct a fair and balanced investigation "into the complaints of sexual harassment brought against the governor."
The investigators failed to ask the governor's side to respond to complaints, and some of the complainants remained incognito. So, the argument goes, all the 168-page report is based on presentations by women. Cuomo complains of exclusion.
The governor must be absolutely daft. He has forgotten that according to the rules he set, when he was ogling for Democratic Party nomination for a presidential run in the near future, he said that women must be believed. There is no room for men to respond.
"You sluggard, shut up, resign and go home. You are not governor anymore." The feminists have a dream case here.
"No man, no matter how powerful, can be allowed to harass women or violate our human rights laws," said Letitia James. Cuomo says sister James ( a black) wants to be governor.
None of the women claims to have been raped.
James is talking about a jailhouse time for Cuomo. "This is an opportunity to stand together, as Republicans and Democrats against harassment," the governor once said.
The poor man is disoriented. He does not understand it. He laid the trap for Trump. What goes around  comes around.
Peace.
Ken Mufuka is a Zimbabwean patriot. He writes form the US
Related Topics