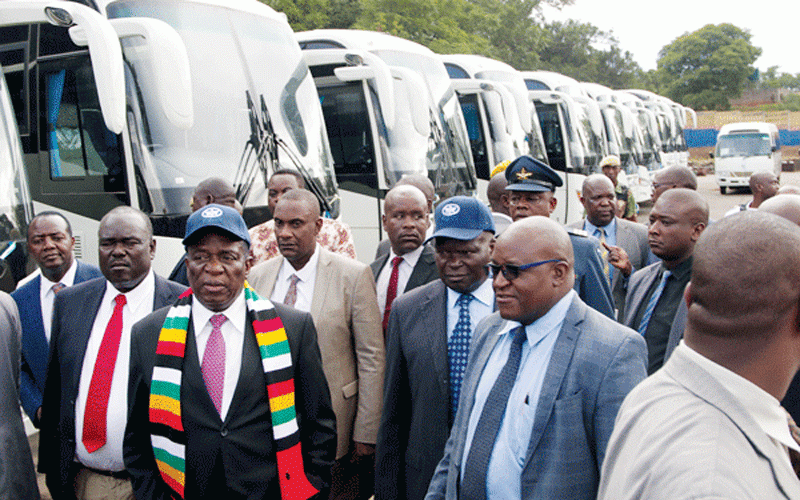 Two years ago Zimbabwe United Passenger Company (Zupco) radio jingles were released praising President Emmerson Mnangagwa for reintroducing the now forgotten mass public transport system.
"Commuters in urban areas are proud of the Zupco buses.
"It is the same in rural areas where commuters prefer the buses," played one jingle posted on micro-blogging Twitter showing Mnangagwa sitting behind the steering wheel of one of the buses.
"They are proud of the buses and that is why they say Zupco, Zupco, Zupco.
"We thank you government, we thank you president.
"We appreciate the ongoing successful project of Zupco buses from our leaders."
Government had reintroduced the long-abandoned Zupco a year earlier in January 2019 to ease the burden of high transport costs faced by commuters.
That was before Covid-19 swept through the country.
After Covid-19 hit the country, government issued Section 4 (2) (a) of the Public Health (Covid 19) Prevention, Containment and Transport (National Lockdown) order 2020 banning private-public transport operators as authorities sought to force a Zupco monopoly.
Despite private-public transport players being forced to join Zupco to resume operations, the ambitious project faced resistance from many stakeholders including commuters who were left stranded as Zupco failed to meet demand.
In May this year, as more private players ditched the Zupco project, government was forced to make a u-turn and allowed the former to resume operations independently.
At the time, the Zupco fleet had already been pushed out of many urban routes by private transporters and was relegated to rural areas.
Zupco, which is struggling to stay afloat, was also accused of failing to meet its contractual obligations, forcing the private transport players to ditch the state-owned public transporter.
Former speaker of Parliament Lovemore Moyo told The Standard that the Zupco monopoly project was always destined for failure.
Moyo said Zupco has been dead operationally and was bankrupt with no resources or capacity to manage any successful and sustainable public transport sector.
"Therefore, in its current form and structure, Zupco can never be saved from total collapse as it has dismally failed to generate any profit for the government and itself in order to independently finance its operations," Moyo said.
According to Moyo, the Zupco project was politically motivated and not supported by any economic facts.
"Actually, it's abundantly clear that their urban public transport sector was designed to achieve political expediency with less due consideration given to the gigantic costs associated with the running of such massive transport operations," he said.
Zupco buses have been used to ferry Zanu PF supporters to the ruling party's events, including rallies, leaving commuters stranded.
During the late Robert Mugabe's reign, Zupco buses emblazoned with big posters of former first lady Grace Mugabe, were a common sight.
"Poor planning was at the heart of the collapse of the Zupco public transport project including lack of cost analysis and viability assessment which led to the imminent collapse of the government- sponsored Zupco urban public transport system," Moyo added.
"The resistance by private commuter operators to join the Zupco transport project and subsequent withdrawal of their commuter buses further exacerbated the situation and immediately threatened the sustainability of government transport project.
"The populist and uneconomical pricing regime eroded the profits for the transport operators hence most of their vehicles were grounded mechanically with no adequate money to fix their vehicles."
In October this year, High Court udge Justice Evangelista Kabasa issued a ruling declaring the Zupco monopoly as unlawful, irregular and invalid.
Kabasa's ruling followed an application by Tshova Mubaiwa, a network of commuter omnibus owners operating in Bulawayo challenging the Zupco monopoly.
Tshova Mubaiwa members argued they were left unemployed as a result of the Zupco monopoly and said their rights were being violated.
In their application, Tshova Mubaiwa cited then the Health and Child Care minister Obadiah Moyo, police commissioner-general, Godwin Matanga, Local Government minister July Moyo and President Emmerson Mnangagwa as respondents respectively.
While government insisted that a Zupco monopoly was necessary as a Covid-19 preventive measure, researchers said the state transporter exposed commuters to infection as they would queue for several hours waiting for the buses without any social distancing.
"The study found that though the Zupco initiative mainly benefited commuters through affordable fares, it had many human security costs," reads in part a study by scholars Washington Mazorodze and Enock Ndawana titled: State monopoly on urban transport system and human (in) security in Harare during the Covid-19 pandemic.
"The costs included reduced safety and decreased and unreliable services, which exposed the commuting public to the risk of contracting Covid-19 and other security challenges.
"The state monopoly on urban transport exacerbated the social and economic impact of Covid-19, promoted inequalities, police corruption and urban residents' use of informal transport services, which were unsafe and costly."
Reports also exposed the Zupco project as another looting system.
According to reports, a company contracted to purchase the buses on behalf of government made a profit of US$154 000 per bus.
The Dragon buses bought at a cost of US$58 900 each were said to have been sold to government for US$212,962 each.
Harare-based political analyst Rejoice Ngwenya said the Zupco project was founded on corruption, deception and lies.
"These Zanu PF guys want to use a 'vote buying' model," Ngwenya said.
"There is best practice in South Africa, thus no reason to re-invent the wheel.
"Assuming underpricing was necessary — how did they fail to provide the right quantity of buses?
"Besides, franchise operators spent days waiting for diesel allocation.
"A public bus transport system cannot be managed by an administration with ulterior motives.
"The deal was hasty and definitely not capable of lasting the rounds, let alone competing against one competitor, itself!"
Amid a public outcry over the Zupco monopoly, government went on to reintroduce urban commuter train services in November 2020 to ease the transport crisis.
The trains were Zupco-branded.
The commuter train service had been suspended in 2014 after the project proved to be unviable.
The commuter trains, popularly known as "freedom trains", were first introduced in 2011 to provide cheap transport services to commuters.
Bulawayo-based political analyst Effie Ncube said a state-controlled public transport monopoly was never going to succeed.
"It has been a huge drain on public resources and led to inefficiencies," Ncube said.
"The other major challenge for the Zupco ambition is that procurement is usually marred by allegations of corruption due to the opaque tendering processes.
"It is never clear how suppliers are chosen. This is a serious violation of the constitution and laws."
He added: "What is required is both a private and public transport system, which takes advantage of the free enterprise system while also having a role for the state and local authorities."
Moyo urged government to formulate transport policies that are just and fair to both public and private sector transport operators.
"The government must never create a monopoly and take a political view in order to control and micro-manage the freedom of movement of both the transporters and commuters," the former speaker of Parliament said.
"The transport sector as an economic tool, which provides employment must be supported and protected by laws that are conducive for doing business and guarantee profitability, affordability and safety of the commuters."
Related Topics