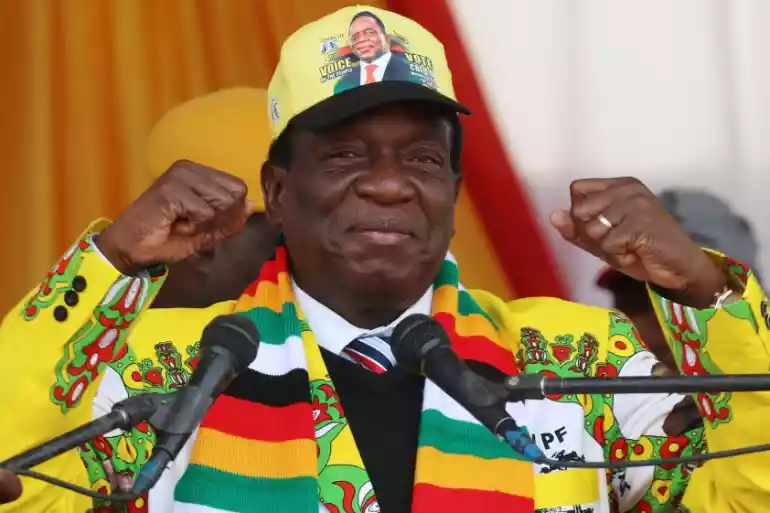 Various apostolic sect groupings in Bulawayo last Saturday put aside their differences and converged at Madzibaba Mutumwa Emmanuel Johane Masowe's shrine in Selbourne park suburb.
The gathering had nothing to do with the core business of a church, but to pledge undying support for President Emmerson Mnangagwa's 2023 re-election bid.
When it is business as usual, shrines belonging to these different leaders in the apostolic sects are within hundreds of metres of each other in open spaces in the country's towns and cities.
In some cases, several groups of less than 20 people each conduct their services on the same day and same time metres from each other.
Quite often, the fight for ownership and control is central, especially given that most shrines are named after their leaders.
But last Saturday's gathering had all the ingredients of blasphemy, with debatable conclusions and declarations attributed to the supernatural. Newly branded vehicles were on display at the event.
The Mnangagwa-branded vehicles will be used for campaign purposes.
An address attributed to one of the officials discouraging followers to support opposition parties also sparked debate with critics and observers describing it as blasphemous.
The launch of the Bulawayo Chapter came three months after Vapostori for ED was formed.
Like other shadowy groupings that have been formed in Mnangagwa's name including Women for ED, Doctors for ED, Mahwindi for ED and Teachers for ED, the Vapostori for ED's objective is to support the country's number one citizen.
Vapositori for ED (VED) spokesperson Obey Mapuranga was recently quoted in the media saying the opposition will not dislodge the ruling party like what happened in neighbouring Zambia.
"Zimbabwe cannot be similarised (sic) with other countries which are like Zambia," he was quoted saying.
"What happened in Zambia is not going to happen in Zimbabwe."
He was referring to former Zambian opposition leader Hakainde Hichilema who won that country's presidential election in 2021.
Mapuranga claimed the position of president was spiritual.
"Zimbabwe is a different country with its own spiritual doctrines. What happened in Zambia most of you call regime change, but right now in Zimbabwe there is not going to be any regime change and I am speaking of this from a spiritual point of view," he said.
As the shadowy structures are formed and launched, confusion remains on what their role is, given that Mnangagwa's ruling Zanu PF party boasts of having various structures from grassroots.
Analysts and critics have described these unions as parallel structures that expose Mnangagwa's lack of trust in the party.
The groupings enjoy State-sponsored largesse, with members being pampered with vehicles, cash and being booked into top hotels.
Analysts warned that the so-called parallel structures will cause problems for Mnangagwa and could be difficult to contain if, and when things go out of hand.
The ruling party has a functional youth wing, women's league, war veterans' league and has a desk for religion as well as a business development, education and health secretariat.
Political analyst Methuseli Moyo said Mnangagwa could actually gain mileage from the groups.
"On a positive note for Mnangagwa's campaign, it means his popularity extends outside of the traditional Zanu PF structures and keeps growing. His team seems to be on the offensive in terms of mobilisation, branding and publicity," Moyo said.
Moyo argued that the new groups do not show lack of confidence in party structures, but instead show growth of the party through quasi affiliates.
"The branded vehicles have been effective in terms of visibility and marketing of the ED brand," Moyo added.
But a self-exiled former Zanu PF minister who requested not to be named said Mnangagwa was running scared as he has no support in the party.
"He has never been supported in the party and has always used force. I remember around 2000 when he grabbed party vehicles and bussed people to Kwekwe for his rally, but he still lost that election," the exiled minister said.
Mnangagwa twice lost the seat to former MDC member and now ally Blessing Chebundo.
"He knows that his fellow comrades in the party want him out so he can't trust them to lead his re-election bid," the former minister said.
"We all know that these people don't support him, but teachers were forced to show up for fear of victimisation. You can force people all you want, but it will show in the ballot. Time will tell."
The former minister alleged Mnangagwa was selfish.
"Under (the late Robert) Mugabe, have you ever seen youth for RG or anything for RG? He is selfish and only worried about himself, but this will backfire when his ED supporters will be targeted at his demise like what they did to G40 members," he added.
Mugabe used to draw support from the apostolic sects, and it was common especially towards the elections to see the party leadership attending their church gatherings to campaign for Zanu PF.
In return, apostolic sect leaders rallied their followers to vote for Zanu PF.
Political analyst Pius Pigou said the new groups are an attempt by Mnangagwa to paint a picture of support outside the party including among civic groups.
"We saw similar efforts to create an impression of such civil society diversity during the constitution-making process between 2011 and 2013," he said, adding they, however, "amount to parallel structures".
"For some, those doting outfits may provide a semblance of parallel structures in the face of formal political structures that lack confidence in Mnangagwa."
Norton independent legislator and former Zanu PF Mashonaland West provincial chair Temba Mliswa said the shadowy ED groupings are divisive and a threat to Mnangagwa's regime.
"The President is for everyone and cannot be for one person or group. There are structures in Zanu PF and those must be utilised," Mliswa said.
"What they are doing is a waste of time because there are no guarantees these people in these groups are card-carrying party members."
Mliswa attacked leaders of the shadowy groups saying some of them are criminals who are now associating themselves with the ruling party for protection.
"Some of them are criminals who want to clean up their names. They want to use the proximity to the President because we have people who fear political figures so they take pictures and show them to whoever cares for intimidation," Mliswa said.
"If you want to donate to the party, you go to (Zanu PF secretary for Finance Patrick) Chinamasa not the President. These are the same opportunists, switchers or flip floppers and it wouldn't be surprising to see they belong to Citizens Coalition for Change (CCC)."
The Norton legislator said the formation of these groups is testimony to shortcomings in the party commissariat.
"The truth of the matter is that the President is now running his commissariat. How do you expect a person like (Zanu PF commissar mike) Bimha to mobilise support for the party when he failed to win a primary election in his constituency?."
Mliswa said war veterans, if united, were better placed to run the Zanu PF commissariat because of their experience in the war and institutional memory.
In February 2019, Apostolic Christian Council of Zimbabwe (ACCZ) president Johannes Ndanga said Mnangagwa was God ordained while addressing mourners at the burial of United Apostolic Church Independent Church of God Archbishop Chiutsi Zihowa Motsi in Mt Darwin.
In a research titled White garment churches (Vapositori) and Zanu PF party politics in Zimbabwe: True marriage or marriage of convenience during and post-Mugabe era, researcher Phillip Musoni argues that Zanu PF has a marriage of political expediency with the church.
"Thus, from the Mugabe era to this day, Zanu-PF has captured the minds and souls of Vapositori by taking advantage of the Vapositori's theology on messianic leaders. Most of these Vapositori understand that their church leader was sent by God to deliver black Africans from white domination and imperialism," Musoni argues.
"Consequently, it is concluded that the life blood of these Vapositori congregants lies in their leaders. The Vapositori members do what their leader commands. Hence, capturing a leader means capturing the members; that's what Zanu-PF has been doing to remain in political power."
Related Topics