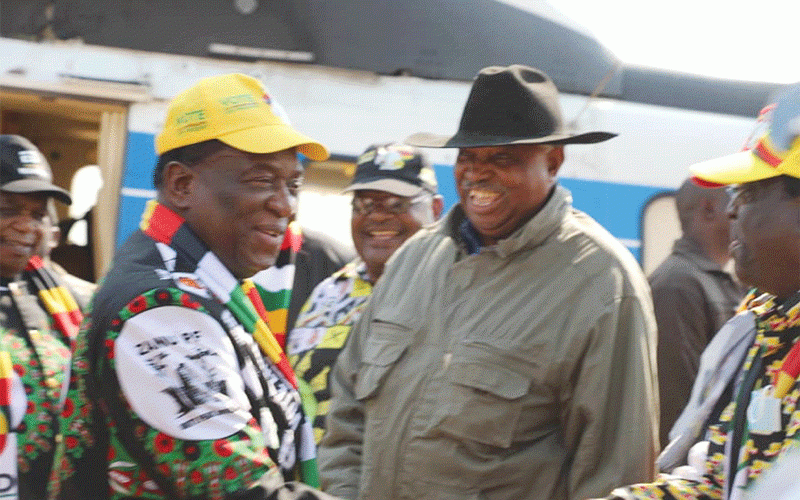 FORMER Vice-President Phelekezela Mphoko yesterday made a surprise public appearance at a Zanu PF campaign rally addressed by President Emmerson Mnangagwa in Nkayi, Matabeleland North province, after going under for nearly six years following former President Robert Mugabe's ouster in a 2017 coup.
Mphoko has hardly been seen in public since his removal from office in 2017 after plans to block Mnangagwa's ascendancy were thwarted by the military.
Mphoko attended Mnangagwa's campaign rally in the company of Zanu PF leaders, among them Vice-President Constantino Chiwenga, Zanu PF secretary for administration Obert Mpofu, and party political commissar Mike Bimha.
"Ah Mphoko, you are here. How is Bulawayo?" Mnangagwa said as the two former adversaries exchanged pleasantries.
During the rally, Mnangagwa invited Mphoko to the podium and expressed gratitude for his attendance.
"We come a long way with Mphoko. We have worked together. I am really grateful to you for supporting me," Mnangagwa said.
"This man nicknamed 'Re'. We grew up together and did a lot of things which I cannot mention. I am very grateful that you came here to support me. I thank you for this."
Mnangagwa claimed that Zimbabwe's economy grew faster than any other in the southern African region in the past three years.
"I am aware that our economic growth is constrained by sanctions imposed by Western countries. In spite of those sanctions, we the people of Zimbabwe have said we shall build our country depending on our resources," he said.
"For the last three years, our economy has been growing at a rate of 5% and it is the fastest growing economy in Sadc for the last three years under sanctions."
Mnangagwa promised to fix roads in Matabeleland North, including the Bulawayo-Nkayi Road.
Related Topics