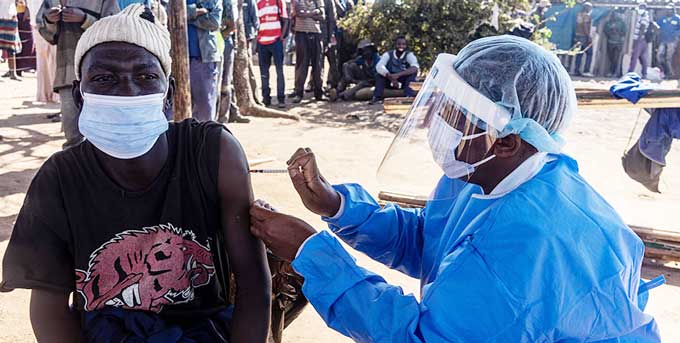 Dr Johannes Marisa
Covid-19 cases are generally on a downward trend globally although daily cases are still above one million.
Africa is recording less than 50 deaths daily, a figure which is not alarming.
Our cases in Zimbabwe are now sitting below 300 on a daily basis with mortality of less than four people on average.
Positivity rate for our country is averaging 7%, a figure which even World Health Organisation views as safe for any outbreaks.
The number of admitted patients is collapsing thus reducing bed occupancy rate.
The country has embarked on an aggressive vaccination blitz, mainly targeting school kids who are above 12 years of age.
The campaign is paying off with more than 100 000 vaccines being given in a single day. At least 23,4% of the entire population is fully vaccinated.
For us to archieve herd immunity, we need at least 60% of the eligible population to be vaccinated.
If all of us corporate, we will surely archieve herd immunity.
Countries have come up with different strategies in a bid to mitigate against Covid-19.
The world has plunged into confusion with different measures, some of which were reversed within few weeks of implementation.
In countries like France, Netherlands, Italy, there were massive demonstrations against the public health measures that were put in place.
Some people were surely against masking up, social distancing and vaccination which they claimed to infringe on their rights.
There have been at least four  waves now from the Covid-19 of which the second and third waves were a thorn in the flesh for our country in terms of virulence if morbidity is talked about.
Complications like respiratory distress syndrome, thrombo-embolism, renal failure were quite common and the demand for oxygen was higher than during the fourth wave.
The fourth wave was dominated by a unique virus, the Omicron, a mutant strain with a constellation of mutations, 30 of which were on the spike protein alone. What a tragedy!
The unfortunate thing today is that many people have flatly become complacent, with some arguing that the virus is no longer there.
We know the trick with this virus as it waits to strike in the midst of laxity. Everyone has to remain vigilant as there is great possibility of a fifth wave in the near future.
The emergence of the new subtype of the Omicron, BA.2 is a cause for concern as this strain is a highly contagious strain that appears to spread more easily, about 30% higher than the BA.1. The virulence shown by BA.2 is greater, raising fears that the coronavirus has a full bag of tricks to decimate us. China is locking up its cities because of the stealth BA.2 which is spreading like fire.
Public health measures are being thrown into dustbins with many people snubbing vaccinations up to this day.
This is calamitous and no one knows what strain will be dominant in the next wave. My fear is the fifth wave is brewing now and within the next eight weeks, we might be in another misery that will strangulate our necks again.
Your personal health should be your priority and it is therefore imperative that you do not drop guard against the stipulated public health measures.
The tail phase of the 4th wave that we are basking under should not continue to give us self-gratification as we may be caught unaware.
As soldiers, we should always remain very much prepared to launch missiles any time in a bid to evade getting ambushed.
One will realise the calamitous nature of Covid-19 after having lost a close relative or friend and the emergence of different waves has come with numerous deaths that have left scars in our hearts.
It is my advice that people should continue to observe public health measures until the world is cleared of the deadly virus.
The fatigue that many people seem to show towards Covid-19 will not help save lives but work to increase both morbidity and mortality. This should be the time to do some of the following:lGetting vaccinated as the country is still far from obtaining herd immunity. Let us encourage those who have not been vaccinated to get their doses. We need to make sure Covid-19 will not rise again.
This is the time for action in our country. People should not consider the conspiracy theories against vaccination and should therefore go for vaccination in order to get some degree of Covid-19 protection. No one knows when the pandemic is going to end.
Masking up remains very important especially when meeting many people. Political rallies are being rolled nationally and people should know that masks remain key as we continue the fight against the continuing waves of the Covid-19.
The fifth wave is near and all health factors are against us at the moment.
Let us not forget that the scourge is still amongst us and missiles can be launched any time.
No one knows if there is going to be another wave or not. Possibly this might be the end of Covid-19.
Our ways should not throw us into dens of lions. Covid-19 is still a menace!
Related Topics