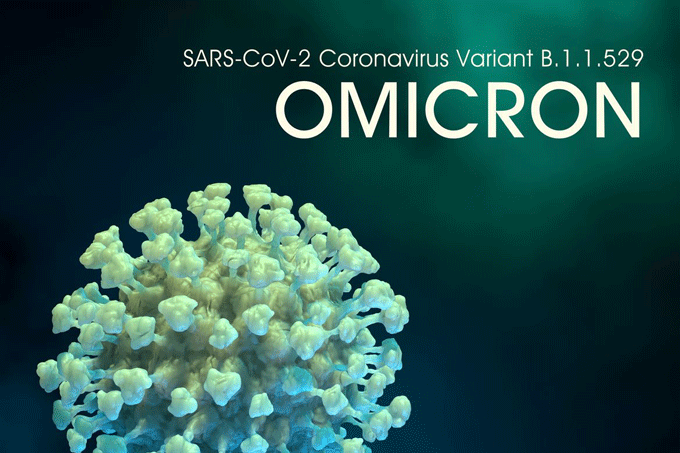 By Tula Dlamini
The emergence of the SARS-Cov-2 Omicron variant has led some nostalgic individuals to revisit a movie called Omicron that was released in 1963 with an extremely bizarre plot.
In the movie, an alien takes over the body of a human "in order to learn about the planet so his race can take it over." Fortunately, our scientists are not fazed by the fictional Omicron.
In reality, the first genetic sequence of Omicron was produced on November 24 2021 by the Botswana-based Zimbabwean researcher Sikhulile Moyo, director at the Havard AIDS Institute Partnership (BHP).
What followed was a frenzy of travel bans imposed on South Africa and other Southern African countries by the US and several European countries.
As many pointed out, the travel bans were counter-productive, and would not protect humanity from the real Omicron, which it turned out was already circulating in 38 countries globally.
Indeed, like in the movie alluded to above, Omicron would certainly be a fitting name if it was the scariest Covid variant so far, but indications are that all cases up to this point have been "mild".
The experts that I have spoken to — others on condition of anonymity — say the fatal case rate (CFR) is far less than 1% on infected people even given the high numbers of positive cases.
"It used to be around 3% in the previous waves 1 to 3 – a 300% reduction in CFR", genetic engineer, Dr Vikela Mbuso Nyandeni confirmed.
South Africa is a case in point – with an increase in Covid-19 reinfections due to the Omicron variant but "symptoms for reinfected patients and those infected after vaccination appear to be mild", scientists studying the outbreak of the new strain are reported as saying.
"What this means, therefore, is that we are most likely now getting into the phase of attenuated viruses" says Dr Nyandeni.
And the same thing is happening in Europe. The overwhelming majority of cases that have been confirmed so far have been "mild".
So why the hysteria? What have we not learnt from the previous pandemics? Take for instance, a global pandemic such as polio.
"Like the SARS-Cov-2, the polio virus had mutations which became attenuated naturally," says Dr Nyandeni; adding that "the identification of these attenuated Covid-19 viruses brings us closer to the development of possible live vaccine candidates to win this war".
Unfortunately, we are already starting to see politicians all over the world opt for the panic button.
More and more nations are considering measures that are even more extreme — including making vaccines mandatory for every single citizen.
For instance, in Germany — a vaccine mandate for the entire country is likely to go into effect in February 2022 if it is approved by parliament and by Germany's Ethics Council.
If Germany and a few other nations succeed to implement mandates, it will be only a matter of time before a lot of other countries start jumping on board, notes Michael Snyder in his latest analysis of responses to Omicron and the likely threats to the global economy supply chains.
"Ultimately, we can expect to see vaccine mandates throughout much of Europe", says Snyder. "Covid has provided the perfect opportunity for politicians to start acting like tyrants, and what we are witnessing right now is setting the stage for the exceedingly dark times that are coming", he adds.
Of course, the world is messy place. But we have choices — either we get scared to death; hide in a cave; accept forced mandates or demand that only credible science should guide us instead.
For now — our world is changing faster than ever before. From the times when humans had to live with and fear predators — lions, tigers and bears oh my! Of course, those days are not coming back.
Instead, we are confronted by a vast range of news threats, from pandemics, inequality, political intransigence and explosive violence on citizens, perpetuated by insane human beings, etc.
Each of these risks are interconnected, which is why we must engage with all of them simultaneously. But first, we must attempt to identify, contextualise, illuminate and inform ourselves about these dangers; instead of following the current hype from media talking heads — who promote fear and despondency; specialise in emphasizing the end of times, etc — further fragmenting the divides between and within communities.
Luckily, life goes on and arguably improves for more people than ever in history. Problems eventually get solved even if the process is messy. Of course, because ignorance rules — the better things are the more people complain and conjure all kinds of conspiracies.
But even as we are surrounded by all the bad news emanating from Covid-19, there are good reasons why we should be optimistic. The world would not be what it is without viruses. The virus was the first, and will likely be the last, to leave this world after humanity has left. The most logical thing to do is to learn to live with viruses, that is it.
These are extra-ordinary times to live in. We are privileged beings who sit in the front row of the theatre of life and look at something as incomprehensible as this pandemic. We never thought something like this would happen to us in our life-time.
Now, we are re-learning new rules of conduct — whether it is the value of vaccination, social distancing, hygiene requirements etc. The bottom line is that we have to change. The Covid virus does it in a stunning velocity. As our scientists try to understand the viruses, they are compelled to look deep into how they evolve. Hopefully, we also learn how it offers us new viral answers to our other social and global problems.
Imagine if we could mobilise information in such a way that helps reduce uncertainty, improves understanding and transparency; and support informed decision-making? What if we could evolve a set of accessible tools for everyone to navigate the future more confidently?
*This is the call in the book titled: TERRA INCOGNITO by Ian Goldin and Robert Muggah. The work is based on decades of research, combining state-of-the-art satellite maps and brilliant analysis. It is indeed, a great guide to the uncertain times we live in, and how it will change in the next 100 years. Go find a copy!
Tula Dlamini is a journalist and media scholar
Related Topics