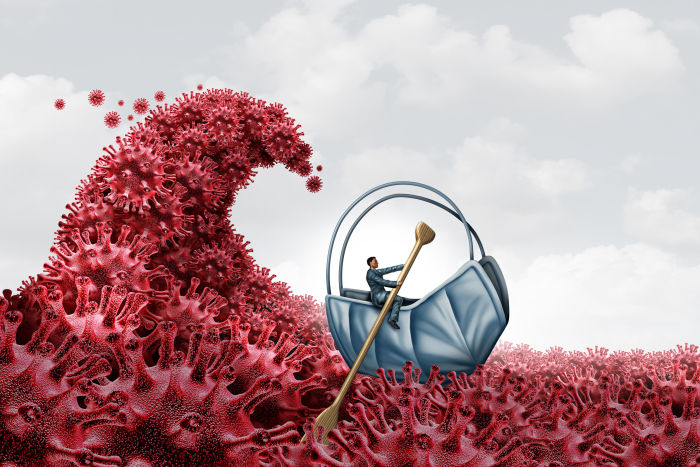 Dr Johannes Marisa
Zimbabwe should brace for a fresh wave of Covid-19 anytime as the rest of the world is grappling with BA.4 and BA.5 while some countries are now reporting Deltacron and others have to do with BA.12.
This is not pleasing at all as it shows that this notorious Covid-19 does not want to disappear instead, it appears through multiple strains that carry a constellation of mutations.
The list of variants could be endless and that shows the grievous nature of Covid-19. Researchers were getting relieved that Covid-19 was on its way out if history of the previous pandemics was to be examined.
The world has been ruthlessly attacked since December 31, 2019 and the fatigue that was now gripping people, was seen as marking the end of the dreaded virus.
It is unfortunate that South Africa has entered the fifth wave of the pandemic, with many new cases now dominating the country.
The 1918-20 Spanish Flue was a calamity which claimed close to 50 million people at a time when the world population was around 1.8 billion, a figure which is nearly a quarter of the current population.
What was to follow was the Asian Flu of 1957-8 which claimed around two million people within the two years of attack while the Hongkong Flue of 1968-69 took the lives of close to three million people within the two years of the outbreak.
Covid-19 has been tormenting us for the past three years after the first cases were reported to the World Health Organisation from Wuhan province of China in December 2019.
At first, it seemed funny to talk about the diabolical virus until a point when Covid-19 was one of the most feared viruses in the world.
The world adopted extraordinary measures in a bid to combat the virus.
Containment measures were put in place but the virus is still ravaging the planet 26-months after the first cases were detected.
No one knows when exactly the pandemic will end, but there is hope that with robust vaccination programmes, the virulence of the Covid-19 would be stemmed. There is need to upscale vaccination programmes.
Lately, the United Kingdom has been grappling with both high morbidity and mortality and the country has stopped daily reporting of cases but can now do so twice a week.
Fatigue is surely dominating but such medical prostration will not be of remedial significance as it can only add to more misery sooner than later.
The UK should know that complacency is one of the biggest drivers of Covid-19 hence people should be kept abreast with contemporary issues pertaining Covid-19.
South Africa has been recording quite higher number of new cases, a likely signal for the fifth wave.
Our country has been steadily recording high number of cases in the last seven days, a likely signal for the emergence of a new wave.
Winter has traditionally been associated with many respiratory tract infections with common cold dominating, asthma attacks, pneumonia which can now be confused with Covid-19 and its corresponding complications.
People should be reminded to visit their clinicians for testing and treatments. However, due to vaccinations, the fifth wave of Covid-19 is thought to be the least onerous of all the waves so far.
In March 2022, South Africa, Botswana, United Kingdom, Germany detected cases of BA.4 and BA.5, the new mutant viruses that are subtypes of the Omicron virus. Omicron was declared a virus of concern on November 25, 2021 when it was reported from South Africa.
The mutant strain has a constellation of mutations with 30 of them sitting on the spike protein alone.
The good news is that no major clinical changes have been attributed to the two new subtypes, but these strains should be kept under the radar to make sure that we are not caught unaware. It is not yet over until it is over with Covid-19.
With the threat of the fifth wave coming, it is wise not to drop guard. The following measures should be observed cautiously if the Covid-19 virus is to be kept under our feet:
Covid-19 testing should be upscaled at this juncture. Testing should be increased in suspected hotspots so that early cases can be detected if containment is to be archived.
Whatever happens in South Africa and Botswana has a ripple effect on Zimbabwe as we are neighbours
Robust vaccination should be continued and those who have not received booster shots should do so in order to keep the body well protected.
Only 26% of the population has been vaccinated with 5% of them having received a booster shot.
Herd immunity needs at least 60% to have been vaccinated. Vaccination has been shown to reduce morbidity, hospitalisation and mortality.
The challenge with vaccination is that both misinformation and disinformation are coming up with conspiracy theories that are bent on discouraging citizens from getting vaccinated.
Masking up should be adhered to until a time when the end of Covid-19 is declared.
This should be the same with social distancing, sanitization, hand-washing which played a significant role during the peak times of Covid-19.
Covid-19 can attack us sooner than later and we should now stand up against the impending fifth wave.
Related Topics