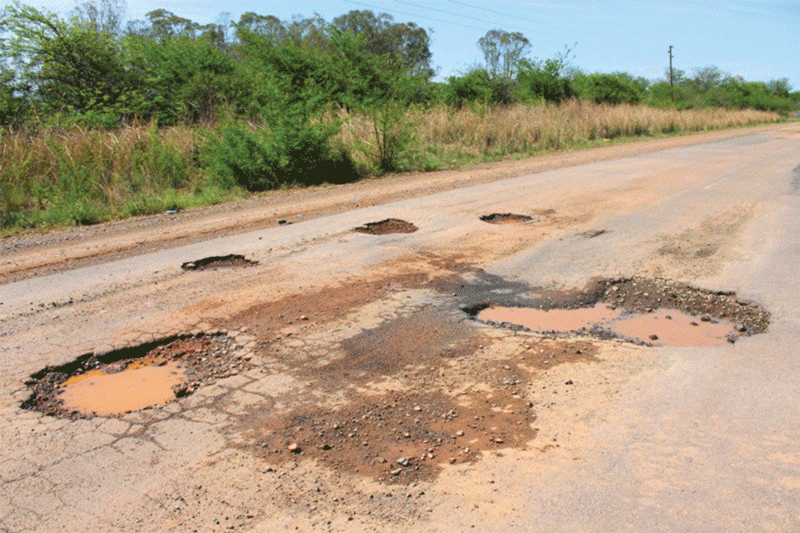 THE Harare City Council (HCC) protested bitterly over the seriously bad state of the capital city's roads and has blamed the Zimbabwe National Road Administration (Zinara) for the roads' miserable condition.
Zinara has, however, shot back at HCC accusing it of failing to account for the funds the roads authority has been disbursing to the local authority.
HCC says its failure, and the challenges faced by other councils, to adequately maintain roads arose when government transferred collection of vehicle licensing fees from the local authorities to Zinara. The licence fees were a major source of revenue for the local authorities which assisted in maintaining as well as creating new roads. And ever since Zinara started administering the vehicle licence funds the country's roads have progressively become impassable. They are also damaging vehicles and causing countless accidents, many of them fatal.
HCC's viewpoint should be taken seriously and the administration of vehicle licensing fees should be revisited with the view to making sure that motorists benefit for paying the licences by being afforded better roads to drive on. HCC is right, the funding, construction and maintenance model for the country's roads need to be re-examined.
Zimbabwean motorists deserve better than what they are getting from Zinara because its administration of our roads leaves a lot to be desired. The amounts it is collecting from motorists is not translating to tangible results on the ground.
What is most curious about the country's dire road situation is that in February 2021 government, through Statutory Instrument (SI) 47 of 2021, declared that: "Following the incessant rain that has of late fallen countrywide resulting in excessive damage to the road infrastructure network, a state of disaster exists in all rural and urban areas in Zimbabwe with effect from promulgation of this notice."
The SI further stated: "For the duration of this declaration, the Department of Roads shall take over the rehabilitation and construction of major roads in urban local authorities to expedite maintenance and repair works with provincial road engineers superintending over all roads within their respective provinces."
The declaration saw government allocating an equivalent of $131,6 billion (US$1,6 billion), which was 31% of the 2021 national budget, for infrastructural development, including road construction.
So if government was so committed as far back as 2021 to providing better roads, why are local authorities such as Harare crying this much over their incapacity to look after their roads?
Besides, if government committed "to take over the rehabilitation and construction of major roads in urban local authorities to expedite maintenance and repair works", why are councils not seeing the action on the ground?
Something is definitely not right somewhere. We thought that Zinara and councils should by now be working hand in glove, if indeed government fulfilled its pledge to take over the major roads in urban areas. Many of the major roads remain peculiarly in a sorry state.
Related Topics