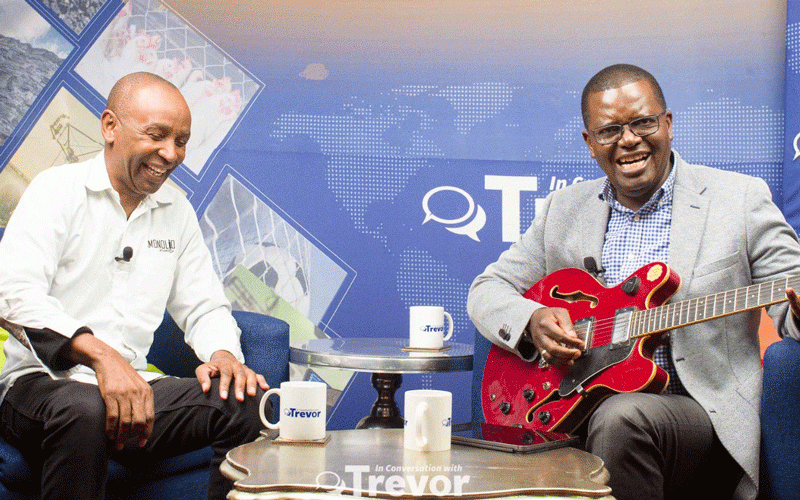 VETERAN guitarist and music producer Clive Mono Mukundu says it is by God's grace that he is still alive today as many of his peers succumbed to HIV and Aids during their early career days.
In a recent interview on In Conversation with Trevor, hosted by Alpha Media Holdings chairman Trevor Ncube, Mono Mukundu reflected on his career and the challenges he has faced as a musician.
He revealed that he never thought he would reach the age of 40 due to HIV and Aids, which claimed the lives of many of his peers in the early 1990s.
Mono celebrated his 53rd birthday with the launch of an album titled Monosophy at an event held at Alliance Francaise two weeks ago.
The album carries six tracks such as Runako, Matsiuriro, Kunamata Vanhu, Chigumbu, Evidence and Kuzviroya.
"There are so many differences in getting inspired to make music but on this album I was inspired by old age," he said.
Mono said he felt the need to deliver a message to his listeners on the new album rather than showcasing guitar skills.
"I was inspired by the fact that I am now 50 and I needed to say something," he said.
"In previous albums I used to show off my guitar skills but on this project I concentrated more on message.
"When I was in my 20s, I was 100% sure that I would never reach the age of 40 because all my friends passed away before the year 2000.
"What killed them is what we used to do together.
"I never thought HIV and Aids could not spare me and that's why I call myself God's favorite guitarist.
"God loves me and saved me, though I am not a Christian, I worship God outside religion, and Christianity is a religion."
Mono was born at Rusape General Hospital to Joyce Gwatidzo and George Mukundu.
Due to his fashion statement of sporting a single dreadlock, he was later given the nickname Mono by his friends in 1989, which has turned out to be popular than his real name.
Mono is a music producer, composer, and multi-instrumentalist largely known as a guitarist.
He is also an author. Mukundu has featured on more than 1000 albums and over 200 singles from 1988 to date.
He has worked with artistes such as the late Oliver Mtukudzi, Somandla Ndebele, the late Chiwoniso Maraire, Jah Prayzah, Tocky Vibes, Dereck Mpofu, Alexio Kawara and Fungisai Zvakavapano-Mashavame among others.
Related Topics