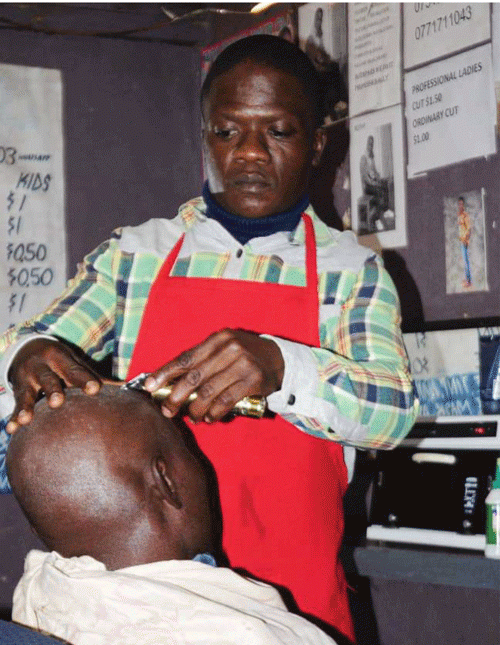 The sharpening sound of blades, hanged guitar on the walls and huge posters of different hair styles greet customers as they enter a barbershop to have a hair cut while the low volume of a radio is heard signalling the beginning of a new day for Bothwell Butau (42) who stays in Dzivarasekwa high-density suburb, Harare.
This is the life of the Sungura musician, who fronts The Hitmakers Band, is accustomed to since 1997 as a 16-year-old when he embarked on his musical journey.
"I am a barberman by profession since 1997 and I enjoy it very much. It made me become a musician because all the money that I used to form the band and recordings of my first album came from the barbershop," Butau said.
"From this barbershop, through meeting different people and sharing day-to-day life issues, that is where I get the content to compose songs and I record them on my cellphone as I work."
He added: "When I started my musical journey, the money I used to pay for rehearsals was from working as a barberman."
The Hitmakers Band frontman has diversified in his line of work as he managed to open up some other new avenues of bringing in money rather than relying on music and the barbershop.
"I have also managed to start a printing business so as to increase my revenue. I no longer rely on music because it has been heavily dogged by piracy such that it makes no sense to continue releasing songs. I witnessed this during the Covid-19-induced lockdown, hence the idea to open other business avenues.
"By operating these businesses, I have managed to maintain a certain level of discipline so as not to bring my life into destruction by accompanying myself with better friends who give me good ideas about life," the Vasikana vemazuva ano hitmaker.
Although Butau has made achievements by setting up a musical band and businesses, he has had challenges in his life as he found himself divorced.
"Due to popularity at a very tender age, I failed to understand what it really requires to be a good father and this ended up costing my marriage, hence my wife whom I had a daughter with left me," the 42 year old said.
"I also took marijuana and drugs which affected my focus towards achieving my goals. I have since quit and it's now water under the bridge. I am now a Christian and I go to the Jehovah's Witness church."
Butau still has great love for music but he feels his recording company was never honest with him in the way business was done.
"Music sales were done by the music stables and it was difficult for me to know the number of copies which were sold, as I was still very young. I feel I was cheated on my music sales.
"I also made a mistake in the recruitment of band members who were older than me. It was difficult to control them as some of them were of my father's age," the 42-year-old said.
Butau was mentored by sungura great Somandla "Mafia" Ndebele and he also assisted other bands to make it in the music industry.
"I was groomed by mukoma [Somandla Ndebele] in 1997 when I joined him as a dancer. He taught me how to be a backing vocalist and compose songs. The lessons he taught me are the ones I used to kickstart my musical career," he said.
"I also featured on his videos such as Wakandidadira, Fara Zvako and Mwoyo Wekurera which he did with the late Tongai Moyo."
Butau added: "I was also part of R&K African Sounds during its formation. We arranged the first album Dama Rakanaka with Rangarirai Sagombeto [he was the composer of the songs]. I only assisted him."
Despite Butau having challenges, he has managed to maintain his band and channelled out six albums namely Dedemera (2000), Kuzama Raki (2002), Ose Machena (2011), Red Robbot (2014), Experiment (2018), Tarira Nguva (2021) and a single Offline (2002).
The Hitmakers band comprises Beaton Mkweche (rythm), Achvon Makanda (lead), Mika Mafara Boroma and Shepherd Chinyani, Try Sulus (backing vocals), Shepherd Chinyani Jnr or Pieman Chinyani.
Butau composes songs and does the lead vocals.
Related Topics