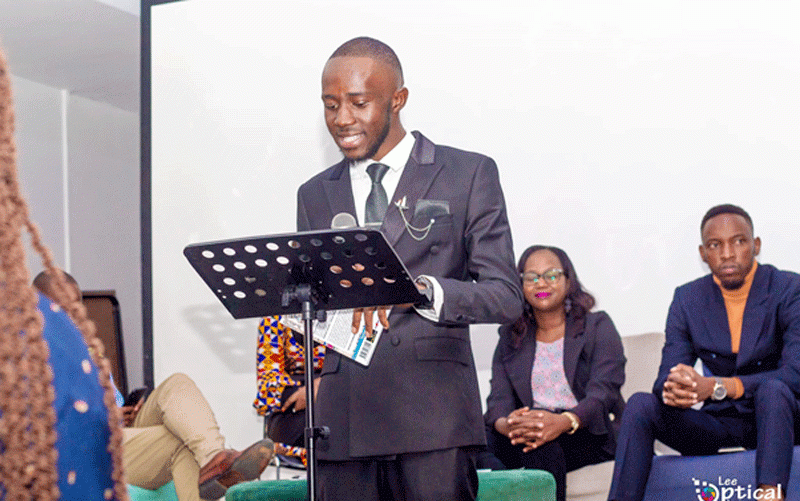 Award-winning author and literary champion Takudzwa Masapa rose to the occasion when he recently launched his fourth book and debut novella titled Over and Beyond at a packed event in Harare.
Masapa is a leadership coach and author whose message has transformed many lives. Towards the end of 2021 I featured his book Amplified Silence: Birthing Leaders that Bring Solutions to Concealed Problems after it had earned him his first accolade in South Africa.
In his speech at the launch, Masapa narrated how his writing journey had not been an easy stroll in the park,
"My first book could have been one I had titled Humans Have an Element of Immortality," he said.
"I was so excited about publishing this book and really believed I had a life- transforming message.
"I got access to one published author who said to me 'no one will read such a book' and I was hurt and demotivated that I deleted it and never attempted to write again.
"I later on published my first book Your Guide to Elite Leadership and sold only 15 copies, 10 of them to my relatives.
"I didn't stop I then went on to publish my second book Whosoever Wants to be Great and sold a similar number of copies.
"My breakthrough came in the year 2021 when I published my third book titled Amplified Silence Birthing Leaders that Bring Solutions to Concealed Problems, which earned me an honorary award at the fourth edition of the Global African Authors Awards, which were held under the theme Unlock the stories for Africa with the intention of celebrating and honouring high achievement from within the African Diaspora Community."
At the book launch, the novel Over and Beyond which was edited by respected Zimbabwean novelist Audrey Chirenje and published by Chances Inc was completely sold out demonstrating that Masapa's writing journey is that of a young man who continues to defy the odds as he navigates his way to the top.
The book cover perfectly captures Masapa's architectural prowess as it metaphorically shows an apparently young gentleman defying the odds and riding his bicycle in the midst of motorists who seem to be navigating through the middle of a busy city which seems to be Johannesburg.
His novella is that of a determined young man from Gutu who rises up to become the CEO of a Jo'burg-based consulting company.
The fiction piece explores several themes emanating from love, gang violence and abuse. It is centred around Moses Zhou, a young graduate possessing an English degree who seems to be on the verge of losing hope after many fruitless attempts at securing employment in Zimbabwe.
"He had called, e-mailed, visited potential employers and even asked around but to no avail. He had accepted defeat, but had no option except to stay at his father's house….Moses submitted applications to work as an editor or journalist at each and every media outlet."(pp 1, pp 3)
Eventually, the young man gets hired as a literature instructor at Mupandawana High School, a school in his rural district two years later. He rises to become the head of the Literature Department before his friend Melusi recommends him for a freelance editorial posting with the Frontline Newspaper.
In a tragic turn of events, he loses his father to hypertension and is forced to become the family's breadwinner. To add salt to his wounds, his mother is diagnosed with breast cancer two years after his father's demise and his meagre teacher salary becomes insufficient to support her demanding treatment.
It is against this background of his mounting woes that he is forced to seek greener pastures south of the Limpopo. Upon landing in Jo'burg, he is mugged while searching for employment and is left for dead only to be rescued by a Zulu girl Nontokozo whom he falls in love with and eventually marries.
It is Nontokozo who helps him secure an interview that earns him a good job at an African publishing consulting firm in South Africa where he rises to the top up until his appointment as its CEO.
"I know most companies would choose someone who has been part of a company for a longtime, I believe however that this is not about the number of years you have served. It is about the ability you have to take a position and lead the company to greater heights" read part of the announcement speech by the company's founder Valentine Msweli shortly after appointing Moses as the company's new CEO.
His relationship with Nontokozo faces murky waters as Nontokozo's abusive and obsessed gangster ex-lover Mandla threatens to tear him up by sending a gang to assault him for the second time in a row and his quest to find true love leaves him on his death bed.
But the love birds are determined to overcome Mandla's threatening wrath and fortunately enough, the God of justice appears to save the day as Mandla is sentenced to 78 years imprisonment for rape and drug trafficking.
As the text ends, he (Moses) becomes the symbolical biblical Moses who rescues his family from poverty and caters for his mothers' medical bills on top of sending his siblings to school.
A champion of Pan-African literature and culture, Masapa also explores the theme of inter-cultural marriages as Moses faces difficulties in marrying a Zulu girl, but he eventually succeeds.
A final year National University of Science and Technology Architectural student, Masapa is a rising literary champion within Zimbabwe and abroad having been featured in newspapers and other publications in Angola, Botswana,Uganda and Brazil.
*Fungayi Antony Sox is a content writer, editor, researcher, communication and publishing consultant at TisuMazwi — a communications-centred social enterprise based in Harare. For feedback contact him on +263 776 030 949, onnect with him on LinkedIn on Fungayi Antony Sox or follow him on Twitter:@AntonySox
Related Topics