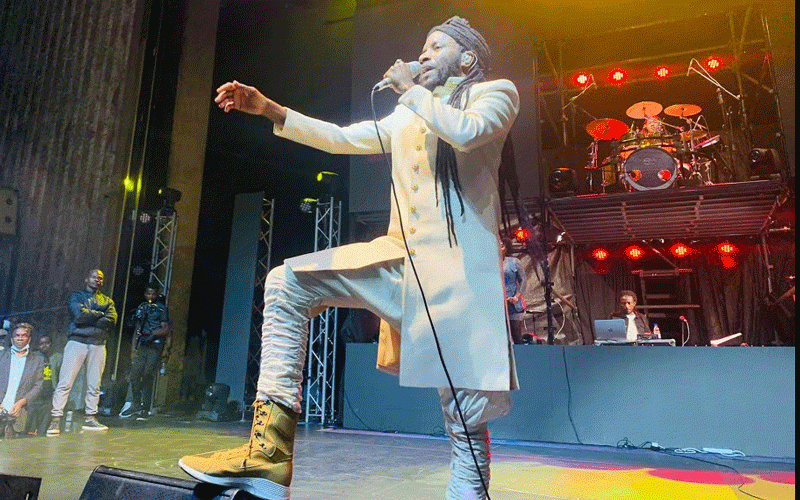 NO one wanted an "I let Nas down" moment on the eve of 2023 at the Harare International Conference Centre (HICC).
I let Nas down is a song by American rapper J Cole taken from his second studio album, Born Sinner in 2013. The song came about after Cole had released a song — Work Out — in 2011 which unfortunately Nas (his idol) didn't like.
No ID (producer) told Cole that he was in the studio with Nas, and that Nas had told him that he hated the song "Work Out". Cole was devastated upon hearing that, which made him write the tribute song to his idol, "Let Nas Down" the following year.
This was the case with the new and fresh generation of music stars Tocky Vibes, Killer T, Enzo Ishal, Holy Ten, Saintfloew and Nutty O as they faced off with their icon and mentor Winky D as he launched his album Eureka Eureka at the HICC.
The aforementioned artistes who feature on Winky D's album Eureka Eureka raised the curtain for Winky D before being called back on stage individually to perform the song they feature on.
Enzo Ishall pulled a top drawer performance and had fans literally eating from his palms, with hits such as Siki and Ahoyi.
Saintfloew of the Cheka, Gunda and Silas Mavende hits also did justice to the thousands who filled the HICC auditorium.
Nutty O was given the honour to usher fans into the New Year as he belted out his hits such as Handipere Power, Peter Pan, Open doors from his hit album Mustard Seed.
Holy Ten's performance was lukewarm. The rapper was lip-syncing which has become his infamous trade on stage.
Mujaya, as Holy Ten is affectionately known, went on to lip-synch when he was called to feature Winky D on stage for Ibotso.
The rapper did not just put up a meagre act, but forgot his own lyrics of the song. His attempts to retake his part were evidently ignored by Winky D who kept on singing his part till the song was done.
This is not the first time Holy Ten has made a fool of himself on stage. The last time it was when he jumped on stage, evidently lip-synching and forgetting his own lyrics for a song funded by PSI. The song dubbed Love shouldn't hurt also features Winky D, Sandra Ndebele, Hwabaraty and Amara Brown.
As if this was not enough of a blunder, Holy Ten was centre of controversy again after publicly regretting working with Winky D claiming that the song was now being politicised.
Holy Ten went on to do a radio interview where he insinuated that he didn't know the motive and theme of the song with Winky D hence his name is now being dragged into partisan politics.
The youthful rapper is one of the few artistes who have managed to closely work with the dancehall king and only time will tell if he will be given another chance for a dance and chant with Winky D or this is his third and final strike and he could be out of the picture.
It was Tocky Vibes' moment to re-write HICC history and he did just that.
Tocky Vibes' performance in 2014 headlined by Mafikizolo is one he would wish to forget or if he had a time machine he would revisit the day and completely scrub it off.
Performing with a band which was out of sync, The Mhai hit-maker failed to find his rhythm leading to impatient fans pelting him off the stage.
An angry Tocky Vibes turned the blame on sound engineers for "sabotaging" him. Jah Prayzah who was on his way to a show at Pamuzinda with Sulumani Chimbetu was caught up in the crossfire backstage.
Jah Prayzah had come to rescue Tocky from the raining missiles. Sources said the gesture irked Tocky who blamed Jah Prayzah for trying to score points during his act after female fans had screamed when the lanky and dreadlocked chanter stepped on stage.
This led to a scuffle between Tocky Vibe's handlers and Jah Prayzah's security backstage. After the fiasco, Jah Prayzah then accused Tocky's handlers of stealing his mobile phone.
Last week, he didn't take any chance to perform even songs from his recent 32-track album titled Chicken and Charma. It was yesteryear hit after hit, with songs such as Mhai and Level Rakaipa.
Tushiri sent many into wild cheers, singing along and dancing.
Just after exiting the stage, fans went wild calling for the return of their star. This was one of the biggest calls for an artiste to return on the night, coming back on stage.
Tocky was visibly emotional from fan-love and one can't blame him for shedding tears backstage, if he did.
Related Topics