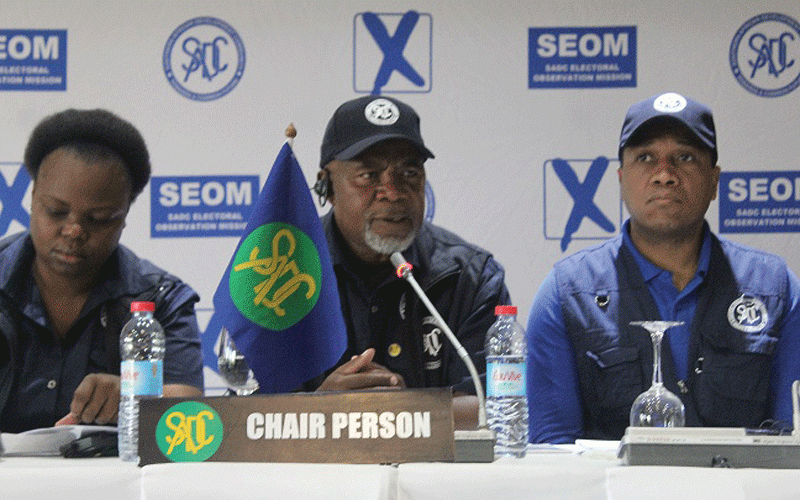 Some Zimbabweans, particularly in the opposition party Citizen Coalition for Change (CCC), have high hopes that the Southern African Development Community (Sadc) will facilitate fresh elections after the disputed August 23 and 24 polls.
Their hopes are probably driven by the main opposition leader Nelson Chamisa, who has remained silent on the way forward after he disputed the outcome and the failure to understand Sadc limits in observing elections.
The Zimbabwe Electoral Commission (Zec) announced President Emmerson Mnangagwa as the winner of polls, a result that was immediately rejected by his main rival Chamisa.
Zec chairperson Justice Priscilla Chigumba said Mnangagwa received 2 350 711 votes or 52.6% of the 4 468 730 votes cast against Chamisa's 1 967 343 or 44% of the vote.
Since then, there have been speculation that Sadc had the power to force Zimbabwe to hold fresh polls.
However, looking at the Sadc protocols and its template, chances are very slim that Zimbabwe will have fresh polls pushed because of pressure from the regional bloc.
Sadc plays an important role in observing elections in the region.
Its electoral observation missions (SEOMs) are deployed to member states at the invitation of the government.
This means that it is up to sovereign member states to decide whether Sadc should observe their elections or not.
Knowing that their role is to observe, Mnangagwa invited Sadc and other election observers to sanitise Zimbabwe's soiled image in the international relations dynamics.
SEOMs are typically composed of a team of experts from Sadc member states, as well as from other international organisations and civil society groups.
SEOMs do not monitor elections, but they are deployed to observe. Sadc as a regional bloc has no power over its sovereign member states.
A classic example is that of the disbanded Sadc tribunal, which was established in 1992 as a sub-regional court, to provide, among other things, a remedy to citizens of the 15 member countries when their own countries were unwilling or unable to act on their complaints.
In November 2008, in one of its first human rights cases, the tribunal ruled on Zimbabwe's land redistribution in favour of the plaintiffs, white landowners trying to block government acquisition of their farms.
The late Robert Mugabe refused to enforce the judgments.
In a clear move to avoid acting against Zimbabwe, countries at the 13th Sadc Summit in Windhoek, Namibia, in August 2010 ordered a review of the tribunal's role, functions, and terms of reference.
Sadc instructed the tribunal not to take on any new cases, and it blocked the re-appointment of eligible judges.
Sadc's historical background gives a clear position on its limits when it comes to interfering with member states.
SEOMs have the following objectives:
To assess whether elections are conducted in a free, fair, and credible manner, in accordance with Sadc Principles and Guidelines Governing Democratic Elections.
To provide an impartial and objective assessment of the electoral process.
To make recommendations to the government and other stakeholders on how to improve future elections.
In observing elections, Sadc follows the electoral guidelines and constitution of member states ticking the boxes without adding or subtracting anything before they give a detailed report in accordance with Sadc principles.
SEOMs typically arrive in the country a few weeks before the election and remain until a few days after the election.
During their time in the country, SEOMs meet with a wide range of stakeholders, including government officials, election officials, political parties, civil society groups, and voters.
SEOMs also observe the electoral process on election day, including the opening of polling stations, the casting of ballots, and the counting of votes.
In the case of Zimbabwe were irregularities during campaigns and on election day, for example, the delay in delivery of ballot papers in some areas in Harare and Bulawayo.
For this reason, SEOMs concluded that some aspects of Zimbabwe's harmonised elections fell short of the requirements of the constitution of Zimbabwe and the regional body's principles and guidelines on free and fair polls.
However, it is the duty of Zimbabwean to call for fresh polls not Sadc.
Sadc's role in observing elections in the region is important because it helps to promote democracy and good governance.
SEOMs should provide independent and impartial assessments of electoral processes, which can help to identify and address any irregularities. SEOMs also provide recommendations on how to improve future elections.
However, Sadc's role in observing elections has been criticised by some for being too lenient on governments.
Critics argue that Sadc has been reluctant to criticise governments that rig elections or that violate the rights of opposition parties and voters.
Despite these criticisms, Sadc remains an important player in electoral observation in the region.
*Evans Mathanda is a multimedia journalist and development practitioner, who writes in his own capacity. For feedback email: [email protected] or call 0719770038 and X @EvansMathanda19
Related Topics