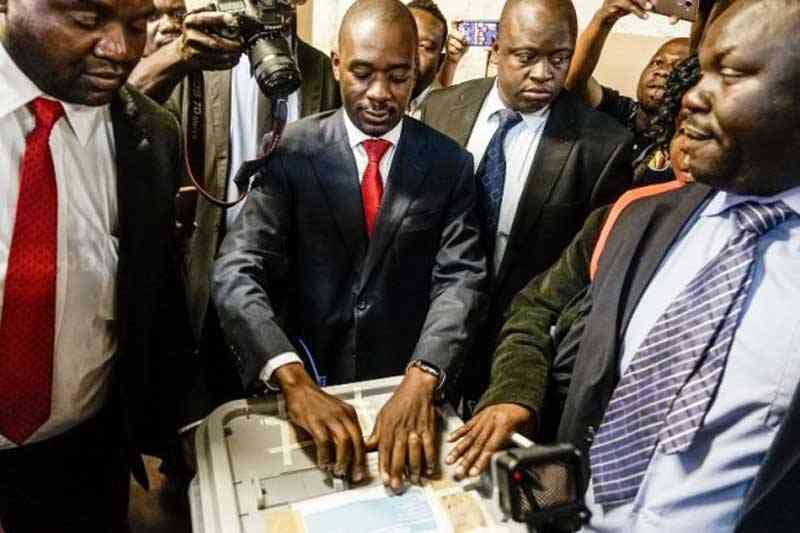 Political parties that came to power after independence have long dominated the scene in southern Africa.
It has become routine for opposition parties to appeal to constitutional courts seeking redress after elections. But African politics is gradually turning a corner
Opposition parties are inventing new ways to win elections in a region where dissenting voices have traditionally been suppressed.
There seem to be a paradigm shift.
Also, the judiciary systems have been accused of failing to play a more active role in ensuring fair electoral competition among political parties.
A political system that allows the opposition to contest fairly, win elections and take over power peacefully is essential for any democracy.
Without it, democratic consolidation is impossible.
Over the past three decades, only a few African nations have witnessed peaceful transfer of power from the governing political parties to the opposition.
Zimbabwe will hold general elections in 2023, and they are expected to be the most difficult Zimbabwe has ever experienced, if hostility against opposition is anything to go by.
In the event that the opposition wins, will Zanu PF permit a smooth transfer of power similar to what occurred in Zambia and Malawi?
In some cases, disputes are resolved peacefully; in others, post-election violence can last for months, causing long-term instability.
Some popular African opposition candidates have previously declared themselves the victors of the general election.
Some have even made it a culture to contest the results in court, claiming the elections were fraudulent.
Although it appears to be more of a formality, very few or no court cases have ruled in favour of the opposition.
The courts typically reject applications on flimsy grounds.
Below are examples of opposition leaders that have rejected presidential election results:
Raila Odinga
Former Kenyan prime minister Raila Odinga, whose plea to overturn his opponent William Ruto's victory in the 2022 presidential election was denied by the Supreme Court, said he respected the ruling, but disagreed with the election results nonetheless.
Odinga has attempted to land the Kenyan presidency five times without success. He has challenged each election's outcome on the grounds of alleged electoral fraud.
According to some political analysts, little evidence of electoral fraud was presented, with most observers suggesting that the polls were run more smoothly than in 2017.
Nelson Chamisa
While Chamisa prepares for another election, whether or not the results will be challenged in court, he can still learn from Kenya's experience.
The Zimbabwe Constitutional Court declared incumbent Emmerson Mnangagwa President of the country in August 2018 after dismissing an application by Movement for Democratic Change (MDC) Alliance candidate Chamisa seeking to nullify the result.
Mnangagwa was declared the winner of the July 30 election by the Zimbabwe Electoral Commisson on August 3, with 50.8% of the vote to Chamisa's 44.3%.
Although Mnangagwa's party, Zanu PF, also gained a two-thirds majority in Parliament, Chamisa had challenged the outcome, alleging that the result had been rigged.
In a ruling, Chief Justice Luke Malaba proclaimed Mnangagwa the winner, stating that Chamisa had fallen short of presenting sufficient proof to convince the court that the election had been rigged.
He said that the verdict was a unanimous decision by the entire nine-member bench.
Martin Fayulu Madidi
Martin Fayulu Madidi who ran for presidential candidate in DRC's 2018 elections petitioned the DR Congo's Constitutional Court to throw out the election results in 2018.
Fayulu disagreed with the outcome of the presidential election held on December 30, 2018, in which he finished second to an opposition candidate named Felix Tshisekedi.
The Constitutional Court received a petition from Fayulu to overturn Tshisekedi's victory. Election results showed that Tshisekedi received 38.57% of the vote, while Fayulu received 34.8%, and the court determined that his case was "inadmissible."
Maurice Kamto
Maurice Kamto, the opposition candidate for the MRC and FDP coalition in Cameroon, declared himself the winner of the presidential election held on October 7, 2018.
He was one of seven candidates running against Cameroon's longtime leader, Paul Biya, who has been in power for 36 years.
Kizza Besigye
Kizza Besigye ran for president for the fourth time in February 2016 against Uganda's long serving ruler Yoweri Museveni.
When Museveni declared victory, Besigye inaugurated himself in a different ceremony. He was detained and accused of high treason, but he was later released.
Following decades of underwhelming performance by some liberation parties, opposition coalitions appear to be the hope.
For African states consolidating their democracies, this is the main conflict that lies ahead.
In order for the judiciaries to fend off pressure from the executive, they will need public support, and this struggle between the two pillars of government may lead to further political unrest in the years to come.
Evans Mathanda is a journalist and development practitioner who writes in his capacity. For feedback email:

[email protected]

or call 0719770038 and Twitter @EvansMathanda19
Related Topics