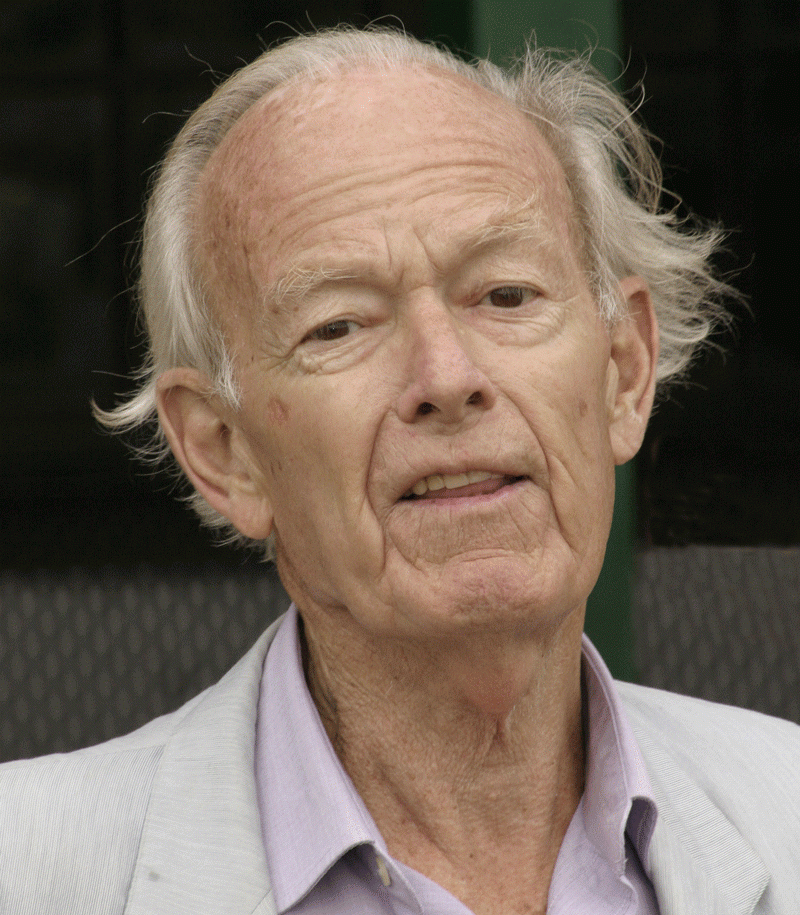 OBITUARY
SIR RAMSAY MELHUISH KBE CMG
(March 17, 1932 to May 26, 2023)
Born in London in 1932, Michael Ramsay Melhuish, aka Ramsay was schooled at the Royal Masonic School, Bushey and gained a scholarship to St. Johns College Oxford.
He fitted in his national service in The Gambia (his first overseas posting) before going up to Oxford.
He joined the Foreign Service in 1955 and was sent to Lebanon to learn Arabic at the Middle East Centre for Arabic Studies.
After his first posting to Bahrain he was sent to Geneva where he met Stella Joyce Phillips. they married three months later, and were inseparable for the next 60 years.
Ramsay and Stella then continued to globetrot around the world:Singapore, where their first son Robin was born, Prague in Czechoslovakia,where son Andrew and daughter Kate made theirappearances, back to Bahrain, then on to Washington DC where the final addition of daughter Sarah completed the family.
After postings to Amman in Jordan, he found himself back in London to head the North American Department, he was then sent to Warsaw as counsellor in 1979.
This was where he got his 'big break' as a diplomat.
In December 1981 while Christmas shopping with Stella in Berlin, he was called back to Warsaw when the ambassador suffered a heart attack.
Ramsay took over as acting ambassador.
Five days later martial law was declared and the leader of the Solidarnosc movement, Lech Walesa was arrested.
This then became an historic six months where as acting ambassador, Ramsay had to represent not only the UK, but the European Union in delicate negotiates with the Polish military government to try to ease the situation and gain the release of the leaders of the Solidarnosc movement.
Ramsay would always refer to this time as the making of him as a negotiator and diplomat.
He later wrote of his time in Warsaw, 'It had been a fascinating two and a half years full of incident. I felt privileged to witness a people's endorsement of the concept of freedom'
In 1982 Ramsay received the Companion of the Order of St Michael and St George in the Queens Honours List.
After Poland, he gained his first post as ambassador to Kuwait.
It was a stable, increasingly wealthy country where the ambassador's role was to promote UK business, to engage with the ex-pat community and to carry out the ceremonial roles required of his position.
Ramsay was then posted as British high Commissioner to Zimbabwe in 1985.
This was to be the time that most defined the rest of his and his family's life, and the beginning of his love affair with Zimbabwe.
Arriving just five years after Independence, it was by his own admission a delicate time for UK/Zimbabwean relations.
It was also an amazing and exciting time to see first-handa newly independent country making strides to establish its own identity and sovereignty.
During this time in Zimbabwe, Ramsay worked tirelessly to develop and cement ties between Zimbabwe and the UK.
As high commissioner Ramsay was rightly proud of the good working relationship he established with many ministers in the government, and with the then president Robert Gabriel Mugabe.
This was no easy feat asunderstandably there were many points of difference in ideology to be worked on.
However, he was always struck by the honest and open discussions he was able to have with many of the members of government, whom not long ago had been fighting the war of independence.
Ramsay and Stella hosted then British prime minister Margaret Thatcher and her delegation, when they visited Zimbabwe in 1989.
This was a great honour and Ramsaywas struck by how informed and inquisitive Thatcher was about all aspects of Zimbabwe.
During their time in Harare Stella, with the help of Ramsay, established and ran a project at Chikurubi Women's Prison teaching inmates the Pitman Secretarial Course as part of their rehabilitation.
The project was supported by then Justice minister Emmerson Dambudzo Mnangagwa, together they established a good working relationship and a subsequent friendship.
This project became an important part of Stella's life beyond her time as the high commissioner'swife.
Ramsay was active in the creationof the Communal Areas Management Programme for Indigenous Resources (Campfire)in partnership with the government of Zimbabwe and National Resources and Tourism minister Victoria Chitepo.
This experience lit a fire for conservation and a love of the wild places in Zimbabwe that remained with him for the rest of his days.
His passions away from work were a perfect fit.
Golf at Royal Harare (he never quite achieved his dream of a single figure handicap, but got close!) tennis, squash, walking and bird watching (he was an avid twitcher) theatre and film, and of course the occasional sundowner on the veranda.
He and Stella greatly enjoyed hosting some legendary parties at the ambassador's residence in Greendale.
They met many fascinating people from all sectors of Harare life:government ministers, the business community, journalists, conservationist, artists, actors, writers and sports stars.
Many of these people would become lifelong friends.
This was a time of great progress and creativity.
On one memorably occasion, a dinner party at the residence was graced by the presence of Sir Richard Attenborough, Denzel Washington and Kevin Kline as they were making the film Cry Freedom. Ramsay and Stella became great friends with the Oscar winning actor John Hurt and his wife Donna, while they were on location in Zimbabwe making the filmJakes Speed, a friendship that would last for decades.
Ramsay and his whole family were deeply and positively affected by their time in Zimbabwe.
Many lasting bonds were established, three of his four children were married in Zimbabwe, two to Zimbabweans.
Time flew by and before he knew it he was posted as ambassador to Thailand, his last post.
Living in Bangkok was a wonderful, hectic, invigorating experience.
Ramsay and Stella spent their time travelling this wonderfully diverse country with their family.
They adopted a pair of Asian Short Clawed Otters named Roll On and Roll Off, who ruled the roost at the residence.
Upon retiring from the service in 1992, Ramsay took up a post in Zagreb, Croatia to lead the European Community Monitoring Mission.
A short tour was soon over, and he and Stella returned to Zimbabwe to enjoy their well-deserved retirement.
This was to be a wonderful period of family life. Stella continued to run the project at Chikurubi Women's Prison.
Ramsay played golf, tennis, watched birds, and travelled throughout Zimbabwe and the region on safari, enjoying a settled and busy retirement.
Their home was full of family, friends, dogs, laughter and fun.
In 1992 Ramsay received a Knighthood in Queen Elizabeth's New Year's Honours List.
This was a great honour and a recognition of his life's work as a diplomat.
Sir Ramsay and Lady Stella travelled to the London to receive this honour from the then Prince Charles, Prince of Wales, at Buckingham Palace.
From 1992 to 2006 Sir Ramsay and Lady Stella enjoyed the longest period of their lives living in one place, in their beloved home in Zimbabwe.
They enjoyed a relaxed lifestyle often spending the warm southern hemisphere months in Zimbabwe and the (sometimes) warm Northern Hemisphere summer months in the UK.
They liked to call this time the'all year round summer' years.
In 2006 Ramsay and Stella relocated to Oxshott, Surrey, for health reasons. Stella passed away after a long illness in 2019.
The whole family, now boosted by 10 grandchildren gathered at their home in Zimbabwe for her memorial.
Ramsay continued to live in the UK through the very difficult Covid-19 pandemic and then returned to Zimbabwe for his final years.
Ramsay Melhuish passed away on 26/05/2023 surrounded by family in Harare.
He was survived by four children and 10 grandchildren. In his own words, "It has been an extraordinary journey, a life of service, a life well lived."
Related Topics