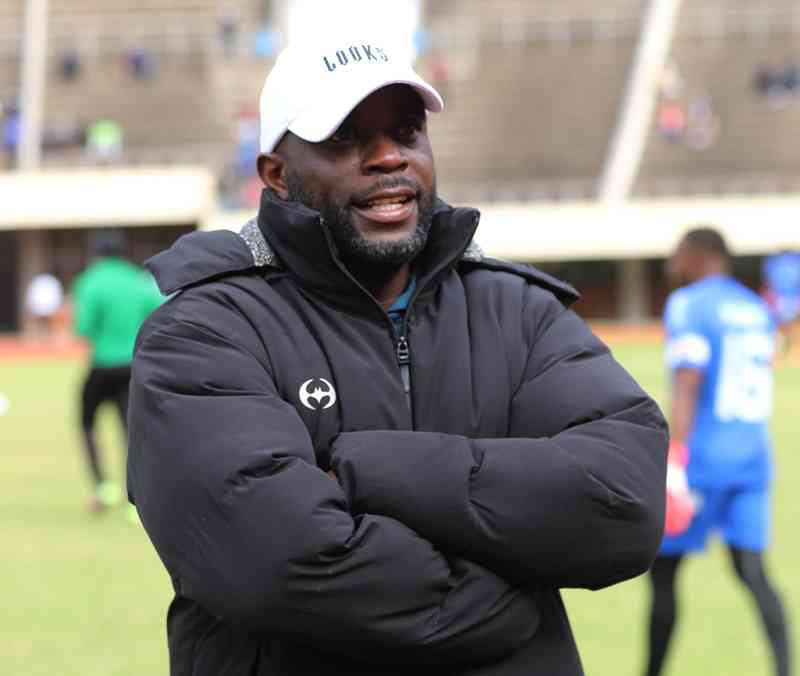 SIMBA BHORA coach Tonderai Ndiraya says there is a striker crisis in the country as Castle Lager Premier Soccer League teams struggle for goals.
Ndiraya's team played a goalless draw with Highlanders, who also drew blanks in their previous match when they endured another stalemate against Sheasham.
There have been a number of high-scoring thrillers so far in the campaign, but some teams have struggled.
Caps United wasted a number of chances to settle for a goalless draw with Hwange, a day after Dynamos also played a nil-all draw with Herentals.
In all seven matches that have been played at Barbourfields Stadium, only five goals have been scored. This is equal to the number that was recorded at the National Sports Stadium in week six, when Harare giants Dynamos lost 3-2 to a spirited Bulawayo Chiefs. Baobab Stadium also witnessed a six-goal thriller in week four between Ngezi Platinum and Herentals College as the two teams drew 3-3.
Ndiraya believes there should be deliberate efforts to develop formidable strikers.
"It's all about development. We haven't been developing or scouting for strikers of late. Our development structures are really bad for us to really identify and develop those strikers. If you ask me, it's a national problem but something really needs to be done if we really want to develop our game," Ndiraya said.
"Secondly, I think it's an issue of braveness in some of our coaches. A lot of our coaches are really afraid to play youngsters. As long as we don't have confidence in these boys, it's really going to be difficult for us as a nation to develop strikers. So, we have a crisis as a country. So, it will really take us a lot of investment in that area so that we start to get those strikers. I think it's also showing even at national level and if you ask me, I think this is the time for us to develop those youngsters, give them game time and hope that by the time we are accepted back in international football, we can then have some youngsters doing duty for the nation."
Ndiraya was happy that his team got a point from Highlanders because he believes Bosso are playing well.
"Highlanders are in top form, so the only reasonable thing to do was to play the match not to lose. So, the whole idea to be honest was to come here and get a point. We were down in confidence which is very normal in football of course if you go for quite a while without collecting the maximum points. We needed a point and we got that point. But I thought in the end the team defended well, because of what I said, it was really was difficult for them (boys) to express themselves because of where we were coming. They had to run and suffer for a point and I am happy that a team of our stature, small team, don't mind the experience, to come here with the way Highlanders are playing of late and get a point is really massive, it is huge for us. It was really difficult but, in the end, I thought we defended well and got the much-needed point."
The bumper crowd that thronged BF to spur Bosso on went home a dejected lot as their team's struggle in front of goal persisted.
Bosso coach Jose Baltimar Brito defended his team's approach of using two defensive midfielders against a Simba side that sat back. "You have to understand that football is not static because we created chances. So, if we create the problem was not because of two holding midfielders. You also can say that we defend with eleven, so this too much about dynamics. If you have a summary of all the game, we had the ball all the time, of course not all the time because we had opponent. We created chances, we had a lot of crosses, we scored one goal. So, it's not because of the holding midfielders," said Brito.
Highlanders dropped to position two, while Simba moved a place up to position 12.
Meanwhile, at Baobab Stadium, Ngezi Platinum's resurgence under Takesure Chiragwi continued as they dismissed FC Platinum 2-0 to shoot to the top of the PSL standings with 16 points from nine matches.
Only them and Highlanders remain unbeaten in the league. Chicken Inn lost their unbeaten start to the season on Saturday when the league's top marksman Fortune Binzi's brace condemned them to a 2-0 defeat to Manica Diamonds.
Manica Diamonds moved to position four in the standings, while Binzi took his tally to eight, which is three more than the goals scored at BF.
Bulawayo Chiefs won their fourth match on the trot when they dismissed Sheasham 2-0 at Luveve Stadium with goals coming from Billy Veremu and Mthokozisi Msebe.
Amakhosi Amahle now occupy fifth position. Caps United failed to capitalise on Bosso's slip-up on Sunday, afterthey were held to a goalless stalemate by Hwange at the NSS to drop to third.
Dynamos were also frustrated to a yet another 0-0 at the same venue on Saturday by Herentals College in a match that had a lot of controversy. DeMbare are now sixth on the log table.
Related Topics