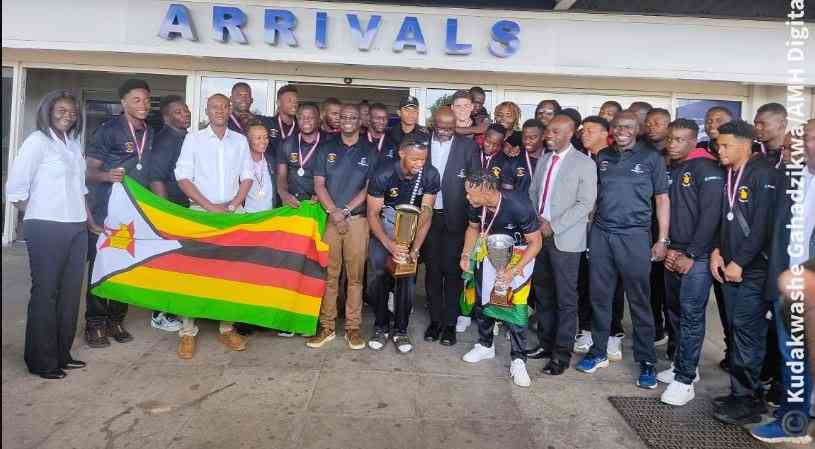 THE Zimbabwe Under-20 rugby players have shifted their focus to next month's World Rugby Under-20 Trophy after successfully defending their Rugby Africa Under-20 Barthes Trophy title in Kenya on Sunday.
The Junior Sables, as the Zimbabwe Under-20 men's side is fondly known, successfully defended their Rugby Africa Under-20 Barthes Trophy title by beating hosts Kenya 28-7 despite playing the last 30 minutes with 14 men in an exciting final in Nairobi on Sunday.
The victory ensured the Junior Sables maintained their position as the best African Under-20 team outside of South Africa.
However, more importantly it was also a morale-boosting victory for the Junior Sables ahead of their participation in the World Rugby Under-20 Trophy slated for July 15-30 in Nairobi.
Speaking after his charges were given a heroes' welcome by local rugby fans at the Robert Gabriel Mugabe International Airport on Monday, Junior Sables head coach Shaun De Souza revealed that they will take a week-long break before resuming preparations for the second-tier global tourney.
The Sables legend will also look to strengthen his squad by incorporating some players who are part of their high-performance programme as well as other foreign-based players who missed the continental competition due to academic commitments at their universities in the United Kingdom and the United States.
"We will take a week's break and then will regroup and call back our guys in the academy set-up and as we hit June the guys in the USA, and UK universities will come back and join the camp and we will basically restart from there," he said.
Zimbabwe were drawn in Pool A alongside Scotland, who were relegated from the 2019 World Rugby U20 Championship, South American champions Uruguay and either Canada or USA.
Pool B is made up of hosts Kenya, Spain (Europe), Samoa (Oceania) and Hong Kong (Asia).
"In our pool, we face Scotland on the 15th of July, that's the first game and we go on to play Uruguay and then finish the pool stages with a match between either Canada or USA. So, it's a tough pool, but we have set our mark already and we just need to maintain it," De Souza said.
Related Topics