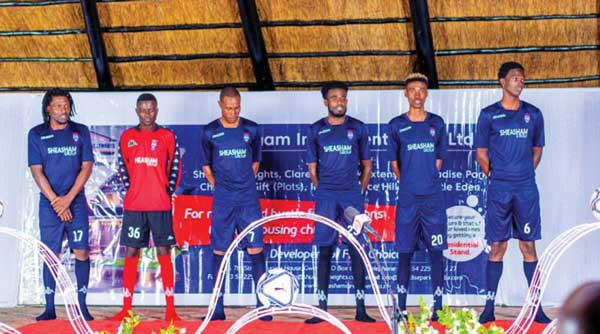 SHEASHAM . . . . . . . 1
YADAH . . . . . . . . . . . .1
SHEASHAM and Yadah settled for a share of the spoils draw in a drab Castle Lager Premier Soccer League match played at Mandava Stadium yesterday.
Promising striker Junior Zindoga scored for Yadah while Tinaye Tsimba equalized late in the second half to ensure a share of the spoils.
Tsimba's goal was Sheasham's first of the season. They got themselves a consolation from last weekend's horrific defeat at the hands of Dynamos.
In this one, Sheasham started on the front foot, with Zindoga and Mandlenkosi Mlilo forcing quick saves in the first five minutes.
Zindoga then opened the scoresheet for the Miracle boys after 17 minutes, with a tap-in from a low cross delivered by Charles Moffat.
Undoubtedly, Zindoga was having a good day in the office. He could gave scored two more goals in the first half but goalie Future Sibanda repelled the shots.
Sheasham spent the whole first half without a shot on target. Prosper Andrea got their first chance early in the second half, but it was repelled by Panashe Mabunga.
The Construction Boys' head coach John Nyikadzino made raft changes to his squad after the hour mark, with high hopes of a change in tempo.
However, nothing changed as they failed to carve out clean balls from their midfielders.
Zindoga had another opportunity 11 minutes from full time when he capitalized on a loose ball in the box, but Future Sibanda saved.
Sheasham restored parity in the 89th minute through substitute Tinaye Tsimba, with a header from a cross whipped in by Tafadzwa Marira.
At this point, the Gweru-based side started believing again as they created chance after chance in the seven minutes of added time.
And they were left to rue the missed chance, although they were happy to settle for the point.
Both coaches were disappointed. Yadah coach Expense Chitukutuku was unhappy with the result.
"We played well in the first half but we were losing the ball unneccessarily. We are going to work on our conversion rate, that was today's shortcoming. We could have done better especially in the first half," he said.
Sheasham gaffer John Nyikadzino echoed similar sentiments.
"Yadah were better in the first half. They got many chances and my goalkeeper saved many chances. He was my man of the match.
"In the second half, we responded, but I'm not happy with the overall performance. I thought we deserved maximum points since we were at home.
"We got chances late in the match especially in the second half but we did not convert. I'm disappointed by that," Nyikadzino said.
Teams
SHEASHAM: F Sibanda, Z Chikwenhere( P Shoko 31min), A Dirau, Z Macheka, K Matake, L Jani, D Mangesi, M Mavuto( T Tsimba 67min), P Madhazi ( D Makurumidze 67min) T Chidhobha( N Mpinduki 66min), P Andrea( T Marira 57')
YADAH: P Nyabunga, B Kadamanja, L Mucheto, M Mlilo( K Dlamini 64min) T Musariri, C Mandivei, J Zindoga, V Sando, W Kamudyariwa( P Kafelapanjila 72min), C Moffat( M Faranando 48min), B Ndereki
Related Topics