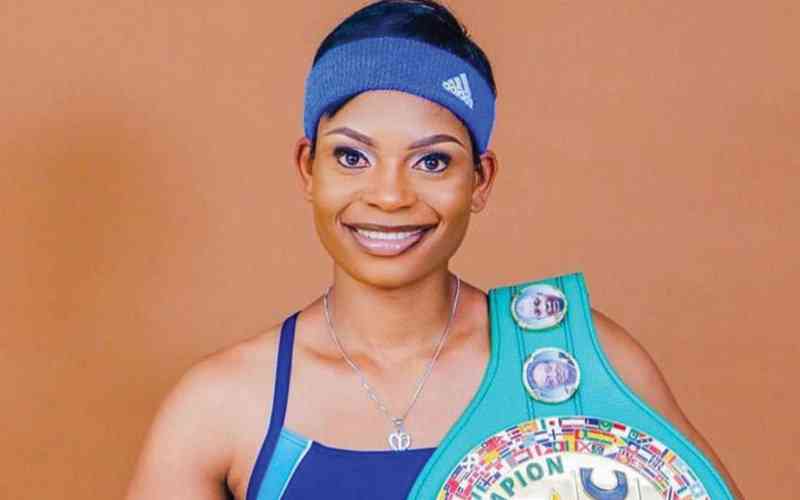 WORLD Boxing Council (WBC) Interim Super Bantamweight champion Kudakwashe "Takemoney" Chiwandire is happy with her progress so far as she gears up for the gold title against Mexican, Yamileth Mercado.
The fight is scheduled for March this year in Mexico, but the actual date is yet to be announced.
Chiwandire secured the opportunity to have a go at the world title after she outshine Mexican Zulina Munoz in an unanimous decision at home in October last year.
Chiwandire said her focus now is mainly to clinch the title.
"I started my training in preparation for my fight against Mercado in December last year and so far everything is on track. As most people were resting and enjoying the festive seasons, for me it was business as usual. My main target is to bring the title home and in order to achieve that, I have to keep working hard," said Chiwandire.
Her previous fight against Munoz last year encountered a number of postponements and she hopes everything will be smooth this time around.
"My only prayer is that we won't have a repeat of last time when my fight had to be postponed several times. It affected me mentally, but I had to stay strong and remain positive till the day. Even on this bout, I will just have to be physically and mentally strong."
Her coach Clyde Musonda also expressed satisfaction with progress so far and thanked the sponsors who have come on board to make the team's journey a success.
"So far everything is going on so well and we are now waiting for the contracts which we are expecting today (yesterday). The fight has been scheduled for March and I hope by next week we should be able to tell you the exact date," said Musonda.
"We have agreed on almost everything and we are happy. Our focus is now on making sure our boxer is in good state and remains positive. We are grateful to Invictus Gym for providing Kuda with their training facility as well as trainers, it goes a long way for us."
"We are also grateful to RM Plumbing, who came on board to partner us and be our anchor sponsor. But of course we still need more partners to come on board and make sure that when we go to Mexico, we will bring back the belt," he added.
Related Topics