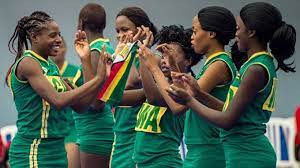 Gems produced a dominant third quarter performance to hold Scotland in a thrilling Spar Diamond Challenge Cup in Pretoria, South Africa, yesterday.
Trailing 16-10 in the first quarter and then 23-20 in the second, Zimbabwe senior ladies netball team fought gallantly to finish the match 41-all.
They actually almost won the match as they led in the final seconds of the match before Scotland, better ranked, scored the equalising point with the last turnover just before the final whistle.
This was the Gems' third match at the tournament which is used as preparations for the World Cup, having lost their opening two matches to South Africa's Spar Proteas and a local side President's XII who they face again tomorrow in the third and fourth playoffs.
Spar Proteas and Scotland meet in the final.
Speaking after the match, Gems assistant coach Tatenda Shinya said they were satisfied with the team's performance as they managed to stand toe to toe with the European side.
"We are happy as the technical team but we could have done better considering that we had a lot of opportunities to overcome the Scottish side. But the players did exceptionally well and played with a lot of character today and they were fully prepared. I'm sure with time we can gel up and produce a better side," said Shinya.
Going into this tournament, Zimbabwe are the lowest ranged team of the three nations participating at the tournament.
The Gems are on position 13 on the World rankings, whilst South Africa and Scotland are ranked 5th and 10th respectively.
"We worked on our mistakes from the previous games. We tried to utilise the ball and made use of short passes- that's what we are good at and we made sure that we don't congest the mid-court. The attacking players started a little bit slowly but they improved as the game progressed. So we are happy that the girls are catching up with what we want to do day by day."
The two teams went into the game looking to register a first win after they both lost their first games against South Africa and the President's XII.
The Gems had a slow start as they were dominated by the Scottish side finishing the first quarter trailing 16-10. Zimbabwe improved in the second quarter and reduced the deficit to only three points going into the third quarter.
Changes in the goal-shooting circle proved a masterstroke for the coaches who introduced Lynette Tanhira in place of Ursula Ndlovu who then partnered with Tafadzwa Matura. The Gems managed to keep pressure on the Scotland team and maintained a three-point gap going into the final quarter, at 32-29 points.
The Gems came back the strongest in the final 15 minutes, utilising much of the turnovers that came their way. But despite their strong finish, they could only manage a draw.
lFollow Magreth on Twitter @MagrethRuzvidzo
Related Topics