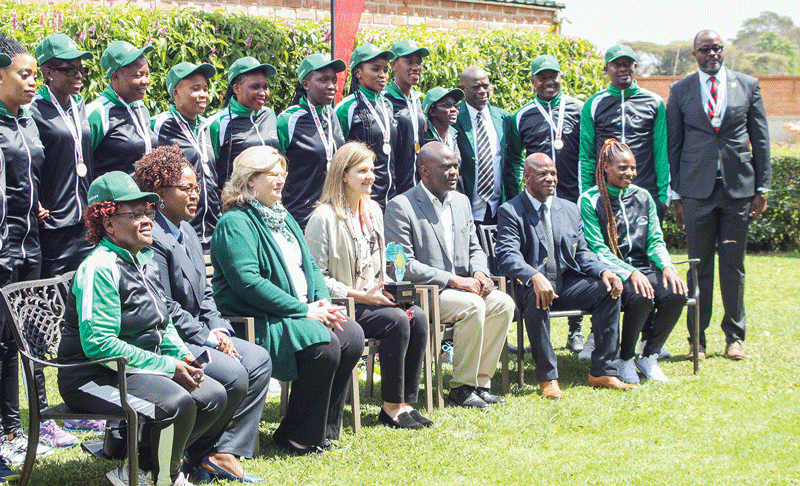 THE Youth, Sports, Arts and Recreation ministry has given US$11 000 to the Zimbabwe senior netball team, the Gems for qualifying for the 2023 Netball World Cup at the just ended continental qualifiers in Pretoria, South Africa.
The money will be shared among the 15 players and team officials.
Zimbabwe is now among the 10 teams that have qualified for the World Cup next year in Cape Town, South Africa while six more countries from Asia, America and Europe are yet to qualify for this continental showpiece.
The Gems will be making their second successive appearance at the World Cup after their maiden appearance in the 2019 edition in Liverpool, England.
Speaking at the Gems welcome reception in Harare yesterday, Sports minister Kirsty Coventry, heaped praises to the Gems and promised to keep on rallying behind them as they gear up for the global meet next year.
"Today we witness the gains of hard work, resilience and preparation yielding the much-desired result in a team sport proving that with the right ingredients, it can be done. Not just for the Gems but for any other dedicated and committed team. I believe therefore this is the right time for us all to rally behind the Gems, support and ensure optimum participation of the Gems at the World Cup come Cape Town 2023," said Coventry.
She applauded the team's sponsors, Spar Zimbabwe for the longstanding relationship with the Zimbabwe Netball Association (Zina) and called for other corporates to support the team as they prepare for the next year global showpiece.
"It is indeed uplifting to note that there are corporates which still believe in the potential residing in Zimbabwe sport and I would like to take this opportunity to invite other corporates to join Spar Zimbabwe in cushioning the Gems towards and during the 2023 World Cup preparations," she said.
Zina president Letitia Chipandu praised the players for the commitment they showed ahead of the successful qualification campaign in Pretoria while also applauding her association's player pathway program.
"You have made the nation proud, thank you Gems. This success didn't come easily as proper planning was needed to prepare our athletes. There was a pathway for the players since 2014, these were the gold medal winners at 2014 Youth Games in Bulawayo and this is where the journey started. So we can see now that there has been a lot of planning, it just doesn't happen," said Chipandu.
"Sport leaders, we need to plan way ahead. These are the fruits of our planning as Zina — small things at a time but we got there. I want to believe this legacy will continue for long after I'm gone. Once again, well-done Gems."
Follow Magreth on Twitter @MagrethRuzvidzo
Related Topics