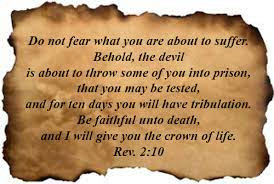 Are you facing trials of many kinds and testing of faith? Do you feel betrayed and rejected? Do you feel you are about to give up? Today we are going to talk about how trials and suffering are a part of every Christian walk and how we should never give up as God will reward us in heaven. Press On until you fish the race. Remember, night may linger around, but joy comes in the morning, so Press On.
Revelation 2 vs 10
Don't be afraid of what you are about to suffer. The devil will throw some of you into prison to test you. You will suffer for ten days. But if you remain faithful even when facing death, I will give you the crown of life.
In this session we shall encourage each other using scriptures in the bible to hang on and never give up till we finish our race.
John 16:1-4
New International Version
16 "All this I have told you so that you will not fall away. 2 They will put you out of the synagogue; in fact, the time is coming when anyone, who kills you will think they are offering a service to God. 3 They will do such things because they have not known the Father or me. 4 I have told you this, so that when their time comes you will remember that I warned you about them.
Jesus gives us a warning that following Him will attract rejection and trials. The moment you give your life to Christ you begin to lose some of your friends and even family because you can't continue doing what you used to do before your transformation. The place you once would go together you feel that those places are no longer suitable for you to go, hence you lose more friends because you can no longer go out anymore. Many people will even think that maybe you are now mentally unstable because Christianity depend more on faith than rational thinking. Therefore, some people will even test your faith in trying to see if your mental capacity is still okay as they would think that they are trying to intervene or save you from being manipulated.
2 Corinthians 11:23-29
2 Corinthians 11:23-29 ESV
Are they servants of Christ? I am a better one — I am talking like a madman — with far greater labours, far more imprisonments, with countless beatings, and often near death. Five times I received at the hands of the Jews the forty lashes less one. Three times I was beaten with rods. Once I was stoned. Three times I was shipwrecked; a night and a day I was adrift at sea; on frequent journeys, in danger from rivers, danger from robbers, danger from my own people, danger from Gentiles, danger in the city, danger in the wilderness, danger at sea, danger from false brothers; in toil and hardship, through many a sleepless night, in hunger and thirst, often without food, in cold and exposure. And, apart from other things, there is the daily pressure on me of my anxiety for all the churches. Who is weak, and I am not weak? Who is made to fall, and I am not indignant
The above scripture is a powerful example of how a Christian life may go. We can all attest to the many challenges we have faced in our lives just like Brother Paul. Many of us have gone through the day without being sure of the next meal. We face school fees issues, some are divorced, no employment and many other calamities. But in the above scriptures, Apostle Paul tries to show all the trials and suffering he has gone through because of following Christ and is also giving us hope never to give up. He also shows us that these sufferings can happen to every Christian and no one is immune, but in all this our hope is in Christ
Romans 8:35-39
Living Bible
35 Who then can ever keep Christ's love from us? When we have trouble or calamity, when we are hunted down or destroyed, is it because he doesn't love us anymore? And if we are hungry or penniless or in danger or threatened with death, has God deserted us?
36 No, for the Scriptures tell us that for his sake we must be ready to face death at every moment of the day — we are like sheep awaiting slaughter; 37, but despite all this, overwhelming victory is ours through Christ who loved us enough to die for us. 38 For I am convinced that nothing can ever separate us from his love. Death can't, and life can't. The angels won't, and all the powers of hell itself cannot keep God's love away. Our fears for today, our worries about tomorrow.
Apostle Paul explains many trials and suffering that Christians can have, but in all this nothing should separate us from God. A person should not backslide because you have no food or lack something. But we all should endure because suffering is only for a season and joy comes in the morning. James 1:2-4 NIV. Consider it pure joy, my brothers and sisters, whenever you face trials of many kinds, because you know that the testing of your faith produces perseverance. Let perseverance finish its work so that you may be mature and complete, not lacking anything
We know from the story of Job how the devil went to challenge God to allow him to test Job in order to see if he will remain faithful after losing everything. So some of the trials and suffering we are experiencing are a test of our faith. It's a test of our true standing with God in our Christian walk. That's why Apostle Paul was encouraging us that no matter what we might face in life, we must not give up, but keep focused on the price ahead. True, hardships are never easy. Pain is real, but let's keep focused. God promised us crowns in heaven and we should never the mark.
So as a Christian stick by what you believe in no matter what.1 Peter 3:14 NIV, but even if you should suffer for what is right, you are blessed. "Do not fear their threats; do not be frightened."
Never let rejection or percussion derail you. 2 Timothy 3:12. 12 Anyone who wants to live all out for Christ is in for a lot of trouble; there's no getting around it.
Always know every Christian is going through some kind of test, trail or tribulation. We must never give up but rather be encouraged knowing God will never leave nor forsake us. Be encouraged knowing that you are not alone. Nothing lasts forever. When you are passing through a testing, surround yourself with people of positive mind and faith in Jesus Christ. People who encourage you rather than discourage you. Press on towards the mark, you don't have school fees, press on. You don't have clothes, press on. You are not feeling well, press on. You are discouraged, press on. Your wife/husband wants to divorce you, press on. Count it all joy. Find time to pray and say God give me strength and hope to continue.
*Prosper Tingini is the Scribe of the Children of God Missionary Assembly - God's messengers. Contact details: Mobile & Whatsapp — 0771 260 195. Email address: [email protected]
Related Topics