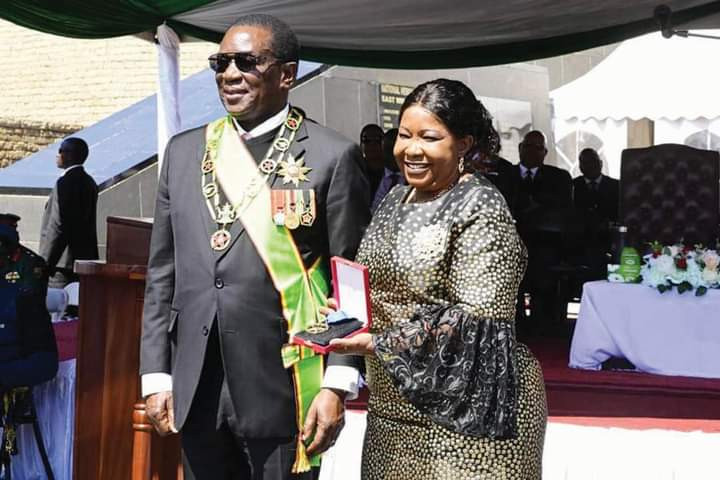 THIS week, the nation gathered at various locations across the country to mark Heroes Day, a holiday where we remember all those who laid down their lives just so a few of us can eat.
At Heroes Acre, our current landlord, President Emmerson Mnangagwa, reminded everyone of the reason why people went to war all those years ago to fight. They fought for their rights so that others would be denied their rights.
"Zimbabwe will never be ruled by puppets. This should never be taken lightly. You are all heroes in this ongoing battle against the neo-imperialistic vultures, who without shame, hover over our country's resources. Victory is in our DNA," he said in a speech obviously written for him by someone with anger issues.
That is absolutely right. No puppets must ever rule this country.
Unless, of course, they are puppets of racist gold barons and various other types of underworld mafiosos.
Chameleon
Still at Heroes Acre, the nation bade farewell to Johannes Tomana, the former prosecutor-general who unfortunately died last week.
At his burial, speaker after speaker stood in line to tell us that the man was easily one of the best lawyers this country ever produced.
He was "one of the brightest legal minds to emerge from Zimbabwe", one report on ZBC said.
Muckraker was delighted to see Virginia Mabhiza, the Permanent Secretary in the Justice Ministry, also praising Tomana's legal prowess. This was, it should be recalled, the same official who presided over Tomana's dismissal a few years ago.
For those whose memories have been erased by inflation, Tomana was sacked in 2016 because the same government that is praising him now had decided that he was simply bad at his job.
A tribunal at the time "advised His Excellency the President that the prosecutor-general ought to be removed from office for incompetence and misconduct".
When he got in trouble with the law, Tomana demanded that his case be heard by foreign judges. He did not even trust our local chaps. Who can blame him?
Food for work
A troupe of South African media personalities and alleged actors, such as Pearl Thusi and Sello Maake-ka Ncube, trended online a few days after they appeared at State House, resplendent in ED scarfs.
A lot of people got angry with them. It was funny seeing grown-up people getting angry at celebrities for being paid to do what they do for a living — showing their faces and being paid for it. It is like shouting at city council plumbers for doing what they do best, digging holes and then sitting down for tea.
Expecting moral leadership from celebrities, Zimbabweans, among them local journalists, shouted themselves hoarse hoping that somehow their anger would end the global trend of celebrities doing funny things for money.
Anyway, we are sure that, after this visit, many tourists will now flock to see some of our star attractions, such as brown river flows in Mbare and the massive canyons and craters in our roads. Those who want these highlighted are free to hire their own celebrities.
Generous
Speaking of the South Africans' trip, at least we are clear as to who sponsored the trip and why. The junket was sponsored by Zunaid Moti, who has every reason to try and do cheap propaganda for the Zimbabwe government.
For those not familiar with the chap, he owns Africa Chrome Fields.
Around April, it was reported by an obviously Western-sponsored group, Sentry, that the company had allegedly made payment to our current owner and his deputy.
According to the report: "In December 2017 and January 2018, the payments included US$1 million to Mnangagwa's farm and US$2 million to a company controlled by (alleged VP Chiwenga associate Lishon) Chipango and someone reported to be Chiwenga's niece".
In 2019, it was reported in Botswana that Moti was arranging a meeting with Zimbabwe opposition leaders in South Africa. He has also been, reportedly, sponsoring the opposition in Botswana.
Clearly, Moti is just a generous fellow by nature.
Déjà vu
Speaking of generosity, our leader finally handed over awards to our heroes over the past weekend. Most notably, he was photographed by gleeful cameramen as he handed over the Honour of the Jairos Jiri Humanitarian Award in Gold awarded to the Angel of Hope Foundation for its philanthropic work.
Pictures showed our owner handing over the prize to his better half, the current Dr Amai, in the same way in which our previous owner used to hand over the best stand award at the Harare Agricultural Show to our previous Dr Amai.
What was most delightful was seeing the passionate smooch that accompanied the prize-giving. Not only is our leader leading us speedily to a prosperous country by the year 2030, he is also showing all men that public displays of affection are not a shame for the modern man.
We are truly blessed to have a romantic leader in power. What more could a country want?
Hardworking police
With days before the election, it is not surprising that our police force is more active than ever in making sure that nobody doubts their professionalism.
Last weekend, they fired teargas to disperse a crowd that had gathered at an opposition Citizens Coalition for Change (CCC) rally.
According to the police, they did this because the rally organisers had run their rally past the time agreed in their notification.
"After an hour the Police engaged CCC's National Organising Secretary Amos Chibaya and his team who openly apologised for their non-compliance with the rally notification times. They agreed with the Regulating Authority to dismiss the crowd due to safety and security concerns over night rallies. Suddenly the crowd became rowdy and started throwing stones to the police officers while threatening to set on fire two police vehicles," the police said in a statement.
This is good. The police must continue to clamp down on violators of the law. Next, we want to hear whether Zanu PF is sticking to its own timetables, and whether they even bother to notify the police of gatherings at all.
Right to lose
Saviour Kasukuwere has been speaking out against political violence, telling election observers to watch out for Zanu PF's usual shenanigans.
"To the election observers, both from our homeland and the international community, your role is now more critical than ever," the man said. "We urge you to not only monitor the voting process, but to keep a vigilant eye on these escalating incidents of violence. History, and indeed our people, will judge us by our actions or our inactions during these testing times."
Some of us are sad that Kasukuwere was not granted his right to lose the election. It is less entertaining without his tears.
However, we urge observers to listen to this man. He knows what he is talking about. First, he is very familiar with violence. Secondly, he is very familiar with how history and the people of Zimbabwe judge the actions of those who engage in violence.
Related Topics