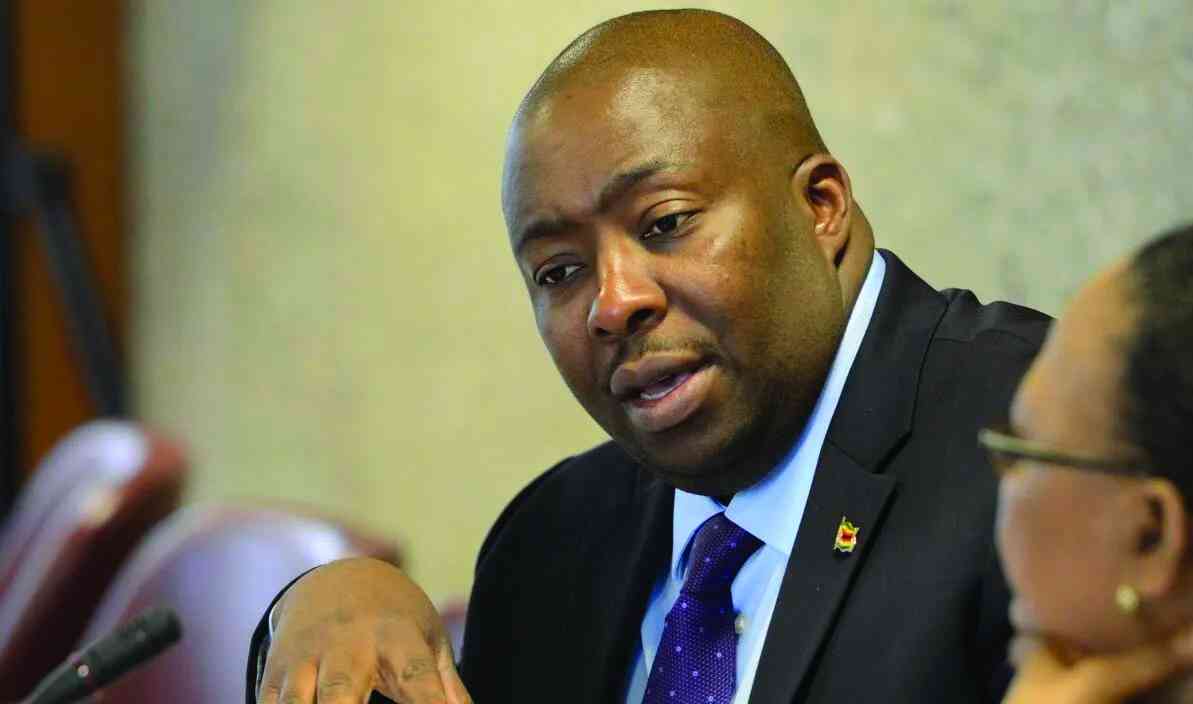 IT'S that election time again, and that place, Zimbabwe, too. After the nomination and confirmation of presidential candidates, Saviour Kasukuwere made his way on the list, as so many of the other presidential candidates.
Is he paying or playing it back? His presidential bid comes at a time when there is both paranoia and political dynamics in the run-up to the 2023 Elections.
Removal of running mate clause
/There is no candidate running for vice-presidency as a running mate pursuant to a constitutional amendment. An ideal combination of a president and vice president (VP) would have led to a dream ticket for those familiar with how a president and his deputy can run together as a show of resounding support.
The removal of the running mate clause showed that there was no attractive partnership in the presidium. The removal also showed that the party that amended the Constitution might have felt that it did not have double candidates with attractive qualities. Remember the MDC-T Congress and how the outcome was challenged in the national courts? Paranoia is abnormally intense suspicion and distrust. We know what happened later when presidential appointments in that party were reversed.
If Kasukuwere had come as a Zanu PF member during yesteryear's Zanu PF Congress, gone to Court, and argued that the removal of former president Robert Mugabe was illegal, perhaps he could have played the politics of political party system back to Mugabe's cabinet.
He could have been elected to the Zanu PF system and claimed leadership legitimacy easily. But then, what is his political agenda as an independent candidate?
No credible pollsters in Zim
One thing must be emphasised: There are no permanent enemies in politics the world over. Further, Zimbabwe does not have credible pollsters to ask people if they approve of the performance of politicians and parties.
Thus, this article is not based on approval or popularity ratings from both rural and urban prospective voters.
In the lead-up to the 2023 elections, Zimbabwe finds itself amidst presidential paranoia and the influence of social media pages that could sway the attention of voters. Journalists and not pollsters seem to dominate social media pages focusing on presidential, prophetic, and international analyses of the election race. No political party or individual is riding high in percentage points.
We can, however, say some eight or nine presidential candidates are neither trailing behind nor can improve ground in a pseudo-poll since they are largely fly-by election or have been swallowed by their Polad allegiance. Church leaders from various denominations, including the white garment, Zionist, and indigenous Pentecostal churches, have engaged in forecasting the election results mostly in pro-establishment pitches, including the #Edhasmyvote or reference to elders who rule Zimbabwe.
The absence of credible local polling organisations further fuels the uncertainty, as opinion polls conducted outside Zimbabwe at some point predicted a landslide victory for the ruling party, Zanu PF.
However, the reliability and accuracy of such polls remain questionable. Some political party stalwarts like South African ANC's Fikile Mbalula have also used sleazy factor politics to suggest the possible removal of Zanu PF through what he feels is puppet politics, a vain dig at Nelson Chamisa. Of course, Mbalula is loudly confused from shoot-to-kill policy on foreigners in 2010, unpalatable diplomacy on Zimbabwean soldiers in 2017 and mudding politics on Chamisa this year. To truly understand the current political landscape, it is essential to assess the approval and popularity ratings of the leading candidates, Nelson Chamisa and Emmerson Dambudzo Mnangagwa.
These ratings, along with the approval of Zanu PF and Chamisa's political party, the Citizens Coalition for Change (CCC), will significantly influence the election outcome. Currently, CCC appears to be gaining momentum, as indicated by the results of recent by-elections. However, Zanu PF's victories in these by-elections also highlight the need for CCC to convince rural voters that Zanu PF's promises of freedom are not overstated.
Election legitimacy
In the political platform known as the Political Actors Dialogue (Polad), the significance of presidential candidates, such as NCA's Lovemore Madhuku and their parties is diminished, as most of them are mere poll trailers.
History in the making or not
However, their endorsement can grant legitimacy to Zanu PF if it emerges victorious in the 2023 elections. Zanu PF has been trying to improve its legitimacy, following Chamisa's presidential challenge in 2018.
Therefore, the confirmation by polling agents from the Polad political parties, who could claim the absence of electoral irregularities, becomes crucial in this electoral cycle. The landscape of the 2023 elections is shaped by various centrifugal and centripetal forces. It is the most fickle and volatile election where legitimacy issues, exorbitant election fees, and generational concerns are at their zenith.
None of the three leading presidential candidates: Mnangagwa, Chamisa, and Kasukuwere instantly becomes the front-runner for president. And of course, if the election is not postponed and a constitutional crisis is averted, someone would go down in history. He would not be remembered forever. No one in the opposition political parties is starting to worry though. Zimbabwe is a democratic country where government is changed by the secret ballot box, not the bullet. The Zimbabwean diaspora, no longer complacent after years of being economic refugees in many countries, could play a less critical role through the casting their vote. The rural voter, once easily swayed by stomach politics, has increasingly become more discerning, as demonstrated by their split support of the opposition in previous elections. These factors pose challenges for Mnangagwa and his administration, as their trust and satisfaction levels are susceptible to decline.
Zanu PF power dynamics
Mnangagwa faced a pivotal moment at the Zanu PF Congress when he was given another party presidential mandate. Because he secured re-election, he got the opportunity to leave an enduring legacy and potentially receive international recognition, by ensuring a peaceful and violence-free election process.
Preserving the unity of Zanu PF may outweigh the risks of engaging in a bitter election battle that could result in a constitutional crisis. Mnangagwa's predecessor, Mugabe, failed to maintain his legacy by remaining in power for too long.
While the military factor is often cited as the reason for Zimbabwe's unique stockholder electoral governance and status quo/Zanu PF-led political transitions, its actual influence may be overstated now.
Do not ask me why. History has shown that leaders who prioritise posterity leave a legacy. Former party leaders within Zanu PF, like Godfrey Tsenengamu and Jim Kunaka, expressed concerns, indicating potential tensions within the party.
Zanu PF is currently facing a tough challenge from the recently formed CCC, which threatens its stronghold. Despite its control over state machinery, the party is struggling to maintain its footing.
However, Zanu PF's gift of fate largely depends on the outcome of the party congress that elected Mnangagwa. Any misstep during this event could have further weakened the party's position against CCC.
Zanu PF's internal and external rivals perhaps did not underestimate this possibility. Mnangagwa's ability to make alliances with his political competitors within Zanu PF or other parties in Polad remains critical to his administration's survival.
Learning from the past experiences of the Thokozani Khupe-Chamisa court case, understanding the power dynamics within Zanu PF is crucial to avoid potential divisions and ensure a united front in the face of opposition.
Is Kasukuwere the swing vote
One key figure to watch in the upcoming elections is Kasukuwere, a prominent politician, and former Zanu PF member. Kasukuwere, who was once a close ally of the former president, went into exile during the political turmoil that led to Mugabe's ousting. Recently, Kasukuwere returned to Zimbabwe with the intention of contesting the 2023 elections under the banner of an independent presidential candidate.
Chances of playing power politics back to Mnangagwa's cabinet were watered down when he decided to run as an independent candidate. Kasukuwere's return might still send shockwaves through the political landscape, as he brings with him a wealth of experience and connections within Zanu PF. He could thus pay his debts back to the opposition vote. His successful nomination could either throw the incumbent Mnangagwa out of or back to presidential power.
The swing influence from Kasukuwere to Chamisa is the percentage of voters who previously supported Mnangagwa, who could reduce the President's rural vote in one or two provinces.
The possibility of a Simba Makoni to Kasukuwere swing of the vote from the opposition will largely be frustrated by a combination of Zanu PF's removal of the running mate clause and Zimbabwe's direct presidential appointment. Of course, politics will sometimes be a game of surprises. The general anti-Mnangagwa feeling could well give him victory despite the campaign gaffes he is making. Kasukuwere's presence poses a significant challenge to both Zanu PF and CCC. For Zanu PF, it raises questions about party loyalty and the potential for defections when someone is vainly labelled as part of a cabal and not as a factional leader. On the other hand, CCC must carefully navigate Kasukuwere's entry to ensure internal cohesion and avoid any divisions that could weaken their chances through a swing vote.
Social media and elections
The role of social media in shaping public opinion and influencing the election outcome cannot be understated. With the rise of platforms like Twitter, Facebook, and WhatsApp, political actors must adapt their strategies to engage with the digitally connected electorate.
Kasukuwere, known for his active presence on social media, has already begun leveraging these platforms to connect with supporters and disseminate his campaign messages from his South African base.
However, as the elections draw nearer, the potential for misinformation and disinformation campaigns increases. Both Zanu PF and CCC must remain vigilant and address any false narratives that may arise to protect the integrity of the electoral process. The spread of fake news and propaganda has the potential to sway public opinion and undermine the credibility of the elections.
Conclusion
As Zimbabwe prepares for the August 2023 elections, the political landscape remains volatile and unpredictable.
The actions and strategies of key players, such as Chamisa, Kasukuwere, Mnangagwa, and other political parties will shape the course of the election and the future of Zimbabwe's governance. The electorate, too, must exercise their democratic rights responsibly and critically evaluate the promises and agendas put forth by the competing parties. Ultimately, the upcoming elections will serve as a litmus test for Zimbabwe's democratic progress and the ability of its political leaders to address the pressing issues facing the country.
The outcome will determine whether Kasukuwere's return and the emergence of CCC signify a genuine shift in political dynamics or if the status quo will prevail.
As the campaign trail intensifies, the eyes of the nation and the international community will be fixed on Zimbabwe, watching as Kasukuwere pays his political debts and the future of the country unfolds.
Hofisi is a lawyer, conversationalist and transdisciplinary researcher. He has interests in governance and international law. — [email protected]
Related Topics