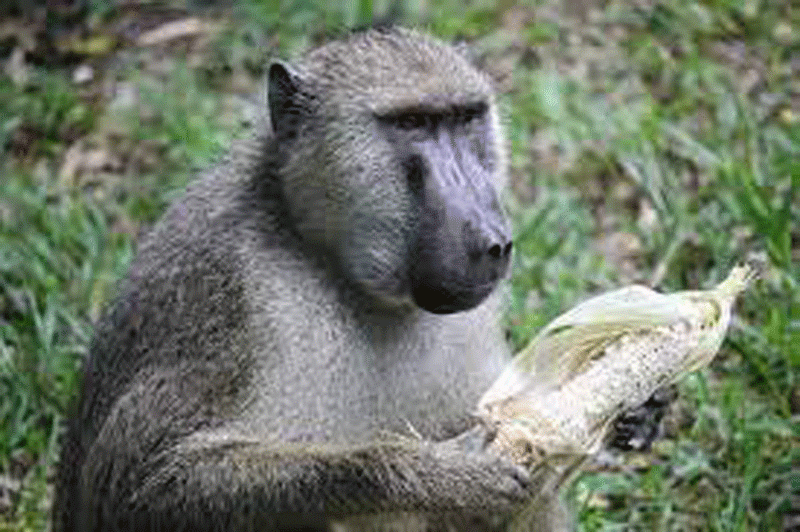 It was past midnight when Grandson Kenalemang awoke to an all too familiar sound: The rumbling of an elephant rampaging through his farm.
By the time he was outside, banging pots to scare the animal away, it was too late. His mango trees were gone, and two sections of his fence torn apart, damage that was unlikely to be compensated by the government of Botswana.
Standing over the still fresh footprints, Kenalemang described how human-wildlife conflict disproportionately affects smallholder farmers like him.
"I get [nothing] because of [these] elephants. They eat everything, destroying my fence. We are trying, but there is nothing we can do."
Kenalemang's farm is one of many located on the border of Chobe National Park, part of the Kavango Zambezi Trans Frontier Conservation Area, or Kaza. More than just a national park, Kaza is a 520 000 square kilometres mosaic of conservation areas, wildlife corridors, farms and human settlements distributed over five countries: Angola, Botswana, Namibia, Zambia and Zimbabwe.
Home to over two million people, as well as 70 per cent of African savannah elephants, it's a landscape where people and nature have no choice but to live side by side. It also operates as a living laboratory for finding ways to balance conservation and development.
"We know we have an increasing human population. We also know we have an increasing wildlife population. So, there's bound to be conflicts," says Professor Patience Gandiwa of the Zimbabwe Parks and Wildlife Management Authority. "It is a landscape where the possibility of coexistence is not an option, but a necessity."
Conflicts between humans and animals are among the greatest threats to the long-term survival of some of the planet's most iconic species, found a 2021 report from the United Nations Environment Programme (Unep) and the WWF. Carnivores, like polar bears, wolves and lions, are frequently targeted by humans worried about threats to themselves and their livestock. But elephants, which often trammel fields and people alike, are also a conflict-prone species.
Speaking at a series of policy dialogues hosted by Unep in Botswana in October 2022, Professor Gandiwa was gathered with other experts and policy makers to discuss more sustainable models of development in Kaza.
They explored policies that could help smallholder farmers, such as Kenalemang, while also protecting the wildlife the region is famous for. They were all meeting as part of the Africa's Coexistence Landscapes project.
Led by Unep and financed by the European Union, the project was implemented over the past four years to explore new ways to minimize human wildlife conflict in Africa, engaging both policymakers and stakeholders with a focus on exploring what roles technology could play.
A major highlight of the landscapes project was the development of a computer model that simulates the effects of government policies and conservation strategies. While still a pilot programme, limited to a section of the Kaza known as the Hwange-Kazuma-Chobe Wildlife Dispersal Area along the border of Botswana and Zimbabwe, the upshot of the dialogues was that the simulator has massive potential.
A team from Unep and the Universities of Bergen and Nova Lisbon worked with nearly 100 local stakeholders to develop the model and collect data on many variables, including wildlife, borehole and livestock numbers. They also used satellite imagery to track land use. The data was then put into the computer model and tested until it was accurate enough to simulate real policy choices.
This sort of model allows researchers to assess the consequences, intended or unintended, of policies. For example, one simulation found that the common practice of subsidizing maize production increased the risk of conflict with elephants, which are attracted to certain crops.
Subsidising crops that are less palatable to the animals emerged as an alternative strategy, one that could prevent losses for farmers and reduce retaliatory killings of animals. The computer model helped to enable this holistic view, versus seeing the problem through the single lens of conservation or agricultural development.
This type of systems modeling has massive potential when it comes to government decisions around conservation, said Unep's Julian Blanc, who is managing the project.
"There's rarely one silver bullet, one policy that will solve all the problems. But there are powerful combinations of policies that could help address the issues."
The beauty of the model, he says, is its ability to simulate different blends of policy, especially important in a complex landscape such as Kaza.
"The process of policy design is normally conducted in departments or silos," says Blanc. "There is a growing interest for this kind of integrated approach to planning."
The project and policy dialogues have led to a broad agreement on how to manage the dynamics of conflicts between humans and animals both at the national and transboundary levels. Observers are hopeful that precedent will help usher in a new era of peaceful co-existence between elephants and humans in Kaza.
"I believe in the vision [behind] Kaza," says Gandiwa. "Our wildlife will perish if we do not cooperate across international borders." But, she added, "conservation only works when it makes sense to the people that are coexisting with wildlife in these landscapes."
Related Topics