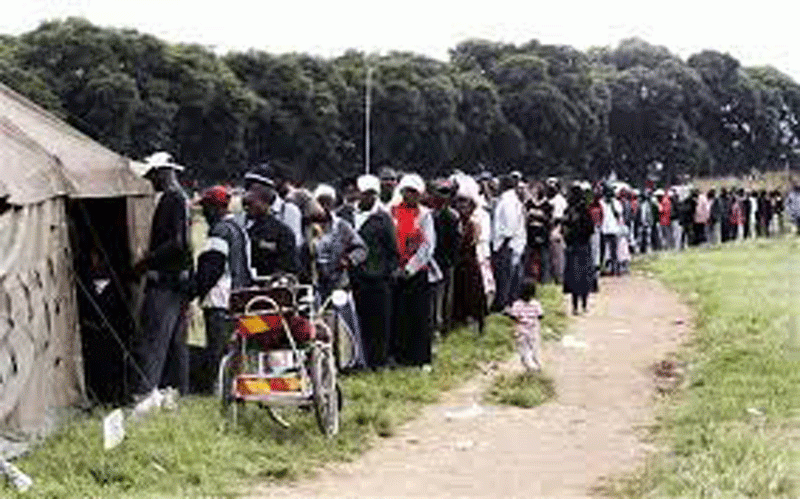 It is important for opposition political parties and civil society to push for electoral reforms before Zimbabwe goes into another election in 2023.
The Zimbabwe Electoral Commission (Zec) has been bombarded with recommendations from political parties and civil society organisations on the electoral reforms in past years.
Zimbabweans went to the polls in February 2000 to vote for a new constitution as part of a long-drawn out reform process.
A contentious general election campaign began in the second quarter of 2000 when the draft was rejected.
In 2013, a new constitution was eventually adopted following a popular vote and it has progressive provisions that could help improve the country's democracy provided that those in power respect the charter.
Among other things, the constitution includes some crucial provisions that would have reformed the country's electoral system had the realignment process been complete.
President Emmerson Mnangagwa, who took over power from the late former president Robert Gabriel Mugabe in 2017, promised to change the way elections are conducted, butthis has not happened and the opposition has continued to accuse the ruling Zanu PF party and the government of manipulating Zec.
These developments raise serious concerns about constitutionalism and electoral processes in Zimbabwe.
The European Union has repeatedly urged Zimbabwe to implement electoral reforms prior to polls, but it appears that the government is digging in.
Zimbabwe has not taken notable actions to put electoral changes into place to ensure free and fair elections next year and beyond.
Rushing electoral changes on the eve of an election is not in the best interests of democracy.
The 2023 elections are likely headed for yet another disputed result seeing as Zimbabwe is running out of time to carry out reforms.
The risk of a contested outcome is high as demonstrated by Citizens Coalition for Change (CCC) leader Nelson Chamisa's request for United Nations-supervised elections in 2023.
Even when observed by regional and global blocs, Zimbabwe has a history of having contested elections.
In fact, Chamisa must take action to pressure regional and international organisations to force the Zanu PF-led administration to put in place fresh electoral changes that will level the political playing field in the upcoming election.
The drive for a diaspora vote must be at the heart of electoral changes in order to enable those outside the country to exercise their right to choose leadership.
As the country prepares for elections in 2023, election watchdogs and opposition parties must work together to ensure that Zec holds free, fair, transparent, and accountable elections.
Zec recently put the blame for lack of electoral reforms on Parliament, claiming that it is the responsibility of the MPs to legislate the necessary electoral reforms.
In order to prevent suspicions of election manipulation every time Zimbabwe holds elections, the opposition parties, in particular CCC, have argued that Zec should hire "competent" commissioners who are not affiliated to any political party.
But according to Zec, certain recommendations are not covered by the commission's authority under Zimbabwe's constitution.
It is meaningless for the opposition to run in another election unless electoral reforms are implemented, and this can be a way of giving the ruling Zanu PF another term in office.
Holding press conferences and issuing press statements without a call to action could cost Chamisa in the coming 2023 general election.
If Zec does not commit to any electoral reforms, what can CCC do to secure a free and fair election?
The opposition must ensure that electoral changes result in a shift in people's attitudes toward Zec.
Elections are critical for any democratic country.
The opposition must ensure that individuals have the right to vote in order to express their political views.
Zimbabweans will continue to question whether next year's general elections will be free and fair and this could lead to voter apathy.
With a few months left before the next election, reforms are a matter of urgency to avoid allegations of vote-rigging that have tainted all of Zimbabwe's past elections and puts to test ZEC's credibility.
Support for electoral reforms and processes in the country's political system should be a multi-donor effort to strengthen the ability of Zec and other government entities to hold free, fair, and peaceful elections in Zimbabwe, a country that has experienced electoral violence for decades.
To ensure that the will of the people is reflected in the outcome of any election, electoral systems must be strengthened and recognised by all.
Zimbabwe's elections have previously failed credibility test, causing voters to lose faith in the electoral system.
Evans Mathanda is a journalist and development practitioner who writes in his capacity. For feedback email: evanngoe@gmail.com or call 0719770038 and Twitter @EvansMathanda19
Related Topics