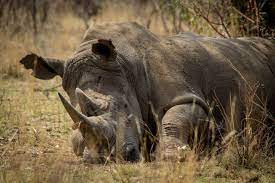 It was business as usual for Mgcini Ncube when he was caught by detectives while skinning an impala deep inside Victoria Falls' Zambezi National Park.
Ncube (37) had set up a temporary structure at the game park where police recovered two dried impala heads, one dried impala skin, one dried Kudu skin and 11 wire snares.
The relaxed manner in which he was going about his criminal activities gave a hint of the prevalence of wildlife crimes in Zimbabwe, which authorities say are also fuelling illicit financial flows due to the involvement of foreigners.
Ncube is now facing charges of trapping animals, a crime that is prevalent in wildlife-rich areas such as Victoria Falls. In some cases locals are used by foreigners to poach animals such as elephants and rhinos whose horns are in high demand in Asian countries.
Much of the poaching occurs in northern parts of the country where there are game reserves that straddle the border with Zambia, new data has revealed.
Tinashe Farawo, the Zimbabwe National Parks and Wildlife Management Authority (Zimparks) spokesperson, said foreigners mostly provided financial incentives to local poachers.
"Local poachers are mostly being used as carriers, information providers, harbouring intruders, while the foreigners provide financial incentives," Farawo told The Standard.
According to Zimparks statistics that were released to this publication, there is a significant increase in the number of foreigners that have been arrested for poaching this year.
In the first half of 2023, 10 foreigners were arrested for poaching in Zimbabwe compared to six who were nabbed through out 2022.
One hundred and eighty two locals were arrested for poaching in the first half of this year while in 2022, 644 Zimbabweans were charged for illegal hunting.
Zimparks, a statutory body responsible for managing the country's wildlife population, said elephants were the most poached animals, especially in the northwest Matebeleland region, particularly around the Katombora area and Zambezi National Park as well as mid-Zambezi's Hurungwe safari area.
The areas are close to neighbouring Zambia and they are hotspots for cross border wildlife crimes.
Farawo said rhinos were mostly poached at the Matopo National Park in Matabeleland South and Chipinge safari area in Manicaland.
The poaching of elephants and rhinos saw Zimbabwe losing wildlife worth millions of dollars, especially during the Covid-19 era.
"For the past five years, a total of 136 elephants were lost to poaching and this translates to at least US$$ 6 800 000.00 (136 x 50 000) in estimated compensation value," Farawo said.
"A total of 64 rhinos were poached during the past five years from January 2018 to June 2023) translating to US$$12 800 000 .00, (64 x 200 000) in estimated compensation value."
Zimbabwe has in the past exported baby elephants to countries such as China, but the deals have been criticised for not being open to scrutiny.
Farai Maguwu, the Centre for Natural Resources Governance director, said most communities in Zimbabwe were being driven to commit wildlife crimes such as poaching by poverty.
Most of the wildlife rich areas are among the poorest communities in Zimbabwe.
"I think the most important thing at the starting point is to invest in the people, improve their welfare, and that would turn them away from criminal activities," Maguwu said.
"Nobody enjoys crime, but sometimes people are pushed by poverty, extreme poverty to connive with these foreign poachers.
"So if government invests in its own people, and ensure that the proceeds of tourism are invested in the community, the community will act as the intelligence of the government and even give tip-offs to law enforcement agencies."
He said if communities were not enjoying any benefits from their natural resources such as wildlife they were bound to turn to illegal activities like poaching.
"Since the government does not have enough resources to put hundreds of wardens in these areas, national parks and conservancies, instead the local communities must be an extension of security measures," Maguwu added.
"That can only happen when the benefits such as (Communal Areas Management Programme for Indigenous Resources) Campfire projects can be revised where the proceeds of tourism can also be blended in the community in terms of road infrastructure and alternative livelihoods for these communities, so that can be a long-lasting solution to the problem of poaching."
Campfire is a Zimbabwean programme that is aimed at promoting sustainable management of wildlife and natural resources as well as equitable sharing of their benefits at the local community level.
Ignatius Maeresa, a Zimbabwe Environmental Lawyers Association (Zela) land and natural resources officer, said there was a need for massive awareness campaigns in the affected communities.
"The first thing is obviously to undertake awareness campaigns," Maeresa says.
"In these awareness campaigns, they need to focus on educating the communities or the people who reside within the wildlife crime or spot areas.
"They need to know about the common offences, the penalties, this will obviously help them because you see some of these people commit these offences without knowing that they are indeed committing offences that are deemed to be wildlife crimes.
"The other things that can be done is law enforcement training, capacity building initiatives that will be aimed towards a diverse law enforcement so that they know how to effectively prosecute and adjudicate wildlife crimes," he said.
Maresa said as Zela, they have various projects that are focusing on trying to reduce wildlife crimes through educating the communities.
"So we are educating them on the value and the importance of wildlife," he said.
"We are also training or educating them on the various wildlife laws that we have in Zimbabwe while also training these communities on other alternative sources of livelihood because we have knowledge that we have some communities that solely rely on wildlife for livelihoods, so we are training research communities on how they can benefit from non-timber forest products."
ZimParks says it is trying to counter wildlife crimes and illicit financial flows through the strengthening of legislation and enhanced law enforcement.
Rangers are being trained in the use of modern technology such as drones and equipment, intelligence gathering and informer networking while Zimparks is also for pushing improved transnational and regional collaboration to curb the crimes
"(We are) actively engaging in international partnerships and collaborations to tackle cross-border wildlife crimes and illicit financial flows," Farawo added.
"This involves sharing information, intelligence, and best practices with other countries, as well as cooperating with international organisations.
"Public awareness campaigns and educational programmes are being conducted to raise awareness so as to promote responsible behaviours and foster a strong sense of environmental conservation.
"The awareness campaigns are also targeting the judiciary for them not to trivialize wildlife crime cases."
Farawo said they were also reviewing the Campfire programme to ensure that local communities derive full benefits from wildlife in their areas while promoting eco- tourism, and involving them in decision-making processes.
"By empowering communities, they become stakeholders in preserving wildlife," he said.
According to a report published by Good Governance Africa in January this year, every year Africa loses US$50 billion in illicit financial flows and a third of these flows are attributed to the trade of wildlife species by criminal syndicates.
*This story was produced by Nokuthaba Dlamini. It was written as part of Wealth of Nations, a media skills development programme run by the Thomson Reuters Foundation. More information at www.wealth-of-nations.org. The content is the sole responsibility of the author and the publisher.
Related Topics