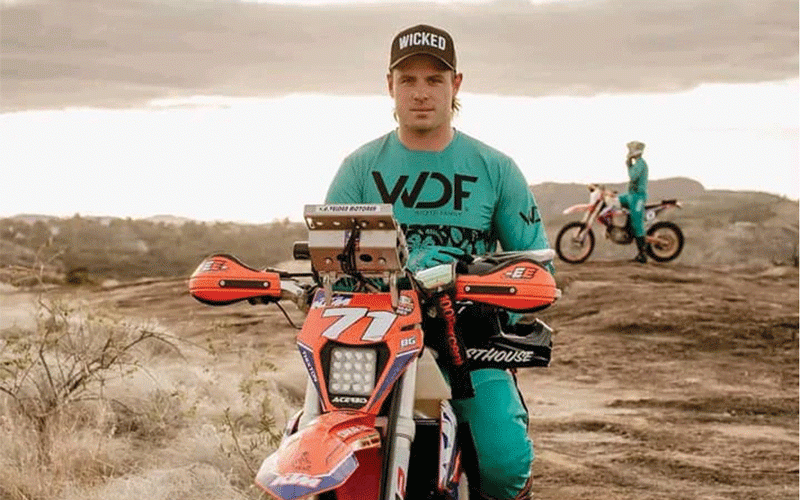 GIFTED Zimbabwean rally rider Ash Thixton is in cloud nine after flying the country's flag with distinction at the Sonora Rally, Mexico last week after qualifying for the next edition of the iconic Dakar Rally.
Thixton, whose goal going to Mexico was to at least finish the race, went on to win two stages out of six in the National Class and settled for an overall fifth place.
This is a massive step for the Dakar263 initiative that also involves Dakar 2020 participants Greame Sharp and Thixton's younger brother Cameron, which seeks to see the country having representation at the biggest rally competition in Dakar next year.
"I am very happy with the outcome of the event. The goal was to finish the Sonora rally which would have allowed me to qualify for the Dakar rally. Not only did I finish, but I was in the top 5 in the national class. In addition to finishing in the top 5, I managed to win 2 out of the 6 stages I participated in," Thixton told The Sports Hub in an exclusive interview.
"This far exceeded my expectations and is the reason for my great success at the Sonora Rally. I am now eligible to participate in this prestigious event — I have met my first goal of qualifying for the Dakar rally.
"Sonora rally is an international event. Just being able to be at this prestigious event was a great experience. I faced up against like-minded people with the highest experience.
"The most valuable takeaway were the lessons learnt as a rider on how to go about participating in a Rally Raid event. Learning how to read and navigate through the road book was a first for me. Riding the same routes that the best in the world are riding was something every up coming rider dreams of," he added.
Barring any unforeseen circumstances, Zimbabwe will have at least one representative at the 2024 Dakar Rally.
Due to financial constraints, Thixton's sibling Cameron was not able to travel to Sonora Rally and a decision was made that the older of the two brothers travel to Mexico.
But all hope is not lost for Cameron Thixton.
"Unfortunately, funds for this event only allowed for one of us to go. With Cameron being younger and having a better chance later on in life we both came to the agreement that I would participate in this qualifier. It was not something I wanted at all and attending this event together would have meant much more. It's not over in any way for Cameron. He is extremely driven and stops at nothing when a goal is in sight," he said.
What's next for Thixton as he looks to prepare himself for the Dakar Rally?
"My next event will be the Crono rally which is held in South Africa in early August which is close to home and a very well known rally in Africa.
"All funds permitting I would then participate in Rally Du Maroc held in Morocco in October which would then be my final preparation for the Big Dakar Rally," he said.
Sponsorship will be a massive issue in Thixton's quest to take part in the global rally event and the Dakar263 initiative continues to appeal for support from the corporate community.
Last year the initiative managed to get support from organisations such as the International Coating Company, MiGym, Flo - For Life Outside, RK Petroleum, Ace Ambulances, The Wicked family and kind donations from family and friends.
"Fundraising now continues. It is a very expensive sport. With the Sonora Rally complete and the financial support given so far I am in very high hopes of attaining the necessary funds.
"There is nothing between the lines and I still will require financial support to achieve this goal. But if it was easy then all would be doing it. I love the challenge and look forward to advertising future sponsors," he said.
Ash and Cameroon Thixton won countless national motocross championships at different stages of their careers as well as gold medals in international events.
They have been riding motorbikes for over 20 years.
Related Topics