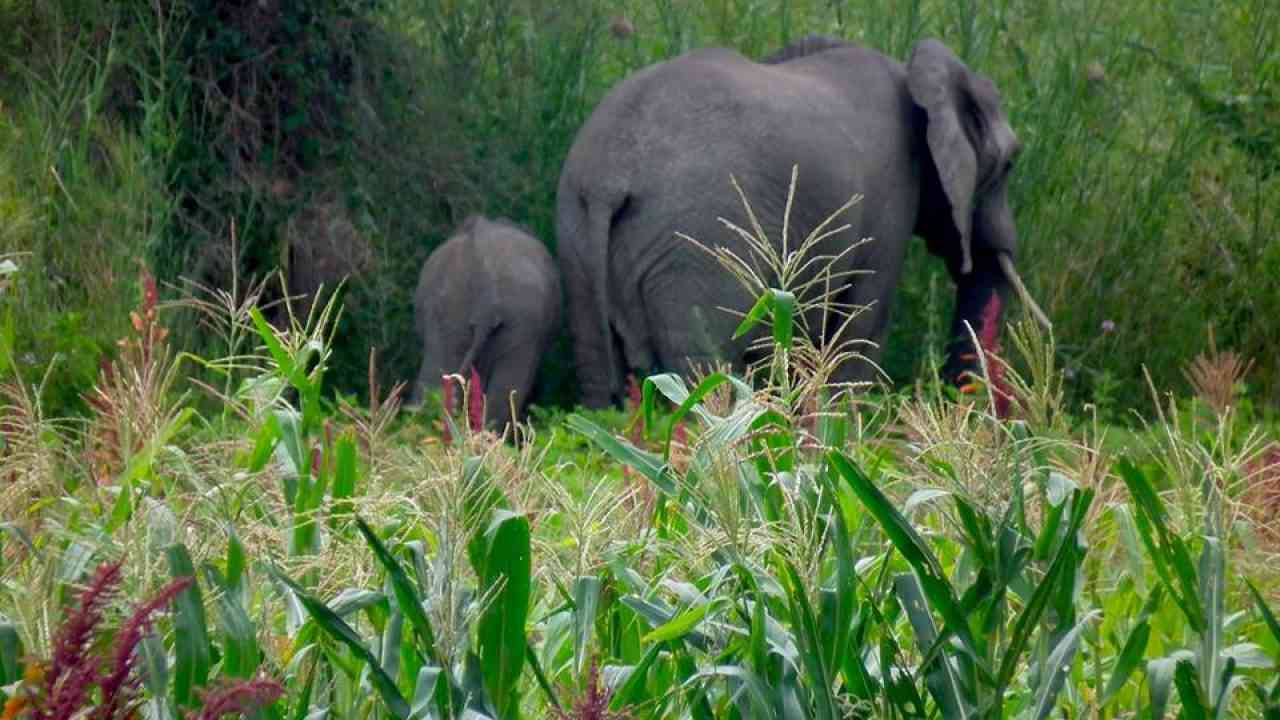 Attaining basic education is often regarded as a foundation for development in any country, Zimbabwe included.
Despite high levels of poverty in the Southern African country, most families, including those in remote and marginalised areas strive to send their children to school in the hope of securing a better future for them..
This is despite the low prospects of finding a formal job after completion of school due to the country's high unemployment rate.
To add on to this, standards in Zimbabwe's education sector continue to fall amid a crisis of poor infrastructure at schools, low morale among underpaid teachers and lack of learning materials.
In remote and marginalised areas where human wildlife conflict is rife, there is a critical shortage of teaching staff while in some instances; children are forced to learn under trees or in dilapidated classroom blocks.
In some instances, there are no learning materials to talk about- its more of a chat between the teachers and the students.
These "schools", located in areas such as Kanyemba (Mashonaland Central), Binga (Matabeleland North), Kariba Rural (Mashonaland West), Buhera (Manicaland) just to mention a few, do not necessarily resemble learning institutions.
What has worsened the situation is the fact that the journey to school is quite a perilous one, a life-threatening journey.
The journey to school basically means that children in Zimbabwe's remote areas where human wildlife conflict is rife are risking their lives in the hope of securing a better future.
Competition for food and water, illegal hunting as well as the fact that people continue to encroach into the wildlife zones as a result of the increase in demand for land use are some of the factors leading to human wildlife conflict in Zimbabwe.
Six animals; namely lions, elephants, hippos, leopards, buffaloes and rhinoceros are classified as dangerous animals in Zimbabwe.
The Parks and Wildlife Act also classifies spotted hyenas, baboons and jackals as problem animals.
According to the Zimbabwe Parks and Wildlife Management Authority (Zimparks), the areas most affected by human wildlife conflict are Mashonaland Central, Mashonaland West, Matabeleland North, Matabeleland South and Masvingo.
Zimparks says it is continuing with efforts to engage and build awareness in the affected communities while promoting co-existence between people and animals.
Statistics from ZimParks indicate that in 2022, human wildlife conflict resulted in the death of 66 people compared to 68 in 2021.
The authority, however, could not avail statistics for Kanyemba.
In the Kanyemba area, located in Zimbabwe's Mashonaland Central province, casualties resulting from human wildlife conflict continue to be recorded amid calls by the locals for government intervention.
The area is located in the Mbire district on the south bank of the mighty Zambezi River at the meeting point of the Zimbabwe, Mozambique and Zambia borders.
Due to the continued loss of life and the danger that wild animals continue to pose in this area, sending children to school is no longer a priority as it implies putting their lives at risk.
Parents have opted to have their children stay at home, which is a sure way of guaranteeing their future rather than sending them to school.
"When they go to school, we are not guaranteed whether they will arrive safely or they will be able to come back alive.
"There is always that risk that they will encounter wild animals along the way and we can't risk losing our children.
"We know they deserve a better future, but the risk of sending them to school is just something we can't afford," said Farirai Majaya, a parent from the Chapoto area in Kanyemba district.
At Mariga Primary School which has an enrolment of over 300 pupils, more than half of the students are not attending school regularly as their parents can no longer afford risking their childrens' lives, according to a staff member at the school.
"It has become a common phenomenon that most children abscond school and one of the major reasons is the fear of being attacked by wild animals along the way especially during the rainy and harvesting seasons," he said.
Escorting the children to school is not a good option either.
"There is no guarantee that you will all be safe because remember these are wild animals, so when there is high movement of the animals, we all choose to limit movements and stay at home.
"Even the teachers they sometimes advise us to keep our children safe at home," said a parent, Francis Chapoto.
Village head Clever Kaputi said the most affected areas are Mariga and Chiramba village's in Kanyemba's Ward 1 area
There are fears that most of these children will eventually drop out of school, which will reverse the gains made by development partners in convincing the community to prioritise education for children.
First lady Auxillia Mnangagwa through her Angel of Hope Foundation has also been paying school fees for children from the Doma community in the area.
The Amalgamated Rural Teachers Union of Zimbabwe secretary-general Robson Chere said the safety of children and teachers was heavily compromised in areas where human wildlife conflict is rife.
"We have had several cases of learners not being able to attend school due to human wildlife conflict and this also applies to areas such as Kanyemba," Chere said.
"These cases also extend to areas such as Kariba, Siakobvu, Binga and Hwange.
"Two years ago, there were cases of hyena attacks which were recorded in Buhera, Manicaland Province and some of the victims were school children."
Tinashe Chisaira, director of Adovactes4Earth, a non profit environmental law, climate and wildlife justice organisation, said that in mitigating human wildlife conflict, there is need to come up with policies that respect traditional wildlife habitats and migration zones.
Chisaira acknowledged that human wildlife conflict can negatively affect school attendance, but in "rare circumstances".
"Generally human wildlife conflict may interfere with school attendance but that is in very rare circumstances," he said.
"From our work as Advocates4Earth, we have realised that in most remote wildlife rich areas, people have learnt to cohabit with wildlife. The situation is obviously different in cases of certain problem animals such as the occasional man-eater, the lion.
"There is need to come up with policies and actions that respect traditional wildlife habitats and migration zones and pathways.
"Human settlements must not continue to encroach into wildlife areas."
The Zimbabwe Constitutional Movement has held a series of meetings aimed at educating the Kanyemba community on their constitutionally guaranteed rights and the need to continuously engage authorities on issues affecting their lives and livelihoods.
Calls continue to grow for the involvement of communities in sustainable wildlife management, which takes into consideration the socio-economic needs of these communities.
Related Topics