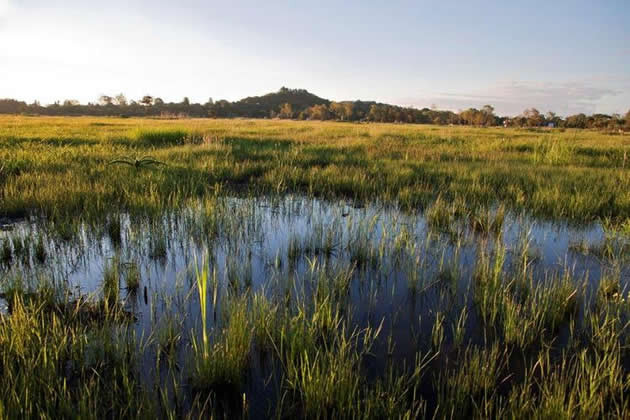 After suffering from persistent droughts, villagers in Matabeleland South's Matobo district have taken the initiative to restore wetlands in their communities, which are crucial for guaranteed ground water.
The communities identified the Ntunjambila and Gulathi wetlands where various strategies are being implemented as part of the restoration and protection programme.
Dambari Wildlife Trust (DWT), a conservation organisation working with communities cited population growth, economic uncertainty and poor land management as some of the biggest threats to wetlands in the Matobo area.
The degradation of the ecosystem has been worsened by climate change.
Wetlands are areas where water is at or near the soil surface for at least each part of the year.
To counter the challenge, communities organised themselves to come up with strict regulations and formed committees at ward level to enforce them.
They also tapped into long forgotten indigenous knowledge systems to protect the two wetlands.
Clifford Khanye, chairperson of the Ntunjambila Wetlands Committee, told The Standard that the community was prompted to act after realising that climate change had resulted in rainfall being more erratic and devastating water shortages.
"Our water tables are low in this district and about six years ago we took the initiative to resuscitate our (Ntunjambila) wetland, which had completely dried up to extent that there was now a road for cars," Khanye said.
"We formed a committee of seven villagers, and we started by fencing off the wetland with the help of a nonprofit organisation.
"After that we crafted some regulations together with the traditional leadership and those rules are now recognised at local level.
"They are meant to guard against transgressions such as grazing of livestock within the wetland, farming activities, vandalism and cutting down of trees.
"Through this initiative, we have managed to promote conservation of biodiversity and sustainable use of wetlands for improvement of our community through natural methods. "
Khanye said through the initiative, the erea has regained its lost wildlife species such as water reptiles and giant rats.
"The area now has various unique species of wildlife that had disappeared three decades ago," he said.
"Even the villagers benefit through cutting of grass during a certain period, which they use for their poultry and garden projects."
He said such agriculture projects had become difficult to run due to lack of water, but villagers were now able to carry out farming activities such as poultry projects throughout the year.
According to the Zimbabwe Vulnerability Assessment report, food insecurity is high among communities with up to 18% of households capable of doing little to recover from effects of climate change such as droughts, environmental degradation and veld fires.
DWT working with the Matobo Hills Consortium recently saw an opportunity to work with communities in the Matobo and Umzingwane districts to rehabilitate degraded areas, particularly wetlands and help to build the capacity of community members to manage and monitor their natural resources.
The initiative aimed to build community resilience, improve livelihoods and the quality of life as well as enhancing environmental health and sustainability
It was done in partnership with USAID Resilient Waters Programme.
"We are looking at an opportunity whereby we marry the cultural methods while we bring in a scientific method to add into the existing knowledge system so that we all move towards that goal of protecting the natural resources and come up with a system of utilising those natural resources for sustainability," said Tafadzwa Tichagwa, the DWT field officer for community projects.
"Since it is not easy to gather communities and tell them how they need to graze their livestock or cut grass in a wetland area, we had to demonstrate in some areas in ward 16 and ward nine under Umzingwane district through fencing and of late we have added a site in ward eight for wetlands protection.
"At Morning Glory (in Umzingwane) the water in that wetland is flowing throughout the year and people are having guaranteed clean water for villages such as Silothe and Gabheni for their drinking, gardening and for livestock.
"Although fencing is not a solution, the ultimate solution is in management of the land, livestock, human activities and controlling the invasion by alien plants like lantana camara and establishment of gumtree plots.
"So this is the picture we want to put across the whole district because it's a step towards the resilience journey."
Themba Ndlovu, the Ntunjambila village head, said communities play an active role in the protection of wetlands.
"We made sure that we form a committee and fence off the wetland to prevent any livestock encroaching and whenever there are invasive plants that grow, we come together as a community and cut them to ensure the wetland is not affected."
Other mitigation measures employed by the communities include the revival of traditional rain making ceremonies, landscape management and arresting deforestation as well as practising conservation farming in order to reduce pressure on wetlands.
However, community leaders said their natural resource management mechanisms were at times ineffective as there was continuous poaching of sand, wildlife and rocks by outsiders.
Others felt that they were not benefiting from potential ecotourism revenue as tourists who travel are not required to pay to visit attractions in their area such as the Lumene Falls, Diana's Pools and some family-managed shrines.
Related Topics