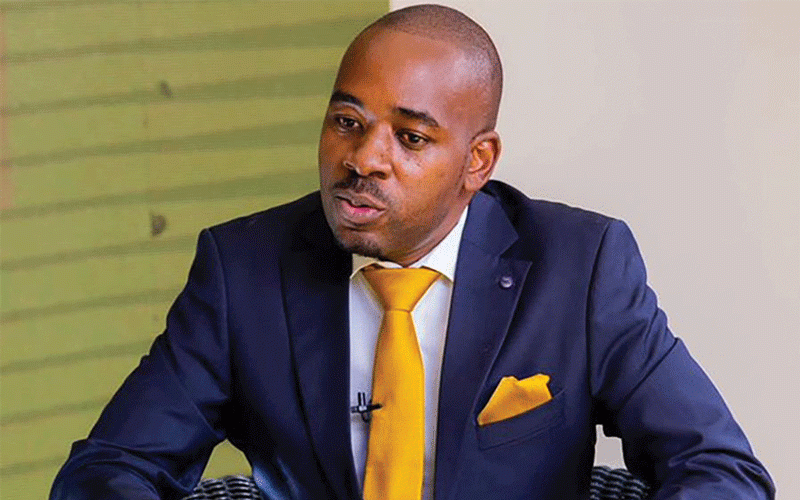 AS the race for the presidency, parliamentary and local government positions in this year's harmonised elections hots up, Bible verses have accompanied political rhetoric as politicians canvass for support to outmanoeuvre each other.
President Emmerson Mnangagwa is expected to proclaim election dates any time from now, but indications are that the polls will be held around August.
Beginning today, the Zimbabwe Electoral Commission (Zec) will conduct a voter registration blitz as part of preparations for the polls.
Politicians are at their most hopeful as they make many pledges, in some cases, re-pledging the unfulfilled promises of the disputed 2018 election.
Mnangagwa, who came into power after a military coup that toppled long-time ruler Robert Mugabe in 2011, will face off against bitter rival Citizens Coalition for Change (CCC) leader Nelson Chamisa and a string of other opposition candidates, including new entrant Robert Chapman.
It will be the second time Mnangagwa and Chamisa are clashing in presidential elections after the disputed 2018 polls when the Zanu PF leader narrowly won against his opponent, who was 40-years-old at the time.
The two and their parties are expected to go toe to toe again this year and the battlelines are already drawn.
For the ruling Zanu PF party, preparations for the polls are about to reach a climax with primary elections to elect candidates set to be held this week.
The Christian community has emerged as a hunting ground for votes by politicians from across the divide with Mnangagwa intent on wooing members of the apostolic faith sects, who have pledged to mobilise their members to vote for the 80 year-old ruler in large numbers.
Mnangagwa last week officiated at a ground-breaking ceremony at the Johanne Marange Apostolic church Shrine in Bocha where he pleaded for votes in his re-election bid.
A week before, he met leaders of apostolic sects at State House where they promised the Zanu PF leader three million votes in the upcoming elections.
Mnangagwa has attended various church services at the Zion Christian Church (ZCC) and the African Apostolic Church led by Paul Mwazha among others.
Mnangagwa has also accompanied his speeches with the 'voice of the people is the voice of God' mantra to appeal to the electorate.
While Chamisa has not directly solicited votes from Christians, he has anchored his hope in God with his 'God is in it' mantra as he bemoans the closure of the democratic space ahead of the polls.
In an interview with The Standard, Chamisa said the 'God is in it' mantra perfectly fits his predicament after being shut out from campaigning.
"We have done everything in our capacity," Chamisa said.
"No relevant body or individual is not aware of our situation in this country.
"We have gone to the courts, but you are aware of the latest High Court judgment about the voters roll.
"After having done all this, Zimbabwe is in the ultimate hands of the Lord.
"After having done that God is our saviour."
Police have banned several CCC rallies and also parliamentary feedback meetings for opposition party legislators on charges of failing to comply with the Maintenance of Peace and Order Act (Mopa).
The opposition party claims that over 60 of its planned rallies have been blocked since its inception in February last year.
Police have also arrested scores of opposition party supporters during party gatherings with CCC legislator Job Sikhala clocking almost a year in pre-trial detention.
Zec has also refused to release the voters' roll despite calls by CCC and other electoral stakeholders to have access to the document.
The High Court last week ruled against an application by CCC legislator Alan Markham, which sought to compel Zec to release the voters' roll.
Government has fast-tracked the Private Voluntary (PVO) Bill, which has been heavily criticised for shrinking the democratic space if it is signed into law.
Zanu PF has also reportedly resorted to violence, with scores of opposition supporters being assaulted.
Chamisa said they have resigned to fate despite claiming the party was busy behind the scenes canvassing for votes.
"We are doing a lot of work behind the scenes and we will not stop," he said.
"When I say God is in it, I know what I will be talking about."
His 'God is in it mantra' has been a butt of jokes for his critics, but Chamisa said he won't dump it.
"No matter what people say, I will not be swayed from putting my faith and trust in the Lord," he said.
Police spokesperson Assistant Commissioner Paul Nyathi insisted that CCC was not being prevented from campaigning and claimed that Mopa was being applied fairly to all political players.
"Last week we had a situation where both parties (Zanu PF and CCC) notified the police to hold a rally at the same venue, but police allowed CCC to hold the rally at the venue under the discretion that it had applied first for the venue," Nyathi said.
"But when the politicians talk about these issues, they tend to exaggerate."
Nyathi said the opposition was to blame for having its rallies banned by failing to engage with police on their gatherings in line with Mopa provisions.
"There is a difference between notifying and compliance in terms of security provisions," he said.
"When one notifies they also need to work with the police in terms of safety measures and Mopa is clear that police can consult other people in that locality on the safety measures of which most of these conveners do not want to do the consultative process and blame the police when things don't go according to their plans."
Zanu PF political commissar Mike Bimha said the ruling party also applied for permission to hold rallies as he dismissed claims that they were being favoured.
"The applications to hold rallies are done at provincial level, so I wouldn't be very sure if there are any applications that were not approved," Bimha said.
"We do not apply for rallies at national level, so I am not aware if there were any that were not approved."
While launching his party's election agenda last week, Chamisa said his party had engaged the police on several occasions to address the banning of CCC rallies, but to no avail.
"We have engaged the police several times and we continue to engage them, but we also note that the police's hands are tied," he said.
"They try their best, but we know that they are dealing with the manacles and shackles of dictatorship."
Chamisa said he felt sorry for the police.
"We do blame an instrument or a weapon, but we blame the one who carries it and the one who commands it, one who is behind it," he added.
"We know it is my brother (Mnangagwa), who is afraid of an election, he wants to use all tricks and we know what he is doing.
"It's not going to be a walk in the park, but we are ready for it.
"Yes they can ban us, but we can't be banned from the hearts of the citizens."
Political analyst Vivid Gwede said while it is not fatal for politicians such as Chamisa to express their religious faith in political affairs, wisdom also dictated that they do all that is in their human power to achieve intended outcomes.
"Across the political divide, there has been a noticeable invocation of God to be an arbiter in the political process," Gwede said.
"Besides Chamisa's God is in it, we have also heard Mnangagwa's, 'The voice of the people is the voice of God'.
"The phenomenon is as old as the liberation struggle."
He added: "The majority of Zimbabweans are either religious or spiritual, hence the attempt by politicians to clothe their political programmes in spiritual myths that capture the popular imagination.
"Even the religious and spiritual leaders in the country have been making political predictions."
Related Topics