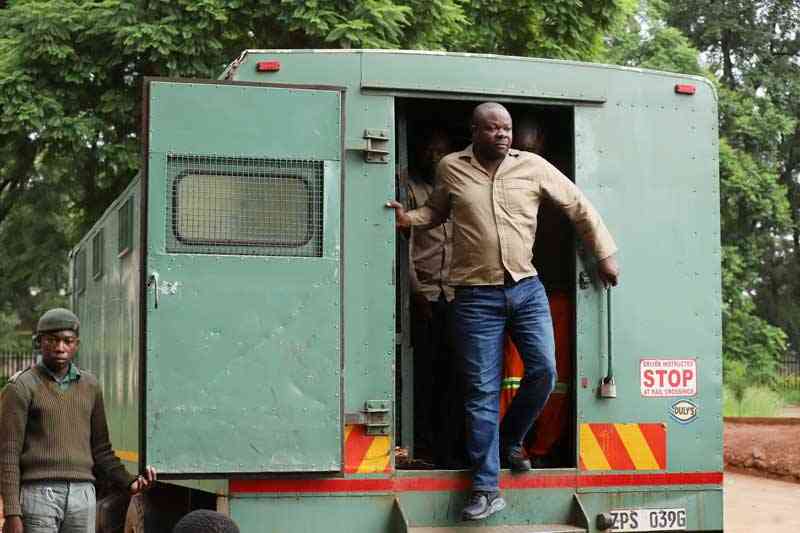 Police officers attending training ahead of this year's elections are being indoctrinated to vote for President Emmerson Mnangagwa's ruling Zanu PF and to cripple campaigns by the Nelson Chamisa-led Citizens Coalition for Change (CCC), it has been revealed.
This publication first revealed that police officers were undergoing what has been termed "internal civic education training" in preparation for the elections later this year and that trainers have been drawn from Zanu PF structures.
The trainings are being held at provincial level and The Standard has obtained audio recordings of the Mashonaland East province sessions where police officers were singing Zanu PF songs and chanting slogans.
Police officers that attended the training said they were told to vote for Zanu PF in the forthcoming polls and make it difficult for CCC to campaign by restricting their events.
"Generally, the training was about how we should conduct ourselves to ensure that victory in this year's election does not go into wrong hands," a police officer told The Standard after the training on Tuesday.
"They said we should exercise our patriotism by ensuring that we do not vote for any other party except Zanu PF.
"We were told not to let our guard down and ensure that the sell-out opposition parties do not have freedoms to advance the agendas of the West in the name of political campaigns."
Police spokesperson Assistant Commissioner Paul Nyathi said: "I will check with trainers on Monday."
Zanu PF commissar Mike Bimha professed ignorance about the training of police officers.
"What I know is that we are currently training our structures, which we have been doing all along and these include the youth league, the war veterans' league, the women's league," Bimha said.
"I am not aware of the police training or any other civil servants.
"The Home Affairs minister is better placed to respond on that."
Homes Affairs minister Kazembe Kazembe was not picking calls when The Standard tried to seek a comment.
His deputy Ruth Maboyi referred questions to Kazembe.
"You can contact the minister on that," Maboyi said. "As for me I have no comment."
CCC accuses the police of effectively banning its activities by blocking its rallies and arresting its officials.
Last weekend, police arrested 26 CCC members including two legislators for holding a meeting at a private residence.
Since its formation last year, scores of CCC supporters have been arrested and detained on what have been described as frivolous charges.
Dozens of party supporters have also become victims of political violence perpetrated by suspected Zanu PF officials.
CCC Zengeza West legislator Job Sikhala has spent over six months in pre-trial detention after he was arrested alongside Chitungwiza North legislator Godfrey Sithole and 14 other party members on charges of inciting public violence.
Police have, on several occasions, blocked CCC rallies and other gatherings citing the need to adhere to the provisions of the Maintainance of Order and Peace Act.
Fadzayi Mahere, the CCC spokesperson said her party would win the forthcoming elections "against all the odds".
"The upsurge of violence and repression by Zanu PF prove beyond any doubt that Zanu PF can never win a free and fair election in Zimbabwe," Mahere said.
"Their conduct demonstrates that they have lost all popular support and are trying to resort to their old-age dirty tricks of political violence and weaponising the law against opponents and critics.
"The CCC will win the 2023 election against all these odds — the same way we won the majority of by-elections last year in the face of electoral manipulation, violence and even the politically motivated murder of our members.
"We have in place a New Great Zimbabwe blueprint, which is the only credible policy plan that can take our great nation forward.
"We are not going to back down in the fight to win Zimbabwe for change.
"We are more determined than ever to ensure we return citizens to the centre of governance in Zimbabwe and build a new Great Zimbabwe that has dignity, freedom and prosperity for all."
MDC-T official Morgen Komichi said the police trainings were undermining democracy.
"If indeed police officers are undergoing the training then it's a blow for democracy, it has undermined the freedom of choice and political affiliation," Komichi said.
"Members of the security forces are also human beings who have the right to elect a person of their choice so this situation where they are ordered to vote for a particular party is uncalled for and should stop forthwith."
Mnangagwa (80) is likely to face Chamisa (45) in the presidential elections after narrowly beating the former student leader in the disputed 2018 polls.
Related Topics