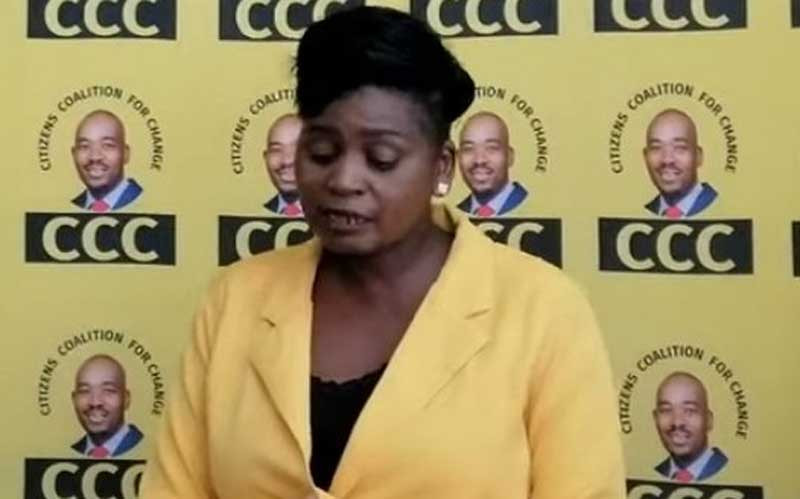 The Nelson Chamisa-led Citizens Coalition for Change (CCC) has expressed concern over amendments to the Electoral Act, which it says could be abused by Zanu PF to disqualify its opponents from running in future polls.
Aspiring candidates convicted of violence 12 months before the nomination court sits will be disqualified from contesting elections, according to amendments to the Electoral Act that were gazetted on Friday.
The new clauses came at a time the country has been witnessing pockets of politically motivated violence, the recent one being in Matabeleland South ahead of a by-election in Insiza and Matobo.
A clause that is seen as targeted at the opposition says: "Any of the offences of which the candidate is convicted within the period of 12 months ("the relevant period") before the date of nomination as a candidate, that is (a) in Zimbabwe of an offence of which breach of trust, dishonesty or physical violence is an essential element or (b) outside Zimbabwe of conduct which, if committed in Zimbabwe … and being sentenced to imprisonment for six months or more without the option of a fine or without the option of any other non-custodial punishment."
A candidate will be disqualified "unless within the relevant period — (i) the candidate has been pardoned for the offence; or (ii) on appeal the candidate's conviction is set aside or the sentence of imprisonment is reduced to less than six months or a punishment other than imprisonment is substituted".
CCC leader Nelson Chamisa told The Standard yesterday that the new law was introduced without consultations and that there were chances it could be abused by Zanu PF.
"Any Bill must involve and include wide and deeper consultation and reflect the collective desires and input from all concerned stakeholders," Chamisa said.
"We do not certainly agree with any clauses that are inserted to manipulate the electoral process to target and victimise certain actors.
"It is undemocratic, it is totally dictatorial and a reflection of weaponisation of the law to eliminate competition from candidates who are perceived to be stronger than those in the ruling party.
"Unilateral amendment of the law has been one of the biggest challenges of our processes and politics.
"We will see how to correct such abuses."
He added: "Physical violence, breach of trust, dishonesty is not good, but we don't want these things to be abused by politicians, who are afraid of the verdict of the people in the ballot."
CCC deputy secretary for elections Ellen Shiriyedenga (pictured) said a number of the party's officials were already facing charges before the courts and the law could be used to target them.
"No public consultations were undertaken. It is a Zanu PF Bill," Shiriyedenga.
"We are suspicious of the motivation behind this clause given the timing of it.
"We are a few months away from the 2023 elections.
"Most of our members have cases that have been dragging for so long in courts, for instance the likes of Joana Mamombe, Tendai Biti, Harare mayor Jacob Mafume.
"We also have Job Sikhala currently in jail. Hence it makes us more suspicious as to the real motive behind this."
The government has been routinely accused of selective application of the law by allegedly targeting the opposition.
Suspected Zanu PF supporters were accused of unleashing an orgy of violence against CCC members who were conducting campaigns for their candidate.
They were not arrested.
A number of Zanu PF officials including former State Security minister Owen Ncube and Housing minister Daniel Garwe were recently recorded inciting violence against the opposition, but they were also not arrested.
Sikhala is languishing in prison charged with incitement to violence.
His co-accused fellow MP Godfrey Sithole and 14 other Nyatsime residents were released on bail recently.
Independent election watchdogs hailed the amendments as a first step towards arresting political violence, but Election Resource Centre programmes manager Takunda Tsunga raised fears that the provisions might be used for political assassination.
"The hope is that the provisions are not applied arbitrarily," Tsunga said.
"However, there is a need to ensure the full implementation of the Electoral Act to ensure that elections in Zimbabwe produce a credible result."
Zimbabwe Election Advocacy Trust executive director Ignatius Sadziwa also shared the same sentiments.
"Most of our laws have been beautifully crafted to satisfy international standards with respect for the observation of human rights and rule of law. However what is lacking is the spirit of constitutionalism and a balanced application of the law," Sadziwa said.
"Of late we have seen high-ranking members of political parties making more careless and injurious statements than fan violence against opponents.
"It is our prayer that the prosecution authorities charge lawbreakers regardless of their political jacket."
Clauses 2 and 3 removes a driver's licence as one of the documents to be used as proof of identity for electoral purposes.
"Some drivers' licences do not reflect citizenry on the face of them," the Gazette reads.
"In terms of the constitution of Zimbabwe, one has to be a citizen in order to qualify as a voter.
"Accordingly, only a valid passport or national identity will be required as proof of identity.
"By the repeal of the definition of "proof of identity" and the substitution of— "proof of identity" means a valid Zimbabwe passport, or a notice or identity document issued in terms of Section 7 of the National Registration Act [Chapter 10:17]."
Zimbabwe has a long history of disputed elections due to allegation of vote rigging and violence.
Chamisa refused to recognise President Emmerson Mnangagwa's narrow victory against him in the 2018 elections, which he said were rigged in favour of the Zanu PF leader.
Related Topics