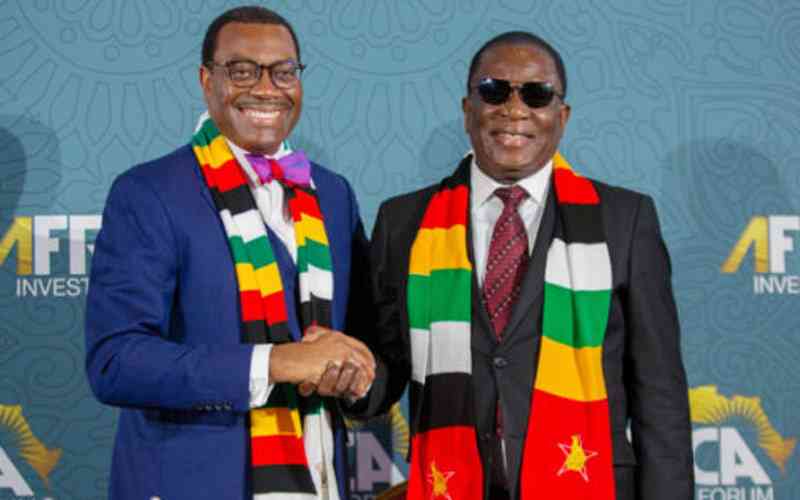 Ahead of the 2018 elections, President Emmerson Mnangagwa announced a basket of promises as outlined in the ruling Zanu PF party's election manifesto.
Mnangagwa's promises cut across all sectors of the economy including an ambitious plan to create 2,2million jobs, mainly targeting youths in his first full term.
According to Zanu PF, the 2018 election promises were all meant to transform Zimbabwe into a middle-income economy by 2030 and improve the lives of long suffering citizens.
At the swearing-in ceremony, Mnangagwa pledged to create a conducive environment for generating "jobs, jobs and jobs in Zimbabwe" and to fight against corruption.
"Let me assure you that tomorrow is brighter than yesterday," Mnangagwa said back then as he promised a New Zimbabwe.
As if to keep with his promise to turnaround Zimbabwe, Mnangagwa's Cabinet included a few technocrats such as economist Mthuli Ncube who is Finance minister and current Mines minister Winston Chitando as well as sports personality Kirsty Coventry.
Under Coventry as Sports minister, Zimbabwe has been banned from international football.
The country was also at some point suspended from taking part in international cricket tournaments due to government interference in the running of the sport.
Early into office, Mnangagwa was being pictured 'busy' in office even on weekends.
Months after in December 2018, Mnangagwa was to preside at the ground-breaking ceremony for the construction of a new 650 Parliament building in Mt Hampden constructed by the Shanghai Construction Group using a grant of approximately US$98 million.
In July ahead of the 2018 elections, Mnangagwa presided over another mega project of revamping Beitbridge Border Post at a cost of US$300 million in line with the National Development Strategy 1 (NDS1).
The new look border post was commissioned in September, and the Parliament building in July - all in 2022.
The two have emerged as flagship projects during Mnangagwa's five-year term.
Despite ongoing infrastructure projects, several other election promises have remained on paper, either missed various deadlines, yet to be completed or have failed to take off.
"For a people who have not done anything significant since 1980, a year should be enough to keep the promises that he made," South African based academic Khanyile Mlotshwa commented on Mnangagwa's 2018 election promises.
"It is then clear that even if he makes the same promises next year, he does not intend to keep them."
Mnangagwa has been endorsed as the Zanu PF 2023 presidential election candidate.
2018 election promises (roads, energy)
With Zimbabwe's poor road network, Zanu PF made revamping the roads a major priority.
Beitbridge-Harare-Chirundu, Beitbridge-Bulawayo-Victoria Falls and Kwekwe-Nkayi roads were targeted for rehabilitation.
Last week, 354,57km of the Beitbridge-Harare road was opened for traffic. The road was widened and not dualised as planned.
There has been little movement in dualising or widening other roads.
Instead, some roads have only been patched amid concerns of poor workmanship.
There were also plans to re-gravel 300km of the road network in rural areas and capacitating the National Railways of Zimbabwe (NRZ) including signals on the Victoria Falls-Bulawayo-Harare-Mutare, omabula-Rutenga-Chicualacuala/Beitbridge, Bulawayo-Plumtree and Chitungwiza-Harare Fast Rail.
NRZ remains on its knees and is not capacitated.
On electricity, electrification of all rural areas remains a pipedream.
Zimbabweans also have to endure long punishing hours without power as Kariba and Batoka Hydro Stations, Shilands Power Station, Bulawayo Power Station Repair and Hwange Power Station 7 and 8 extension projects are not yet complete.
Economy and manufacturing
Mnangagwa promised to transform Zimbabwe into a middle income economy by 2030 through among others operationalising the Special Economic Zones (SEZ).
The SEZs are not yet operational while inflation has also been running riot, pushing many citizens into poverty.
While the local currency has stabilised, prices of basic commodities are priced beyond reach of many with civil servants demanding United States dollar salaries to make ends meet.
Mnangagwa also projected a 6% economic growth per annum from 2018 to 2023.
Economic growth for 2022 has been revised downwards from 5, 5% to 4,6%.
Further reviews, according to Ncube, are still ongoing.
In 2021, the economy was projected to grow by 8,5% from -7,8% achieved in the previous year, according to available statistics.
There were also plans to recapitalise the Industrial Development Corporation of Zimbabwe as well as implement the Southern African Development Community (Sadc) industrialisation strategy.
Political analyst Rejoice Ngwenya said it was impossible to create a middle-income economy with a weak currency that does not encourage production, savings and consumption.
"Zanu PF has failed to attract enough foreign direct investment (FDI) that can employ millions of people to transform them into middle income earners," Ngwenya said.
"If you do not have money for hire purchase, housing mortgages, holiday and consumption – you are not middle class.
"Nothing in Mnangagwa's policies – despite harping about National Development Strategy 1 (NDS1), Pfumvudza, Makorokoza and so forth – nothing he has done to even start on these promises.
"Instead, it's a few of his cronies benefiting from public tenders that in fact are fuelling inflation. Special economic zones are populated with FDI and export oriented local industry."
Ngwenya added: "Talk of a Sadc Industrialisation Strategy is a pipe dream because Zimbabwe is the only Sadc country with a volatile eco-political environment."
Agriculture and mining
In the 2018 election manifesto, Zanu PF promised to issue land security tenure documents such as 99 year leases.
But Ncube in August this year said bankable leases will only be released next year.
"(In) 2023, the government will finalise and roll out a 99-year lease which is bankable in order to enable farmers to secure funding from financial institutions," Ncube was quoted saying.
Zanu PF also pledged to facilitate irrigation of at least 200 hectares of land per district, rationalise farm sizes also in relation to multiple farm ownership.
This has not been done.
In mining, Zanu PF pledged to enforce a "use-it or lose-it" policy and support beneficiation and impose taxes for the export of unbeneficiated minerals.
Mnangagwa has been encouraging mining houses to shift to beneficiation.
Education, health, housing, water and sanitation
In the 2018 election manifesto, Zanu PF announced an ambitious project to construct 1,5 million housing units by 2023, translating to 300 000 houses per year, or 25 000 a month, 6 250 a week or 822 houses a day.
In August this year, Housing Amenities minister Daniel Garwe admitted failure to meet the target, saying the government has budgeted to build less than 250 houses in 2022.
Plans to establish at least one vocational training centre and one hospital per district have failed.
The health sector remains underfunded despite Zanu PF's pledge to allocate at least 15% of the budget to healthcare in line with the Abuja Declaration
Plans to build 2000 schools by 2023 are also way off the mark.
In July, state media said 1 194 schools have been built in the last four years.
There is no available official data to support the claims.
High impact water projects such as the Gwayi-Shangani; Mutange; Musami and Kunzvi Dams and Wenimbi Pipeline are not complete.
"Just like his predecessor (Robert) Mugabe , Mnangagwa has a huge problem balancing electoral promises with real life delivery," Ngwenya said.
"Actually, Zanu PF's overall political trajectory is on political survival rather than economic growth.
"That is why they make electoral promises they are not capable of fulfilling because the electorate is manipulated just to vote without analysis."
Mlotshwa said the nature of Zimbabwe's politics shields Mnangagwa from any censure over failure to deliver on his 2018 election promises.
"For a long time, Zimbabwe's politics has been that there is no incentive for the ruling party officials to keep their electoral promises when they get into government," Mlotshwa said.
"Like Robert Mugabe, Mnangagwa is a demigod in the tragedy of leadership unfolding in Zimbabwe.
"He knows there are no sanctions from the people or the opposition if he fails to keep his promises."
Political analyst McDonald Lewanika said Mnangagwa's first term has produced mixed results.
"There are visible infrastructure projects that are underway and are commendable, but these visible investments and developments have done little to alleviate the suffering of ordinary people through the creation of jobs outside the precarious realm of informality," Lewanika said.
Mnangagwa promised 2,2 million jobs
A Zimbabwe Statistical Agency (Zimstat) labour survey released last week shows that only 2,501,758 out of 9,046,415 people eligible for employment are employed.
"On corruption, Mnangagwa has made tremendous headway…. What blights Mnangagwa's record is the lack of prosecution and convictions despite setting up special prosecuting units," Lewanika said.
Bulawayo-based political analyst Methuseli Moyo said Mnangagwa has made 'noticeable' progress.
"Unlike Mugabe who seemed no longer concerned about progress, Mnangagwa has put himself under pressure to deliver," Moyo said.
"Yes, he has not achieved some of his self-imposed targets, but he has initiated noticeable development oriented projects and programmes in infrastructure and investment.
"Roads and water schemes, for instance, have raised hopes. The oil, lithium, steel and methane gas projects certainly will be very catalytic in terms of development."
Related Topics