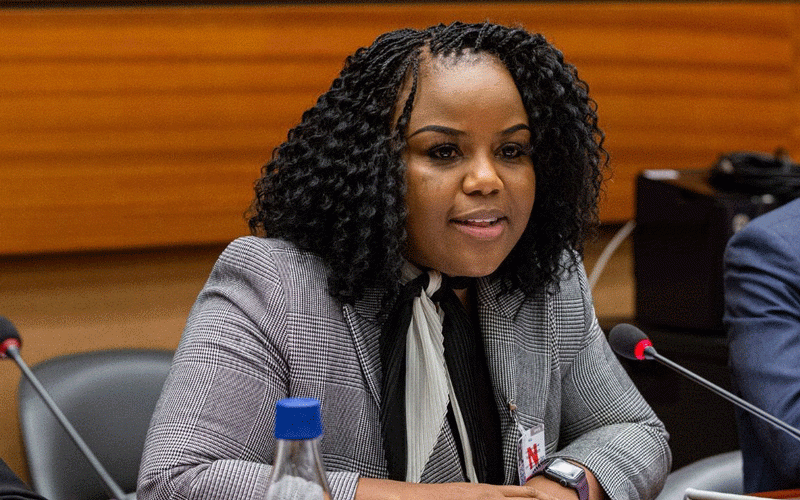 Main opposition Citizens Coalition for Change (CCC) spokesperson Fadzayi Mahere last week spoke at the Geneva Summit for Human Rights and Democracy — a major United Nations conference that shines a spotlight on urgent human rights in need of global attention.
Her speech, titled the Tragedy of Zimbabwe, drew the anger of Zimbabwe's ruling party, Zanu PF, at a time when the country will go to the polls in little under four months. Below is her speech.
Two years ago, I woke up in an overcrowded jail cell in Chikurubi Maximum Security Prison. No water, no toilet, no underwear, no dignity, no rights.
Inmates ate watery porridge with their bare hands because spoons were not allowed.
Before the lights were off, we had to line up in queues for roll-call — groups A, B, C and D. D stood for dangerous.
Even though the other women there had committed crimes such as murder, armed robbery and infanticide, I was the only one put in the dangerous group.
I had committed the dangerous crime of tweeting against police brutality. Local police had been captured on camera smashing a baton stick into the windshield of a small public transport bus.
In the video that went viral online, a woman stood crying and grabbing a policeman by his collar.
She was surrounded by a mob, yelling that the policeman had killed a baby. The baby lay motionless and pale in the woman's arms.
By all accounts published online, the baby had died, but the State denied the death. In the face of public outrage, the police themselves issued a statement that they would investigate.
I joined the country in calling for justice. I tweeted, condemning this act of rogue policing and the unconstitutional and disproportionate use of force that had caused the death of a child.
Thousands tweeted about it, but they targeted me, a vocal opposition politician, for arrest. They alleged that I lied that the baby had died.
The violent policeman was never brought to book. This is how I ended up in a maximum security prison, charged with "communicating falsehoods prejudicial to the State".
This offence has long been struck off the statute books by the Constitutional Court. However, in a nation where the government is at war with citizens demanding a better society, human rights don't seem to matter.
The legal system is weaponised as a tool to silence, intimidate and harass. I was convicted four weeks ago and narrowly escaped a 20-year prison sentence.
I walked away from the ordeal knowing that, unless there is a true change in how Zimbabwe is governed, we are all serving a collective prison sentence.
Nobody is free.
The experience was more stark for me because I came out of the womb knowing I would become a lawyer.
I love to talk. I love to argue. Despite growing up under the later former President Robert Mugabe's dictatorship, the ideals of justice and fairness became the dreams my older self would live to pursue.
Life would later provide me with an opportunity to work for the United Nations War Crimes Tribunal for Rwanda and for the International Criminal Court in The Hague.
It was during these times that the need for truth and justice for Zimbabwe's own 1982 genocide, infamously described by Mugabe as "a moment of madness", came again to the fore.
Prosecuting crimes against humanity and war crimes in places like Darfur, the Eastern Congo and the Central African Republic, brought Zimbabwe's oppressive reality into sharper focus for me.
Ours has been a slow-burning struggle for democracy following a liberation war of independence that provided the illusion of freedom, but no tangible sign of its much-needed fruits.
Over time, I have come to understand the complexity of history and that those who were once modelled as heroes can eventually morph into the very villains they once fought.
Colonial oppressors and post-independence dictators have one thing in common: they both play from the Dictators' Handbook.
It is the citizens who suffer. But just like the international courts and tribunals I worked in, where there is injustice, there is also hope that a few good men and women will fight the cause of justice, wherever it may lead them.
In 2016, after I returned to Zimbabwe, upon completing my studies and international work, the government announced the return of the world-famous Zimbabwe dollar.
I was horrified. But I also saw, for the first time, an opportunity to publicly speak truth to power. I stepped out of my comfortable, safe, professional world into the more treacherous world of political doers, actively calling out injustice and illegality.
Before I knew it, I had entered the dictator's arena, naively paving way for the dangerous political journey I now find myself on.
Inspired by Evan Mawarire's #ThisFlag campaign, I experienced an awakening. He started a movement that urged Zimbabweans to speak up, demand accountability, and be active citizens.
I registered to vote, attended protests, and got arrested, but I kept going back because of the clarion call that we must be relentless in the pursuit of what is right.
Soon, we realised the limits of activism. Movements get people excited, but they cannot change the political system.
Only active, ethical political participation can drive lasting social change. So, when most women my age were getting married and starting a family, I announced my candidacy as an independent Member of Parliament for the constituency of Mt Pleasant.
I ran for office under the tagline #BeTheChange — for it is only when individuals step out and are counted that change takes root.
We must intentionally shape the world into a better place and not accept it for what it is.
I believed that, if our campaign could just inspire hope and a thirst for change, I would change everything, but the person I changed the most was myself.
I eventually lost the parliamentary seat, but gained a cause undoubtedly bigger than myself — a pursuit for justice and fairness that goes deeper than the law, but is personified in the everyday lived experience of the ordinary Zimbabwean.
I have seen hope in action as I have proudly taken on the role of spokesperson for CCC, the country's main opposition party.
In spite of the violence, arrests and manipulation of the legal system, we will fight to win the upcoming election in Zimbabwe against numerous odds.
I stand here today to let the world know that Zimbabwe is currently reeling under a dictatorship much worse than Mugabe's.
Half the population lives in extreme poverty, US$2,2 billion (about R44 billion) is lost to corruption annually, and we have the highest hyperinflation rate in the world — all because those in power would rather loot and persecute than lead.
Government's war against freedom and its weaponisation of the law against myself and other government critics, such as Job Sikhala and Jacob Ngarivhume, is calculated to send a chilling message to the rest of society:
"We're watching you, even on Twitter. And this is the punishment you get for participating in opposition politics."
To date, Sikhala (CCC member) and Ngarivhume (leader of opposition Transform Zimbabwe) remain political prisoners.
We will not stop demanding their freedom. We call on the world to do the same.
In closing, I wouldn't risk my life and freedom if I didn't sincerely believe that change is possible.
Courage doesn't mean that you're not afraid. It means that you act in spite of your fear because you believe in a greater cause.
I choose courage. And I choose hope.
This August, Zimbabweans go to the ballot box with one simple mission: to win Zimbabwe for change and to install ethical, competent leaders who believe in freedom, dignity and prosperity for everyone.
The world must insist on the election being free, fair and credible. The will of the people has to prevail.
It is difficult, but we must emancipate the jewel of Africa from the imprisonment of its current dictatorship.
Hope and action are the sustenance of those who change the world.
Thank you
Related Topics