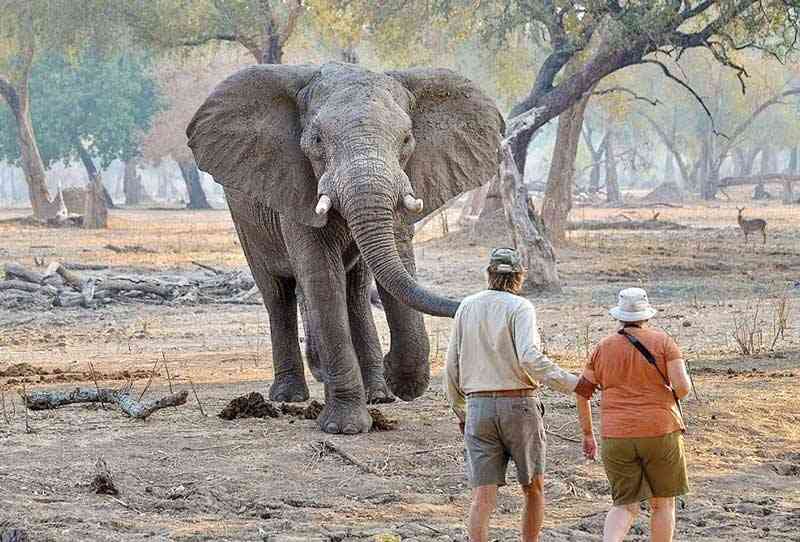 WILDLIFE expert and seasoned tour guide Jessie Zvikonyaukwa has described Mana Pools as a tourism haven that can attract international visitors as it accommodates an array of animal species.
Mana Pools National Park is a world heritage site which is home to a wide range of mammals and over 350 bird species and aquatic wildlife. The park is rated the fifth best park in Africa by Gateway magazine.
It is home to a great diversity of wildlife, and is an outstanding destination for classic safaris.
Visitors drift past crocodile and hippo on a Zambezi canoe safari, while banks are lined with buffalo, elephants, hyenas and other game.
The best time for wildlife viewing in Mana Pools National Park is during the dry season, from June to October.
Animals are easier to spot because the dry weather thins the bush and wildlife concentrates around the Zambezi River.
"You can expect to spot hippopotamuses, crocodiles, elephants and a wonderful array of aquatic birds within this Unesco World Heritage site, and there's a good chance of seeing lionesses hunting around waterholes, where prey are seemingly easy pickings. This is good for our tourism," Zvikonyaukwa said.
"Elephant, eland, buffalo, impala, waterbuck, baboons, monkeys, zebra, warthog and hippo are some of the larger herbivores to be seen regularly on the river terraces as they come out to eat the fallen albida fruit. Lions, leopards, spotted hyena, wild dogs and cheetah are present in the area. Birding is also phenomenal in this region," she said.
Mana Pools also allows clients to walk without a guide after obtaining a permit at the tourism offices.
Visitors can fish in the Zambezi River and experience the excitement of hooking large fish for the pot.
Half of the joy is experiencing the quiet, solitude and beauty of the unspoiled bushy areas.
A United Kingdom-based tourist who was camped at Mana Pools, Jane Railey, described the park as heaven on earth.
"The camp offers the kind of intimacy with nature that can only be achieved by immersing yourself in the heart of the wild. The landscapes are beautiful too, dotted with acacia trees, whose shade becomes vital to the parks' more than 12 000-strong elephant population in the dry season, as well as a sprinkling of vibrant plant life.
"Far away from any human settlement, you'll relish the feeling of remoteness here. Surrounded only by extreme wilderness, and if you visit in winter, you'll find yourself exploring among the highest concentration of wildlife in Africa," Railey said.
"It is an experience for which words can do no justice," added Canadian tourist, James White.
YeduLami magazine editor and founder Godknows Homwe said: "Mana Pools, a world heritage, is a cog to Zimbabwe's tourism as it attracts more than 7 000 tourists each year. It's a hub for pristine wildlife, in their natural habitat, such as the famous five — buffalo, elephants, lions, the endangered black rhino, the elusive leopard, cheetahs, wild dogs and others."
Related Topics