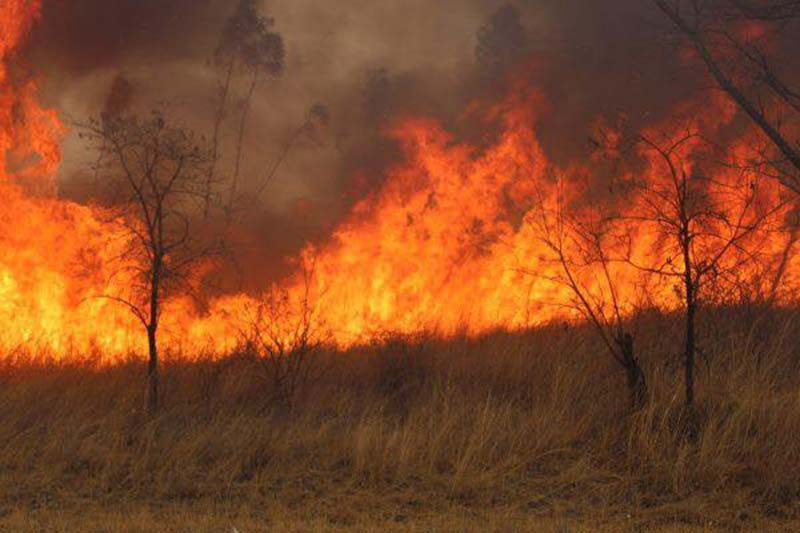 VELD fires have become an issue of national concern given their destructive nature, Environment, Climate, Tourism and Hospitality Industry minister Nqobizitha Mangaliso Ndhlovu has said.
Speaking during the 2023 National Fire Week launch yesterday, Ndhlovu said the country is losing more than a million hectares of forests and grasslands each year, depriving wildlife and livestock of pastures.
He said due to climate change and variability, Zimbabwe has witnessed veld fire occurrences outside the stipulated dates, which has forced government to periodically review fire restriction periods for each year.
This year's fire restriction period to be observed from July 1 to November 30 each year, will run under the theme: Prevent veld fires to protect the Environment, Our nation, our heritage.
"In 2022, a total of 7 511 fire incidents were recorded during the dry season, which destroyed 1 753 055,9 hectares of forest and grassland, compared to 3 948 fire incidents recorded in 2021, subsequently destroying 1 033 722,86ha. The total area burnt increased by 60,92% compared to 2021," Ndhlovu said.
He said cumulatively, 18 fire-related deaths were recorded in 2022 compared to eight in 2021.
"Unfortunately, the 2022 fire period cannot be complete without mention of the October 10, 2022 Umzingwane tragedy where 10 lives were lost to a single veld fire incident and what a regrettable tragedy," Ndhlovu said.
"During the past two decades, more than 150 people have succumbed to veld fires, hence the need to put extra effort in fighting this scourge so that no further lives are lost."
He urged stakeholders to unite in the fight against veld fires.
"All stakeholders should find a perfect niche in this and play their part in veld fire prevention in the country," he said.
Follow us on Twitter @NewsDayZimbabwe
Related Topics