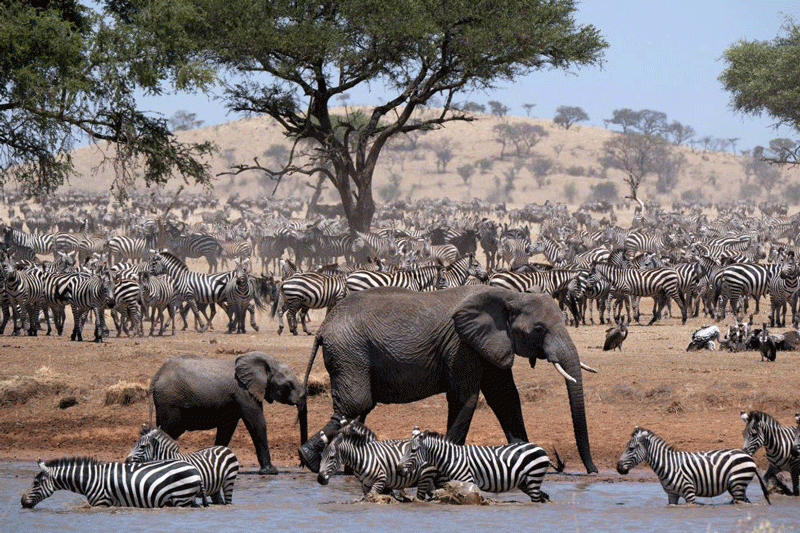 ZIMBABWE'S efforts to protect and nurture its wildlife are not going in vain, with most protected areas recording impressive results, especially in elephant conservation, the African Wildlife Foundation (AWF) country director Olivia Mufute has said.
She was addressing an Advanced Coxswain Course Pass-out Parade of 15 Zimbabwe Parks and Wildlife Management Authority (ZimParks) rangers and Zimbabwe National Army (ZNA) Boat Squadron Regiment officials at Moth Camp in Kariba.
Mufute said Zimbabwe has not received any incidences of elephant poaching in protected areas like Mana Pools.
"The advanced coxswain training and other training on the use of the spatial monitoring and reporting tool, court procedures training, among others, have been critical in areas like trans-boundary joint river patrols done by Zimbabwe and Zambia law enforcement agents which contribute to species conservation," Mufute said.
"As the African Wildlife Foundation, we are happy to have championed cordial relations between Zimbabwe and Zambia wildlife conservation law enforcement agents. The development promotes effective anti-poaching efforts in the mid-Zambezi Valley and significantly contributes to conserving wildlife, reducing poaching and trafficking as major causes of decline of key wildlife species."
ZimParks director-general Fulton Upenyu Mangwanya, who was represented by operations director Arthur Musakwa, said his organisation was appreciative of the support it was getting from partners.
"I would like to thank AWF for supporting and funding the noble cause of conservation of wildlife and fish in Zimbabwe. We have in the past witnessed a more accelerated conservation support from your organisation including the setting up of the Zambezi Valley Specialised Anti-Poaching Unit, the water-based anti-poaching specialised unit operating from below the Kariba Dam wall to Kanyemba," he said.
The partnership — supported by the European Union through funding from the Convention on International Trade in Endangered Species of Wild Fauna and Flora, Monitoring the Illegal Killing of Elephants — seeks to train and equip wildlife law enforcement officers with the skills they require when conducting river patrols.
The 15 officers (two females and 10 males from ZimParks and three males from the ZNA Boat Squadron Regiment) underwent a three-week training course.
They were also equipped with knowledge on conservation ecology, boat operations, handling of suspects, observing human rights in anti-poaching work, weapon handling and many more issues critical for river-related patrols.
Related Topics