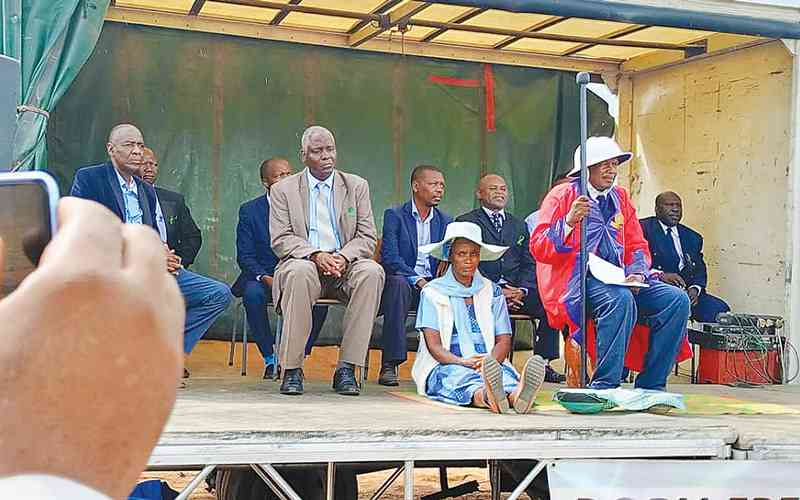 CHIEF Goledema (59) born Christopher Dube of Garia village, Tsholotsho was on Thursday installed as Zimbabwe's first officially recognised chief of the marginalised San community.
Local Government minister July Moyo described the San as one of the indigenous minority communities in the country.
"Historical records reveal that the San people were the earliest hunter-gatherers in southern Africa," Moyo said.
"It is believed that they came to Tsholotsho divided into three main families which were under Goledema Tshuma, Likhwa Maphosa and Mazebele Moyo."
According to Moyo, Goledema is believed to have been a spirit medium and was the only one among the San people who could perform traditional rituals at the Njelele shrine.
Moyo said government plans to roll out a mobile identity registration exercise to ensure the San have birth certificates and identity cards.
The newly installed San chief was born on July 8, 1964 in Gariya village, Tsholotsho.
He did his primary education at Butabubili and Mpilo primary schools.
In 1978, he then joined the liberation war under Zimbabwe People's Revolutionary Army (Zipra).
At independence, he then joined the Zimbabwe National Army and was deployed to Brady Barracks (recently renamed Mzilikazi) in Bulawayo.
"He then continued with his education up to Form 3," Moyo said.
"He has worked tirelessly for the promotion of the San (Tjwao) culture and language as witnessed by the formation of two registered trusts which are Sidinguncedo and Tso-ro-tso Development Trusts where he is a board member.
"He is a strong advocate of the restoration and preservation of the San cultural practices, values and norms as witnessed by his representation of the San people in various platforms."
Related Topics