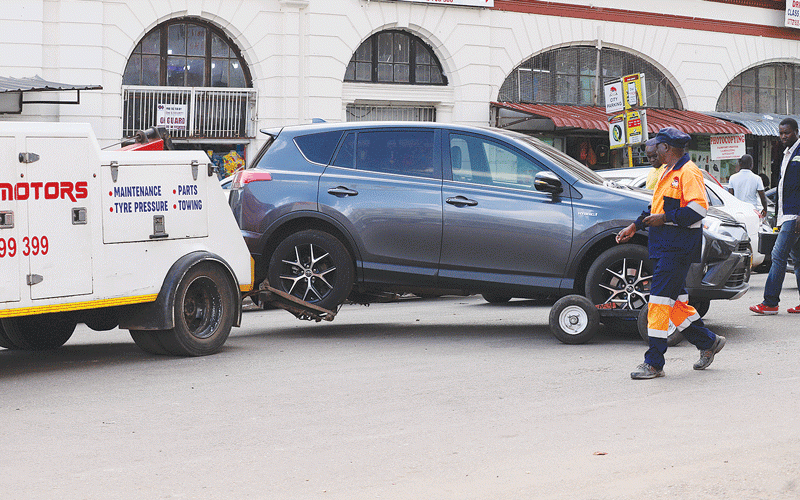 HEFTY clamping and tow away fees being imposed by Harare City Council have triggered an uproar among motorists.
An irate resident has since dragged the local authority and Local Government and Public Works ministry to court over the hefty charges which he says are unjustified.
Motorists whose vehicles have been clamped are being forced to pay US$132 to have their cars released.
In his High Court application, Reason Mupanga is seeking a ruling compelling council to stop clamping and impounding vehicles and later demanding hefty fees.
Mupanga accuses council of "gross irregularity" and "malice or corruption" in its administration of vehicle parking and clamping operations.
In his appeal, Mupanga said there was gross irregularity in the form of notice issued by the City of Harare in terms of the Municipal Traffic Laws Enforcement Act and Harare (Clamping and Tow-Away) By-Laws, Statutory Instrument 104 of 2005.
City Parking (Pvt) officials were recently captured on video fighting with the public over billing of motorists for parking.
Local Government minister July Moyo early this week appointed a six-member team to look into operations of City Parking.
Moyo gave the team 10 days to complete investigations and compile a report of its findings that will be submitted for his consideration within five working days.
The letter was copied to Harare mayor Jacob Mafume, Provincial Affairs and Devolution secretary Tafadzwa Muguti and acting town clerk Phakamile Mabhena Moyo.
Mafume said City Parking was owned by the city council and all the money collected goes to the council coffers.
"We will instruct them to allow the car to have a ticket which will allow the motorist to pay when he or she comes back. If the motorist comes back within a set time then they won't be penalised. An electronic system will be perfected or advertised to allow for EcoCash payments," he said.
Related Topics