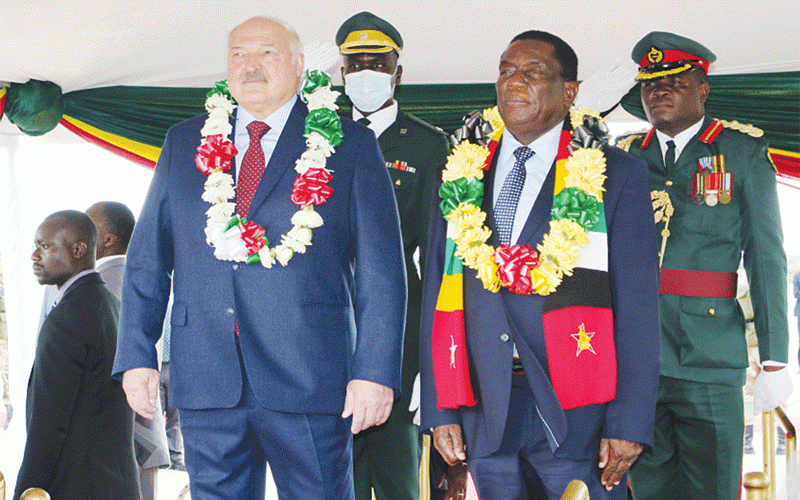 SECURITY details had a torrid time yesterday controlling hundreds of Zanu PF supporters who had gathered to welcome Belarusian President Alexander Lukashenko, who was being received by President Emmerson Mnangagwa yesterday at Robert Gabriel Mugabe International Airport in Harare.
Overzealous supporters ended up getting beaten up by anti-riot police manning the domestic flights terminal that was used as the welcoming ground for Lukashenko.
Commotion reigned supreme as the Zanu PF supporters tried to force their way into the reception area. Eventually they were cleared to enter.
"Let's listen and act accordingly. All of you will get in," a Zanu PF official shouted at the supporters.
Upon arrival, Lukashenko inspected a Zimbabwe Defence Forces guard of honour.
He was then introduced to government officials and later, he met the cheering Zanu PF supporters before leaving without making any speech.
Zanu PF Women's League secretary for business liaison Nyasha Chikwinya told NewsDay that Lukashenko's visit reflects that Zimbabwe's relations with the international community are now bearing fruit.
"This is the moment we have been longing for and I am very excited," Chikwinya said. "The relationship between the two countries has been on-going for a very long time. Belarus has stood by Zimbabwe's shoulder for many years. We have seen lots of tractors, buses and some other aid coming to this country and so many agreements have been signed. This visit, therefore, means that our relationship is now going to a higher stage where bigger deals are signed. Zimbabwe is going to be a better country after this."
Chikwinya said women were looking forward to another fleet of tractors earmarked for them. Zanu PF Chaminuka district commissar Gift Muchando said: "We expect the visit by Lukashenko to benefit youths at large."
Zanu PF supporter Richman "Cde Zed" Lobengula said: "The visit by the Belarus President shows that President Mnangagwa has a great vision to take the country forward."
Related Topics